Cello filed Chapter 11 on Jan 28th, 2005 which means reorganization and liquidation of assets (both land and gear).
Sources say last offer for $4million was turned down. Any new offers will be considered by an appointed court trustee who will be giving the historical building to the higher bidder. Most agree that the fate of 6000 may lay in the hands of the wrong developer and creditors who have little regard for musical landmark.
Read more...It's a Beautiful Life...6000 Sunset ..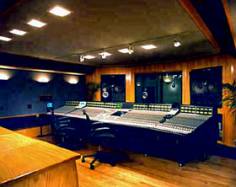 The SSL 9000J at Cello's new mix room
Cello Studios located in the heart of Hollywood, California takes great pride in serving the artists' vision with the finest staff and equipment available. According to manager, Candace Stewart, "Cello Studios is incredibly fortunate to have what many people consider to be some of the best sounding large live rooms ever built."

This month the studio opens its new mix room housing a customized 80 input SSL 9000J console that has several multi format modifications designed by Cello. "The opening party last month, drew some of our regulars as well as the SSL clients," says Stewart. New studio features -- 5.1 and stereo capabilities with Selectable LCR panning per channel (large and small faders), intact FX sends when quad pan engaged, both large & small faders to A/B/C/D busses, 12 channel center section w/ A/B/C/D linkable to stereo buss/compressor, A/B/C/D side chain deselect, switchable quad insert, buffered record distribution and 8 channel monitor pot with a/b select.

Recently Cello Studios has been host to such artists as: Alanis Morissette, Natalie Merchant, Elton John, R.E.M., Bette Middler, Barenaked Ladies, Stone Temple Pilots, Matthew Sweet, Motley Crue, Green Day and Blink 182.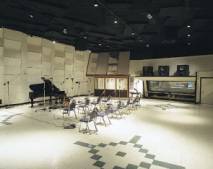 studio1 live room custom Neve 8078

In '99 Rick Adams assumed ownership of the 6000 Sunset building (previously part of Ocean Way Studios). Constructed in 1952 by legendary Bill Putnam, United Western Studios was the site of an astonishing number of classic hit records and more recently artists like the Rolling Stones, Red Hot Chili Peppers & Rage Against the Machine, to name a few.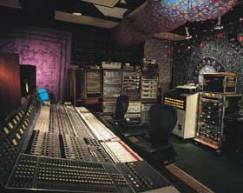 studio 2 vibes - Ampex machines & Neve 8038
Over the last 50 years these rooms have hosted the who's who of music in front of and behind the glass: Bones Howe, Wally Heider and Lee Hirschberg were on staff while artists like Bing Crosby, Frank Sinatra, Dean Martin, Sammy Davis, Nat King Cole, Johnny Mercer and Ray Charles were recording the hits of the day. Ray Charles' classic, "I Can't Stop Loving You" was recorded here as well as Sinatra's, "It Was A Very Good Year," and all of the legendary "Pet Sounds" albums, which became the inspiration for The Beatles' Sgt. Peppers album.

Studio 3 with a Neve 8078
Today Cello takes pride in its preservation of the historical building as well as introduction of, both old and new gear that have been added in the last two years. Cello's collection of sought after rare/vintage microphones and outboard gear likes of the Fairchild 670 limiters (no longer made) is impressive. The building has been modified to accommodate the new facility's needs. However, the studios themselves have not been altered in any way since Bill Putnam's original design.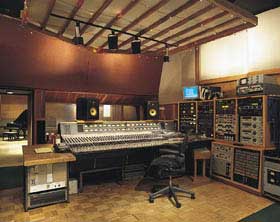 Control Room 3
The staff at Cello Studios is comprised of Industry Veterans as well as a support staff of eager new audio enthusiasts. The chief engineer and director of technical operations Gary Myerberg, came to Cello after over 20 years in the audio industry spearheading the technical efforts of Bruce Springsteen, Bob Clearmountain's "Mix This!" Royaltone Studios (and too many others to list) with 14 years as the key technical player at A&M Studios.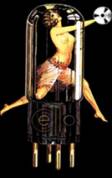 Contact: studioexpresso
818-990-3031
Cello Studios
6000 Sunset Blvd.,
Hollywood, CA 90028
323-871-5955 ph
323-871-5974 fx
E-mail: claris@studioexpresso.com
www.cellostudios.com

Copyright 2001 studioexpresso