Los Angeles, CA September 15, 2016 - ¡Intenso! is the follow up to the 2012 Grammy®-winning ¡Ritmo! featuring Brent Fischer + The Clare Fischer Latin Jazz Big Band. This will be the 56th Clare Fischer album and the last time Dr Fischer is eligible for a posthumous Grammy® consideration (he won in 1981 for Salsa Picante plus 2 +2, in 2013 for ¡Ritmo! and in 2014 for Music For Strings, Percussion And The Rest). To celebrate release of ¡Intenso!, press and friends are invited to the album playback party hosted by studioexpresso and Trans Audio Group at East West Studio 2, Hollywood, CA on Saturday October 1, at 6pm during the AES (Audio Engineering Society) show.
Brent Fischer + The Clare Fischer Latin Jazz Big Band appear live on Monday October 3 at Typhoon, Santa Monica, CA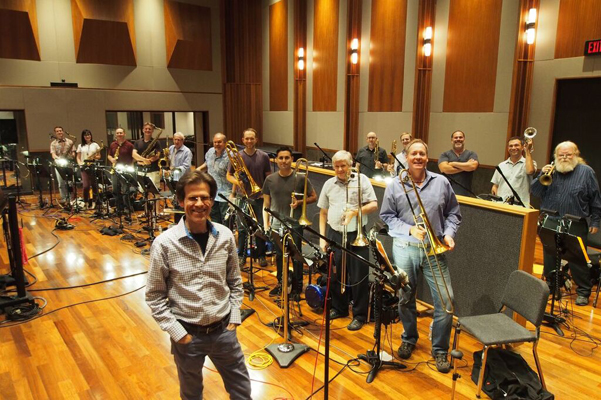 Brent Fischer + The Clare Fischer Latin Jazz Big Band at The Bridge Studio Photos by C Artists

¡Intenso! features approximately thirty of the finest musicians on the planet on ten tracks with very special guests: Sheila E, Roberta Gambarini, Luis Conte, Walfredo Reyes Jr., Tris Imboden, Kevin Ricard, Alex Budman, Carl Saunders, Rob Hardt, Scott Whitfield,
Francisco Torres and the Keyboard mastery of Clare Fischer.
According to the producer Brent Fischer, ¡Intenso! is labor of love; the inspiration for the album came from the long and vibrant father-and-son musical journey shared over three decades. "It has been a positively intense experience. First growing up as Dr Fischer's son, learning from him, then making music with him, and four years after his vibrate life ended in 2012, technology has made it possible for us to play together again on this album, ¡Intenso!," says Brent who has produced the last seven Clare Fischer albums, directs the Fischer ensembles and also arranges for Pop and R&B royalty including: D'Angelo, Elvis Costello & The Roots, Michael Jackson and Usher.

¡Intenso! exudes energy and sparkles with Afro Cuban and Brazilian grooves, plus Fischers' rich textures and harmonies. Listen to some Bach inspired polyphony, Stravinsky influences in Renacimiento with salsa and bluesy riffs all under the backbone of solid Latin rhythms with big band orchestration, making it a fitting salute to the master. There are surprises like Clare singing (George-Benson style) on
O Canto, adding charm to an album that's up beat and brilliant throughout. Brent alternates effortlessly playing on keyboards, guitar, 6-string bass, marimba and vibraphone with his signature 6 mallet grip. Matt Brownlie recorded the big band at The Bridge Studios over two days and mixed the album.

¡Intenso! has something good for everyone including some never-before-heard recordings featuring the late and great Dr. Fischer playing the piano on seven tracks. It's mostly original material by Clare, and all previously unheard arrangements by father and son. Four of their revered composers get the Fischer treatment: Dizzy Gillespie on Algo Bueno, Duke Ellington on Rockin' In Rhythm, Columbia's Crescncio Salcedo on his popularly known La Mucura, and Cuba's Osvaldo Farrés on Tres Palabras.
On this album you hear ample brilliant solos by Brian Clancy, Kristen Edkins, Alex Budman, Scott Whitfield and Carl Saunders. Butterfly Samba features vocal artistry of Roberta Gambarini, trombonist/vocalist Scott Whitfield and cleverly onomatopoeic lyrics by Darlene Koldenhoven. Ms Gambarini's vocals also appear on the romantic Gaviota, another Fischer standard. The incomparable Sheila E makes a guest appearance on Solar Patrol with her inspired performance on the timbales. The percussion feast continues with Luis Conte, Kevin Ricard, and Tris Imboden and Walfredo Reyes on drums.
The Fischer legacy is in the extraordinary and extensive aural vocabulary in music used to elevate the least developed of all the senses, hearing. "More than just a tribute to Clare Fischer, ¡Intenso! is a continuation of Clare's legacy of timeless music carried into the 21st century," according to Brent Fischer. The album ends with Play Time, a first ever recorded Fischer original. It leaves a lingering taste in listener's mouth, achieving the producer's vision for ¡Intenso!

¡Intenso! available at http://clarefischer.com/music, CD Baby , iTune, Amazon
album digital download complete with digital booklet (passcode available to media upon request).
http://clarefischer.com/album-promotion-intenso



# # #

About Clare Fischer 1928 - 2012
Grammy®-winning versatile pianist, composer and arranger Dr Clare Fischer crossed freely from jazz to Latin and pop music, working with such names as Dizzy Gillespie, George Shearing and Natalie Cole as well as Paul McCartney and Prince. "I'm not just jazz, Latin or classical. I really am a fusion of all of those," Fischer described his sound in an interview with LA Times. It's been said that regardless of genre, Fischer's arranging and composing invariably possessed a rich harmonic palette, one that attracted and influenced notable musicians - Herbie Hancock, and Poncho Sanchez, among them. Fischer music has reached millions in the past half century through albums from George Duke, Al Jarreau and many others. More than just a tribute to Clare Fischer, the new album, ¡Intenso! is a continuation of Dr Fischer's legacy of timeless music carried forth into the 21st century by his son, Brent Fischer who produced the album featuring 30 of the world's beloved musicians including special guests: Sheila E, Roberta Gambarini, Luis Conte and more...
"Clare Fischer was a major influence on my harmonic concept … I wouldn't be me if it wasn't for Clare Fischer."
– Herbie Hancock
http://www.clarefischer.com/
Clare Fischer on Wikipedia

About Brent Fischer
Grammy®-winning producer, composer, arranger and recent Record of the Year nominee Brent Fischer credits his late father, Clare Fischer, for creating a family tradition of writing with a rich harmonic and orchestrational palette that has become the Fischer brand.
A multi-instrumentalist (vibes, keys, bass, drums), Brent Fischer moves easily between genres. His arranging credits for pop and jazz royalty include: D'Angelo, Prince, Michael Jackson, Usher, Al Jarreau, Elvis Costello and The Roots. Brent Fischer directs all the Clare Fischer ensembles and produced the last eight Clare Fischer albums, including: 2011 Grammy®-nominated 'Continuum', 2012 Grammy®-winning 'Ritmo!' (Best Latin Jazz Album), 2013 Grammy®-winning 'Music for Strings, Percussion and the Rest' (Best Instrumental Composition), "Out of the Blue," "Pacific Jazz, and the new Clare Fischer Latin Jazz Big Band release '¡Intenso!' features Sheila E. and Roberta Gambarini.
Brent Fischer arranged and produced "Really Love" for D'Angelo's album Black Messiah. It earned Best R&B Song honors in 2016 at the 58th Annual Grammy Awards. In his works Brent weaves "Fischer DNA," (to quote Questlove) to access a rich harmonic palette that has become synonymous with Fischer music. "In a sense, music is really my first language," says Brent Fischer, a BMI artist represented by C Artists.

"In Brent Fischer's capable hands, it seems the music of Clare Fischer will live on for years to come, in a big-band paradigm or some other framework. And that's a good thing for musicians and listeners alike. Pacific Jazz exudes a charm that ensnares both heart and mind."
-Jack Bowers, All About Jazz

http://www.BrentFischer.com
http://www.studioexpresso.com/profiles/brentfischer.htm
news with your social network no


To request an interview with Brent Fischer, or to receive high-resolution photos, CD or for any
media/press inquiries, please email or call us. Thank you.