Ryan Ulyate
producer I engineer

Ryan's Place: ATC Dolby Atmos Studio in Topanga Canyon, Where Wildflowers Grow!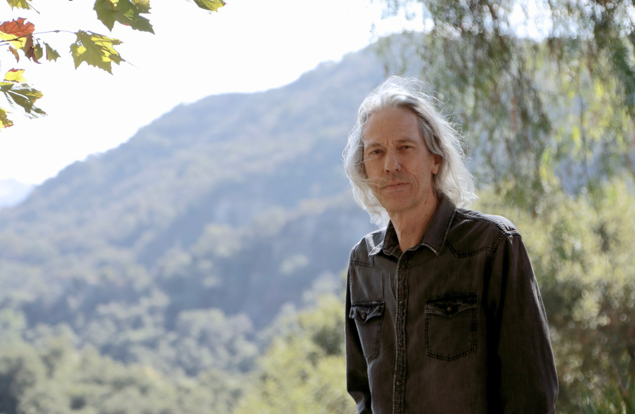 Ryan's love for music began early. His Dad's picture with Elvis Presley (on the drums) adorns the walls of fame on Ryan's place, his Dolby Atmos studio in Topanga Canyon, Calif. So, at age 7, Ryan decided to record his older sister's singing group with their Dad's mono reel to reel. "Learned it's not a good idea to absent-mindedly scratch the mic while recording!" says Ulyate who plays the drums, bass, guitar and piano (enough to write music, as he puts it). As a young engineer Ryan got his first paying gig at George Tobin's 24 track studio in 1979. "I grew up around music. Dad played the clarinet in the Fox Orchestra directed by Alfred Newman in the 60s," says Ulyate who began his life-changing collaboration with the iconoclastic frontman of the band Tom Petty and the Heartbreakers in the early 2000s. "Working with Tom was an experience that I will be forever grateful for. He was my friend -a very talented and very cool guy. His music is timeless. His voice is one that will be heard for many yea rs to come," says producer/engineer Ryan Ulyate perched in his Topanga Canyon studio.
He upgraded his control room to Atmos in 2020. This is where he has mixed all of his projects since 2007. The main studio, his living room with 22' high ceilings, provides just the right amount of ambience –making it possible to record everything "in-house."
In the middle of the pandemic Ulyate worked with producer Glyn Johns on Mick Fleetwood And Friends Celebrate The Music of Peter Green and Early Years of Fleetwood Mac. Johns was impressed with Ulyates work on Live Concert for George (Harrison). According to Ulyates Johns shared many fun session stories during their facetime exchanges during this period. In 2021, Angel Dream,Songs and Music From The Motion picture She's The One, was released.
Ulyate was the natural choice to see to completion Petty's dream of a re-issued Wildflowers release that would include the ten excellent songs that had been cut from Wildflowers for its original 1994 release. Working with Adria, Annakim and Dana Petty and bandmates Mike Campbell and Benmont Tench, Ulyate also went through literally hundreds of tapes to compile insightful demo versions of the Wildflowers materials as well as the most inspired live versions and unique alternate takes to create the Wildflowers & All the Rest box set. Ulyate remixed the Wildflowers tracks in immersive Dolby Atmos. Heading into "Atmos Land" as he calls it, Ulyate expanded to a 5.1 surround sound system with the addition of five more ATC SCM50ASLs and four ATC SCM 121 Pros. The novel element of the Atmos protocol was the height speakers. On tracks like "It's Good To Be King" and "Wake Up Time", Ulyate chose to put the orchestra recordings exclusively in the height speakers. He said, "That allowed me to get a really strong rhythm with the guitars, bass, drums, keys, and vocals sitting in the right place in the ground-floor speakers. With the orchestra in the height speakers, there was no conflict, and I could make every element as loud as I wanted it to be. There's no battle for bandwidth." In other examples of creative placement, Ulyate placed all four of Mike Campbell's twelve-string arpeggios in "Somewhere Under Heaven" in the height speakers and reserved his four overdubs of a twelve-string riff for the "ground floor" speakers. "It's like a sprinkling of fairy dust up there," Ulyate says with a smile.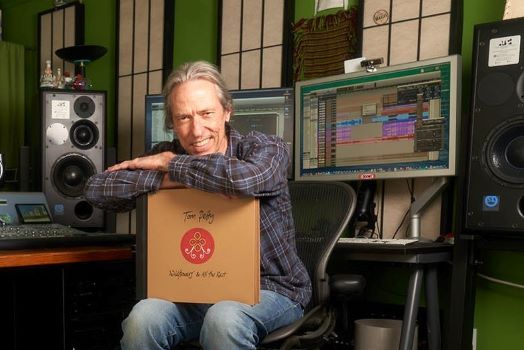 "The larger picture is that all of this technology helps fully-realize this great music from this guy that I knew and loved. It's fun being able to celebrate Tom and his music. The technology helps us give a beautiful representation of his music to his fans!"
Buried Treasure is the name of Tom Petty's weekly Sirius/XM radio show which Ulyate also recorded for Tom Petty & The Heartbreakers Live Anthology, released 2009. "We auditioned over 5000 songs to chose the 62 that ended up on the Live Anthology. Developing a methodology to research, transfer, audition, mix and master this massive amount of material was a real challenge—and a lot of fun! I'm interested in more "mining" projects," says Ulyate.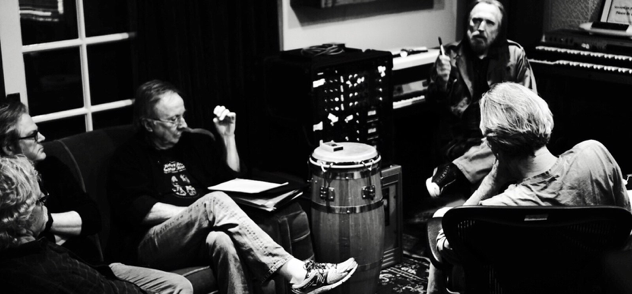 Ulyate is a frequent guest speaker on topics that include High Res audio at AES, and CES, including his participation at "Meet The Hi-Res Music Creators" panel featuring Bruce Botnik (Pono), Eric Boulanger (The Mastering Lab) and John Jackson (Sony) at Capitol Studios in Hollywood, in 2015, moderted by Grammy's P&E wing's Maureen Droney. "This was a great event where I got to meet music business legend Jac Holzman," says Ulyate who is focusing on Dolby Atmos these days. "Get a good system and get fully immersed. It's a spiritual experience," he concludes.
studioexpresso Interview June 2022
SE: Top 2 lessons learned from working w Tom Petty
RU: 1. If it isn't working, try something else. When we were recording the Mojo and Hypnotic Eye albums, Tom would bring his songs in and play them to the Heartbreakers on acoustic guitar. Within a very short amount of time the band would work it out and we'd record a take. Sometimes it was great and we knew we were on the right track. Sometimes it wasn't so great. if the arrangement didn't come together fairly quickly, then we knew there was something wrong. Tom would say, we can spend another couple of hours fixing this but it's not going to get that much better. Let's try a different approach. That always worked. Also know when you've overplayed a song. After about the 5th take, the Heartbreakers would go downhill. Many times, if we didn't get the take we wanted, and liked the arrangement, we'd come back to the song the next day when the band was fresh. That always worked out well. 2) There's always time to come up with a better lyric. We worked in Pro Tools, and mixed "inside the box", so it was easy to open up a song and make a few tweaks to it at any point. On more than one occasion Tom would call me and say he had a better lyric for one of the verses of a song that we had finished. I'd go by his studio and we'd drop the new line in (one time the day before we were booked to master the album!). It always improved the song. I loved that about him, he was committed on every level to making his music be as good as it could be.

SE: Vocal mics used 4 Petty?
RU: An old Neuman U47. it had great midrange and fit Tom's voice very well. Charlie Bolois, from Vertigo Recording, made a custom mic for Tom. It was U47 capsule attached to a 251 style body and preamp. It was nice for more of a "hi-fi" sound on his voice. SE: When did you meet Petty and what was that 1st session like? RU: I was working for Jeff Lynne and we had just finished mixing the Concert For George, which had a performance by Tom and the Heartbreakers. Tom came by Jeff's studio and he listened to the mix. He turned around and said, "I don't know what you guys did, but this sounds great!". Needless to say, I liked him from that moment on.

SE: What can you say about working with a band vs session musicians? RU: Session musicians are expected to make things happen very quickly. In a very short time you will have something that is good and useable, but maybe a bit "safe". Bands have their own internal dynamics, which can make things easier or harder. It requires a bit more patience, but there is the chance you can get something that's unique. SE: Your advise to those who want to record/mix in Atmos?
RU: You don't have to go crazy with panning things, like vocals, in strange places. Just spread things out and let the music have more space. Make sure it sounds good in headphones, too! (via Dolby Binural and Apple Spatial)
SE: Your prized collection or possession in/out of your studio?
RU: My CDs. I've got about 700 of them and I'm not getting rid of them! Also, my wine cellar.
SE: Say you could invite your favorite musicians/artists of all time to dinner (from any era) who would they be?
RU: My dad, Bill Ulyate, my uncle Lloyd Ulyate, Igor Stravinsky, George Harrison, Jimi Hendrix and Duke Ellington.
SE: Your best tool in the studio or one piece of gear you can't do without?
RU: Massenberg DesignWorks MDWEQ6 , a great EQ plug in. It was the reason I was able to start mixing inside of Pro Tools in 2006.

SE: If you could have resources to invent something that would streamline your work, what would that be?
RU: Clone myself.

SE: Your favorite Tom Petty session story -- that remains to inspire you today!
RU: We were recording "Sins Of My Youth" for the Hypnotic Eye album and the arrangement wasn't coming together very well. We took a break and Steve Ferrone was messing around with a bossa nova rhythm. Tom and I looked at each other and both said at the same time "bossa nova!"We cut the track with that beat and it's still one of my favorite songs. Remember, if it's not working, try something else!
SE: What do you think music and/or a studio will sound/look like in 100 years?
RU: I have no idea! I do think, however, there will still be recorded music and if it touches the right emotions in the listeners, it will be successful.

SE: Beverage of choice?! RU: California Zinfandel, like those from Carlisle Winery
Contact:


copyright 2022 studioexpresso