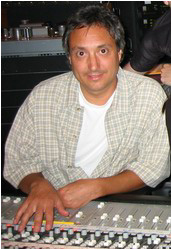 History: Engineer and mixer Marc DeSisto's credits include Michelle Branch, Melissa Etheridge, U2, Chris Isaak, Stevie Nicks, and Joe Cocker, to name a few. After working extensively as an engineer in his hometown of Boston, Marc DeSisto moved to Los Angeles and got a job in 1986 as a staff engineer at the famed A&M Studio in Hollywood. Marc worked with and learned from a number of great producers and engineers. While there, he worked with Jimmy Iovine on U2's "Rattle and Hum." Marc assisted Bob Ezrin on Pink Floyd 's Momentary laps Of Reason.




Marc's experience at A&M was the spring board for him to start engineering and mixing independently. He has worked with a diverse range of artists, from Don Henley, Stevie Nicks and Michelle Branch, to Unwritten Law. Marc was nominated for a Grammy for his work with Melissa Etheridge on the album "Breakdown." He produced The Samples
Last Drag (1993)....




Current Credits: DeSisto is currently mixing an album for Robin Trower with Jack Bruce on vocals and Bass guitar. He also, recently mixed Castella's new album Produced by Joe Chiccarelli "How did we get Here" at Crossroads Studio in Portland and mixed 3 songs on Jim Mcgormans album.



"The key is to be a good listener. My Philosophy in the studio or mixing comes from many years of being around producers, engineers and mixers whom I have respected. You hear a great sound and 'lock it in.' This generally satisfies most artists," says DeSisto. Marc stays on top of his game by trying to stay true to himself under all circumstances and first finds what the recording artist is looking for. "It's always different from artist to artist and session to session. I'm usually full of options when I'm engineering and try not to get locked into anything. Also having a positive attitude helps and being able to work around things, when technical situations come up and they often do," says Marc. According to Marc it helps to have the ability to build trust when you're working with an artist for the first time. "For me, I must feel the mixes before presenting it. You are creating your version of what the artist had in mind when they wrote their song. Songs are sometimes personal and to be able to capture it is an art and a thrill," concludes DeSisto.





"I have updated my studio with Dangerous Audio's new monitoring section - ST and SR for 5.1 mixing," says Marc of his place, Luke's Room that offers a DAW set up with Pro tools HD3.
"I print to Tascam's High definition audio recorder, it also has DSD capability, it is amazing.
I am fully equipped with an arsenal of plugins that work efficiently and are sonically up to par. Luke's room also has a space for overdubs - very quiet with hard wood floors. It is a warm and relaxed atmosphere," adds Marc.






Some of the recent projects mixed at Luk'e's room by Marc include: Stroke 9 " Last Of The international Playboys" Produced by Stroke 9 Robin Trower w/Jack Bruce singing and playing Bass. Produced By Robin Trower Jim Mcgorman "Jamestown" Produced by Jim Mcgorman The Blue House "One More Kiss" Produced By Tommy Emmanuel



Marc mixed Ingram Hill "Cold In California" Produced By Oliver Leiber at Ollywood studio.

Contact: Marc DeSisto at

frank@mcdman.com offic ph: 805-446-3370



Discography at AllMusic
Visit Marc DeSisto.com



<![if !supportEmptyParas]> <![endif]>
copyright 2008 studioexpresso