Eric Rudd
engineer l mixer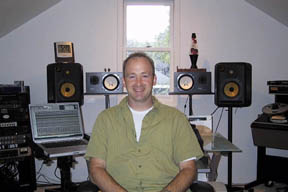 History: Eric Rudd has been working professionally in the recording industry for more than 16 years. After graduating from the University of Wisconsin with a Bachelor's Degree in Music, Eric moved to Los Angeles to begin his career as an assistant engineer at Ocean Way Recording. During his seven years at the studio, Eric was involved with every conceivable configuration of session, including mixing, tracking dates, vocals, orchestral recording, film scores, and commercials. Album projects included Rod Stewart, Little Feat, Michael Jackson, Michael McDonald, Lindsey Buckingham, Stevie Nicks, Herb Albert, Michael Bolton, Sam Phillips, Los Lobos, and Manhattan Transfer. His work on feature films included The Commitments, A League of Their Own, Days of Thunder, and Dick Tracy.









Eric's work as a freelance engineer began in L.A. while working with producer/songwriter Rod Temperton ("Thriller") for Island Record's artist Mica Paris. Other projects included work with Olivia Newton-John, Cliff Richards, Wendy Moten, Ry Cooder, and jazz pianist David Benoit. Mr. Rudd has also recorded music for the 1993 World's Fair and made-for-T.V. movies, and performed music editing work on the NFL's Superbowl Half-time Show.





Current Credits: After moving to Nashville in 1994, Eric Rudd's engineering work continues with a wide range of album projects, including Rita Coolidge, Big House, Michael English, Warren Hill, Kathy Trocolli, Clay Crosse, CeCe Winans, Trick Pony, Glen Medeiros, Victoria Shaw, Chuck Negron (Three Dog Night), Bernadette Peters, Faith Hill, Shane Minor, and Wynonna Judd. Another of Eric's achievements includes the mixing of Chet Atkins' album "Almost Alone" (including "Jam Man," winner of the 1997 Grammy Award for Country Instrumental Solo). Eric currently lives and works in Chicago. Eric endorse the Metric Halo system which he says is central to his music production setup. "I generally track to Radar24, then FTP the files into my computer. I then use the Mobile I/O for my D/A when I'm doing my editing and mixing with Nuendo. I also have brought my TiBook and Mobile I/O to an artist's house to do vocals in their living room."







Contact: studioexprsso

copyright 2003 studioexpresso