Michael Jay
composer I musician I arranger I mixer I engineer I producer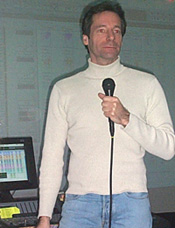 History:  Michael Jay began his composing career with scores for theatre in New York.
As composer in residence for The Colonnades Theatre Lab, he pioneered the use of multitrack playback to allow not only cinematic arrangements but live remixing in order to follow the actors. Scores for "Moliere In Spite of Himself" (including a production starring Richard Kiley), and "The Ballroom in St. Patrick's Cathedral" included Michael's elaborate surround sound designs featuring up to 12 speaker locations. Other productions include
national tours of a recent staging of "Tallulah" starring Kathleen Turner and "Cyrano" starring John Cullum, plus productions at The Actor's Studio, etc.




After studying orchestration at Julliard's extension school, Michael Jay went on to compose music for PBS, CBS Sports, AT&T, Unisys, Prudential, LL Bean, E Channel, for the feature film "Key Exchange," and the short film "Peacemaker."
Upon the urging of synthesizer legend Wendy Carlos, Michael learned audio engineering in order to further his self-produced electronic compositions. Michael has gone on to engineer and produce projects for Neil Young, Yes, Brian Eno, Howard Shore (scores for videodrome and after hours), John Boswell, Melissa Ferrick, Gino D'Auri and others. He also mixed the dance tracks "Last Night A Deejay Saved My Life" and "Juicy Fruit."
Michael's popularity in engineering and editing for tv and film work increased when he came to Los Angeles. As a Pro Tools music editor, Michael worked on "Armageddon," "Stephen King's The Shining", Michael Jackson, "Ghosts", "Uptown Girls," "Return to Me", "Meet Joe Black", "Telling Lies in America", and numerous others. Other post engineering projects range from special venue audio for a Kodak theme park attraction to enhancement of surveillance audio for the FBI.





This varied studio experience has led composers to call on Michael for consultations with their personal studios. He most recently consulted on the acoustics of the studio for composer Trevor Rabin, and spent two years as overall designer and project manager of the studio for composer Don Davis, in which he composed and mixed the scores for "The Matrix" trilogy.
Michael's music mixing work for television won him a "Monitor" award from the Videotape Production Association, and his editing work on film music has won him an "Emmy" award.
Current Credits:  Most recently Michael composed a new signature theme for DTS for use in upcoming trailers. Reviews on MJ music:
New York Magazine:
"Michael Jay's swirling background music is indispensable."
Boston Times:
"Michael Jay has done a masterful job of integrating a powerful musical soundtrack,
music so appropriate that one is deeply affected by it."
Hollywood Reporter:
"Michael Jay's music contributed mightily to conjuring up the 17th Century. All in all, splendid."
The New York Times:
"Extraordinary music accents the tension; a stroke of shining craftsmanship."



Contact: Michael Jay
http://www.TheImaginaryStudio.com
<![if !supportEmptyParas]>
copyright 2004 studioexpresso