Ian Charbonneau


The Rolling Stones, Paul McCartney, Lady Gaga, Garth Brooks, John Mayer, Andrea Bocelli, Beyonce, Morrissey, Roger Waters, Bob Dylan are all among the many live recordings under Ian Charbonneau's black belt. You could say that Remote Recording is in Ian's DNA. For many years he worked alongside his father Guy Charbonneau and their famed remote recording studio, Le Mobile.
Ian has worked with John Williams, Steven Spielberg and the Chicago Symphony. He has traveled the world with The Offspring for over a decade, recording and mixing Live broadcasts at some of the largest festivals to include Coachella.

Ian who is super passionate about music recently has gone solo with a newly- branded company, he calls The Recording Project with a brand new recording fly pack system capable of 48 or 96K recording.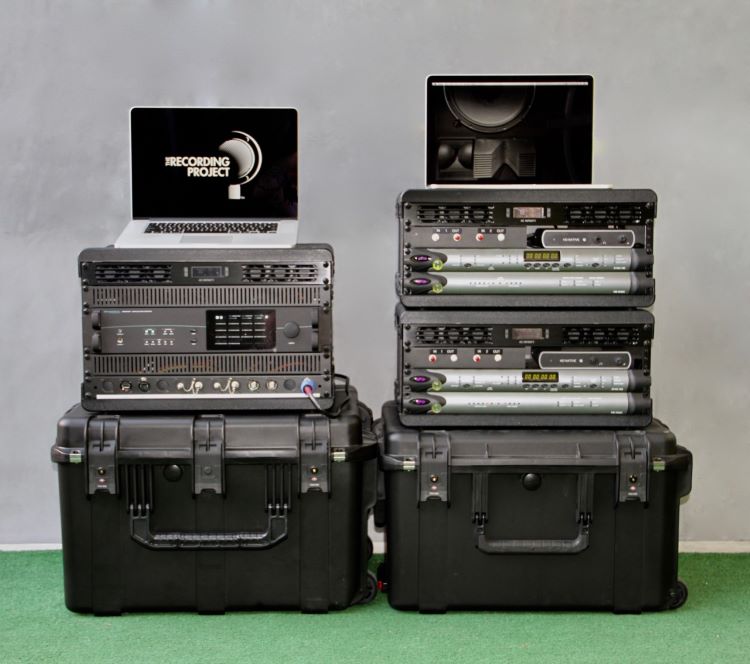 In September 2022, Ian was in NYC recording the 50th Anniversary Concert for Brazil's legendary brothers Chitãozinho & Xororó held at Radio City Music Hall. "To record the legendary duo at Radio City Music Hall, we used Music Mix Mobile. They did id a stellar job assisting us on this project." says Charbonneau whose approach to live sound, similar to recording in the studio, is to capture the emotional content of every song.
studioexpresso is pleased to bring this exclusive Interview with Ian Charbonneau Sept, 2022
SE: Talk about your inspiration behind The Recording Project
IC: The idea behind The Recording Project is to continue to offer recording services outside of Le Mobile where I spent the last 30 years working on so many projects with my father (Guy). Now I continue my journey of recording music on my own with a deeper sense for capturing emotional content.
As I was searching for a name to rebrand myself, I realized Recording Projects is what I do. And to my surprise, the name was available!
My goal is now to keep doing what I love, recording, mixing live music, capturing special moments, and helping others with great sound. Whether it is going to a studio, using a remote recording truck or the fly pack system that I've built - these are all my work tools. My main assets are my extensive experience in live recording, mixing and producing.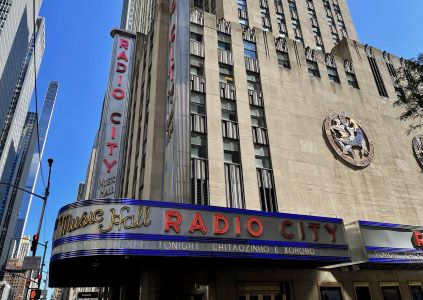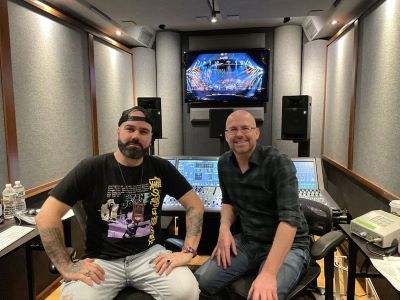 l-r: Ian Charbonneau with engineer Marcelinho Ferraz at Radio City Music Hall, NY in September 2022
SE: You were at Radio City Music Hall this last week. Can you talk about the project and what you did?
IC: Yes, this was for the 50th Anniversary Concert of a legendary Brazilian duo named "Chitãozinho & Xororó". The project came to me from a friend who's an engineer at Rock In Rio where for so many years I've had to opportunity to Mix Live Broadcast for some of my clients performing at the festival. It was a great pleasure to help capture this very special night for them. I used Music Mix Mobile to engineer the project. What a great venue and sound, the Radio City Music Hall!
SE: What does your recording system consist of?
IC: My system consists of a DirectOut Technologies, MC Prodigy modular audio converter loaded with 64ch of high quality MicHD preamps meticulously packaged in a custom rack with all inputs on the back side. It allows for 48 or 96K recording. The system is very tidy, flexible and allows all kinds of expansions. As the unit is an audio converter, you can also latch any desired analogue preamps to it. The converter / preamp connects via Fiber cable to (2) Avid Madi Pro tools for redundancy. Et Voila! That is the basic system. It can be tied to an additional Pro tools system for mixing "in the box" with a controller on smaller projects or latch via fiber to any Madi Digital console to deliver a great mix.

SE: What made you build a recording fly pack system?
IC: There are many reasons, but mainly I wanted to have my own work tool in a simple package just like a photographer has his cameras as a work tool.
Also, to be able to offer a simpler alternative to recording live music rather than the increasingly used digital P.A. feed recording that too often offers not so musical or harsh sounding results. Technology today allows great things for live sound such as "virtual soundcheck" multitrack recording for P.A. tuning but it is surely not the best or proper way of capturing a show for perpetuity or to do live broadcast. Not because technology allows it, but because it's the right thing to do. You hire a video director to capture your live show, do you not give him control of the cameras?
I built my fly pack with the intention of offering a simpler better solution to producers who care about sound quality and capturing music in a musical way, also to meet today's budgetary constraints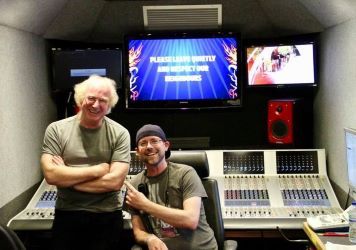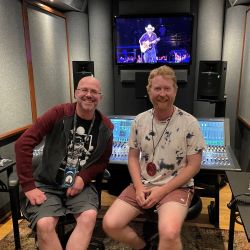 In UK, Ian Charbonneau working with Tim Summerhayes in REDtx Mobile studio at the Download Festival for The Offspring; R: Recording Garth Brooks with Matthew "Buster" Allen.
SE: What are some recent changes in the live recording scene that are worth mentioning?
IC: There has been some really great advancement in gear performance and technology especially over the last few years. It was very attractive to me to finally be able to build a recording system that offers high quality recording, high channel count in a very simple, small and portable package. Finally, I have a system that doesn't weigh 3,500 lbs to transport or take a semi truck to move. I can check it in as "media package" luggage on an airline, ship it or simply put it in the back of an SUV and easily do a great recording.
SE: What's the key to a great sounding recording? What's your approach to Live Recording?
IC: One of the most important things for a great sounding recording lies in having microphone preamp gain control. Over the last few years, I've increasingly encountered many situation in live recording where I was handed a P.A. digital feed to mix live broadcasts. Only on a few occasions did I get a digital multitrack feed that sounded good. In too many cases the sound was lifeless, squashed without dynamics, thin and pointy sounding without depth or space. It's a little hard to get good sound with microphone preamps dialed in for a P.A. Sound reinforcement application without having any control of gain. The focus and approach in recording is really not the same in gain structure, space and headroom. A preamp and a microphone are like a microscope and specimen, you focus on that you want to capture. I'm really not sure what is so wrong today with having a proper audio analogue split when the sources are all analogue to begin with. My approach to live recording is much closer to one you'd have in a studio.
I feel it's often forgotten that a little air around the sound is often what makes it sound good. Space in sound is very important, and not constantly having everything in your face. The main point I want to convey in my recordings is feel and emotions. That is what music is.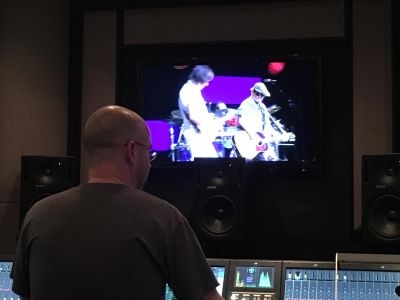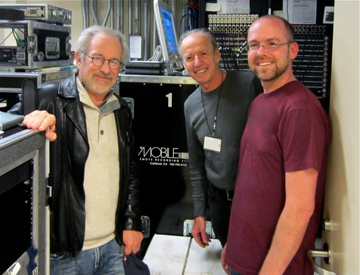 Ian Charbonneau recording and mixing Pay Per View Live Broadcast for Jeff Beck w/ Johnny Depp at Eric Clapton's Crossroad Festival 2019; Le Mobile's Guy and Ian Charbonneau with Director Steven Spielberg during the recording of Lincoln soundtrack by John Williams.

SE: What are some challenges working with indoor vs outdoor venues?
IC: There are many but I think the main outdoor challenge is wind, weather conditions such air density, humidity and temperature all can affect the dispersion of sound. I'll never forget my time recording and mixing broadcast for Coachella in a sandstorm or windy day, it can be challenging. Recording indoors can sometimes also bring quite a bit of challenges depending on the space and acoustics. I see many newer venues that have so much soundproofing on stage that the sound becomes dead and offers very little dispersion and life. It makes everything sound much rougher as there is no space around the sound. The right amount of space is very important in achieving good sound.
SE: What's different or radically new in remote recording technology or production processes these days?
IC: The digital age changed everything. Now we have Digital mic preamps that are much better than they use to be. There are better converters, better clocking, processing and much better plugins. It's really a combination of many things that all have greatly improved over the last few years. Finally I think the focus needs to go back to the music - there are so many amazing young talent out there. Remember that's where it all starts!
SE: Speaking of new talent, does The Recording Project give you more flexibility to work with younger acts with smaller budgets?
IC: Yes. To me this is all very personal. When I get a project, I fully put myself into it. I'd like to eventually return to producing projects, and help new emerging artists. In the last decade I've been more focused on bigger live projects. The Recording Project could help grow the scope of our work.
SE: Many years ago you produced a beautiful album project based on your belief that music heals. Can you tell us about it?
IC: I was approached to record a terminal cancer patient who wanted to make a record as she was sent home with just a couple weeks left to live. Sandra James wanted her music to inspire others to follow their dreams. What was to be just a few days ended up being over 3 months of recording, capturing her vocal at her bedside. The doctors were in great disbelief. Sandra lived far beyond the medical norm of science. She was realizing her life long dream. It was really an honor and gift to be a part of this very special but challenging project.
SE: Your thoughts on education vs experience on the job?
IC: That's a nice combo, but Experience, experience, experience… When I was 14, my friend, an avid drummer, who lived across the street asked me to help with their live sound for a concert in a large school gymnasium. Sure thing, I thought, that sounds like fun! The show went so well that the next year the school hired me back to do a bigger event. I skipped school, went to Solotech in Montreal, rented a PA and some par lights. I charged them $1,000, kept $150 for myself and ran the whole thing. The year after, I was doing events at several private schools and colleges around Montreal. I didn't know anything at the time but I just went out there and did it. I'd been around it all my life, seen it but never done it. Over time, experience taught me most of everything. The day you stop educating yourself is the day you fall behind. Education, understanding why and how things work is super important. Our work can be very technical. Having a technical background, basic understanding of signal flow, gain structure, electronics, mechanics, microphone types and placement, working with your ears, not just your eyes, are all part of the education process.
SE: Your advice for those wanting to enter live sound or remote recording?
IC: Be patient, get out there, be transparent, respect the moment, be prepared, have a plan and always be a step ahead. Put your ego aside this is not about you. Listen to your ears, not your eyes.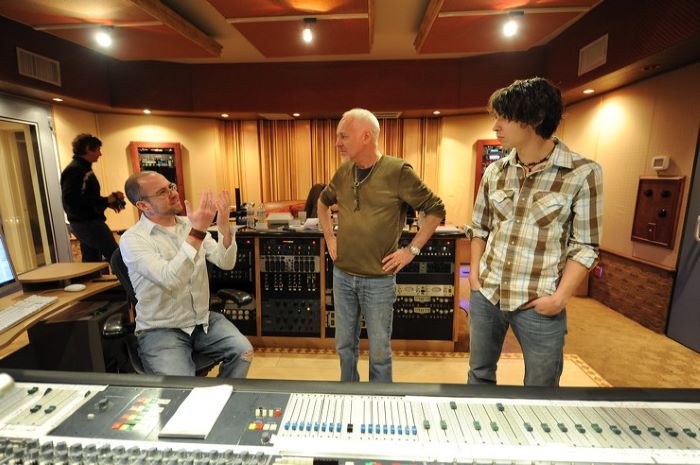 Ian with Peter Frampton and Davey Knowles
SE: Defining moments in your career? What made them special or memorable?
IC: I was extremely fortunate. There are so many. To me, every project is special. First, I've had the amazing chance to learn from and work with some of the best talent, engineers and producers of our industry. From Ed Cherney, Al Schmitt, Geoff Emerick, Humberto Gatica, James Guthrie, Phil Ramone, my father Guy Charbonneau and so many others. I realize today that many of these were "Once in a Lifetime" projects. I'm very grateful for that. How many times do you get to record legends like the Rolling Stones, Elton John, Jerry Lee Lewis, Herbie Hancock, Metallica or have Barbra Streisand's voice at the tip of you fingers on a fader! Working with John Williams, Steven Spielberg and the Chicago Symphony on a major film score with legendary mixer Shawn Murphy was quite a memorable moment. Going to a studio to track a record for Peter Frampton was also pretty defining. Recording the "Desert Trip" festival with my father, featuring music icons Roger Waters, the Stones, Paul McCartney and Bob Dylan, was pretty surreal. Capturing and mixing live broadcast for the Eric Clapton Crossroads festival was also pretty defining and big shoes to fill as an engineer. I got to travel the world with The Offspring for over a decade, recording and mixing Live broadcasts at some of the largest festivals in the world as well as taking part of recording and mixing for Coachella for 15 years. I've also had the chance to work at once famed Leeds Rehearsal Studios as a live monitor and FoH mixer. I've learned a lot about live sound there. Having Joe Cocker personally come thanks me after an important rehearsal for making an amazing live mix when your just a 20 years old that's a pretty cool memorable and defining moment. Running around the Grateful Dead stage and the Montreal Jazz Festival as a young kid bringing the cassette to Miles Davis or James Brown was pretty defining and all part of who I am today. There are too many memorable moments and special projects in my head, I better stop now. Maybe someday I could write a book but right now I rather continue on forward with this incredible journey.
SE: What hobby or collection do you have that is not related to recording?
IC: Not related to recording or music is a really a tough one for me. Music and my work is my life, it's also a hobby. I still sit in front of my old Marantz stereo, play with the EQ, and enjoy listening to music just as I did when I was a young boy. I like to make things work, fix things, be creative. Photography has been a hobby as I like to capture moments however, I have to admit, the Instagram of today kinda killed it for me. Food is definitely also a favorite hobby of mine. From sushi, cooking, roasting, baking, or enjoying a good fondue dinner with friends, I'm there.
SE: Your beverage of choice?
IC: Sake Sake! I just like the way it sounds, it rhymes, but also I like beer and wine. I'm flexible just like my recordings.

Contact: info@therecordingproject.com
(818) 934-4142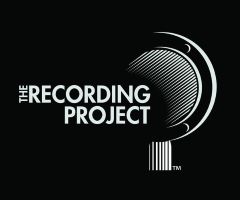 The Recording Project - official
AllMusic
Facebook
LinkedIn

Photoes courtesy of The Recording Project