SE: You're known affectionately as "the Indiana Jones of jazz" and also "the jazz detective". How do these titles translate in your production work-flow or daily activities relating to producing albums?
ZF: The "jazz detective" and "Indiana Jones" monikers relate to the sleuthing part of my work. A significat part of my job is tracking down tapes, which entails investigative work in researching archives from government agencies to individuals from all over world. With INA in France, I've released recordings from their archives by Albert Ayler, Grant Green, Wes Montgomery and Chet Baker. I'm in contact with the BBC, the Penthouse jazz club tape archives in Seattle, the Left Bank Jazz Society archives in Baltimore, and all sorts of other places. If I'm able to find something great, then I need to find a party to finance it and get musicians and other rights holders to sign on for release.
SE: Describe your style of producing, which may include wearing an A&R hat. Name your top 3 strategies to successfully produce an album.
ZF: My producing strategy always starts first with passion, passion and passion. I really need to be excited about a recording if I'm going to produce it for release. I want to be close to these projects and excited about what they represent. I want to be the guy who stands at the mountaintop beating his chest telling people they need to listen to it. If I'm not excited then I don't know what the point is? There have been other points in my career where I haven't felt that way and didn't care for it at all. The next part of my strategy with archival projects is all about curating experiences, using multimedia. Of course, music is at the forefront, but what other voices are we including talking about the music, who's writing the liner notes, finding and selecting rare photos, newspaper clippings, etc. I'm curating museum exhibits for music recordings. I view working on the booklets as a type of investigative music journalism. And there's overseeing the creative and design, which I often have my own ideas and enjoy collaborating with the designers. Its about elevating the art of record making. The last element is all about relationship building. It takes a long time to build trust. Once one project goes well, it leads to an opportunity to do another one if everyone is happy. If there's a shared passion and interest, then we'll want to work together over and over again. An example of this, most notably, is the Bill Evans Estate, whom I've been working with since 2010 and we've become great friends with the son Evan, who has supported us in carrying on with celebrating his father's legacy. Wes Montgomery is another prime example. One off great parts of the gig is getting to know people. It's such an enormous thrill to work with family members of my heroes.
SE: During our phone you said you have "A built-in barometer" for starting the car when it comes to album releases. How did you acquire this ability to combine and balance art + commerce?
ZF: I developed this barometer during the first 14 years of my career working on the distribution, sales and marketing side of the music business with different catalogs. I accumulated different experiences, like being a marketing representative for the New York Tower Records locations at Lincoln Center or 4th and Broadway and seeing firsthand which artists moved and sold the most out of the product speedtables. I was a sales rep for six and a half years at Universal Music Group in the Mid-Atlantic and was able to develop more of my feel for it during that time. Which artists continue to sell time and time again and just how the whole machine works. Before then I just thought records were born and brought into stores out of nowhere. Over time I was able to get a sense of which catalogs rise to the top and which stay at the bottom. Also having a strong PR campaign can really affect the scope and success of a release. After you've done it for a while, it gets embedded in your mind, and I often have kneejerk reactions based on those experiences that help guide my decisions. What's also important is that I'm an LP collector and study music history, so when I find a special or rare recording, it often stands out to me right away. I've been surprised too. Sometimes it's just recognizing a tape that stands out on a spreadsheet. It's about personal taste too. Again, it's gotta be something I'm passionate about.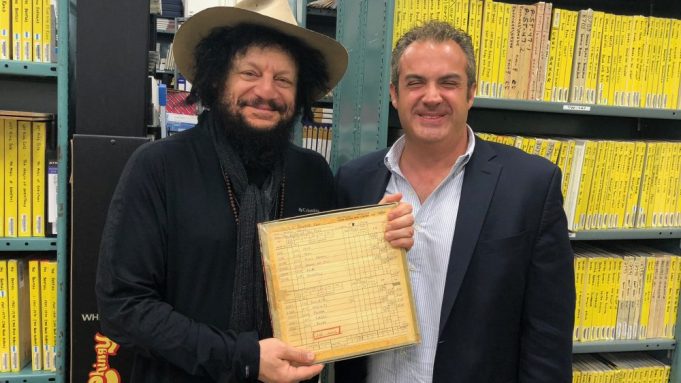 SE: Name a few projects with Blue Note and how you and Don Was met and your working relationship together vis a vis your two labels (BN and Resonance) and serving artist estates?
ZF: It was really exciting getting a chance to come into Don Was' office in the summer of 2018. We had known of each other and I was invited to meet him along with Blue Note's General Manager Justin Seltzer. It's a small pond, and I caused a stir at Resonance and also Elemental Music, and I'm sure they became aware of me over time. On a personal level it was quite a thrill because Blue Note is one of my favorite labels of all time, and the first one I started collecting and proselytizing the gospel about as a late teenager. Blue Note caused a shift in my life in appreciating the culture and what this music is about. When I went in there our initial conversation was really nice. I don't need to say, but Don was a real mensch, a very nice man, and Justin too. They just made me feel welcome and at home from the first times we were chatting.
When the question came up about possible projects we could work on, obviously I'm such a nerd and had been coming across Blue Note related projects for years so it was easy to come up with a list. At top was the complete Lee Morgan Lighthouse recordings.
I first became aware and excited about the original LP release that came out in 71, then the 3-CD set came out in 1996 when my future friend David Weiss was a producer on it. I would share this music with friends on road trips and at the house. I knew from a conversation with David that there was more music that hadn't been issued. Don entertained my request, and we evaluated all of it. There was still so much great music that had never come out before. Things often become more important over time, and it was clear that this needed to come out in its entirety, so we presented all of the music chronologically the way it happened at The Lighthouse. The 12-LP edition sold out and the CD set is still selling and streaming. It's a really important project and I'm grateful that Don said yes. It was a dream realized. Another project came to me several months before my meeting with Blue Note related to when I was in Japan. While visiting Japan in 2017/2018 I was approached about an Art Blakey recording from his first tour in Japan in 1961. Because of my reputation, they approached me to see if I was interested in doing something with these recordings. I listened to it, but it wasn't a good fit for Resonance, and clearly belonged to Blue Note. It was serendipitous that I would learn that these tapes exist and made me feel like there's a good reason I'm working with Blue Note. The recordings fall under their copyright and are aligned with what Don and Justin were wanting to put out. It's all been very advantageous. Then there's the 1959 studio album of Art Blakey and the Jazz Messengers called Just Coolin', that until my starting at the label had remained sitting in the vaults unissued. I was also aware this existed, and it was just the right time for the label to put it out. I'm currently involved in various other projects as well. It's all about doing archeology work with the utmost care and respect. If it doesn't serve the artist's legacy, then it doesn't need to come out. There's a good reason why a lot of music sits on a shelf. But sometimes we find remarkable documents outside the vaults which deserve attention too.
SE: Your label, Resonance has an impressive list of legacy jazz artists -- Bill Evans, Stan Getz, Nat King Cole, Sarah Vaughan -- what are some of the challenges in jazz space today? Who is your audience and what are the best ways to grow new audiences for legacy artists?
ZF: We've invested heavily in brand marketing and label identity over 13 years at Resonance. We've become known as the destination for the upper echelon of archival jazz recordings. We're constantly trying to connect with consumers using mailing lists and social media to boost our overall followers. It's been an evolution and work in progress in many ways. People know that our fans are of a certain pedigree. The projects we put out have heavy cross over press due to our full court marketing and PR campaigns. We service all the daily and weekly newspapers, specialty radio, and larger outlets such as NPR, The New York Times, The Wall Street Journal and others. We've been very lucky. I think the press sees that there's a degree of importance in the work we represent that's worthy and deserving of being covered in the press. It gives people the opportunity to revisit the legacy of these great artists although nothing is ever guaranteed or a given. One of the challenges we face is that these artists are no longer alive, so they're not available to talk and tour. Our audiences are all over the place, they just like great music. The age range skews a bit older, 25 and up. A lot of people who read about our releases think they look so exciting that, even if they're not familiar with the artists, so maybe they'll give them a chance. One of the turnkeys to our success is Record Store Day, which has events twice a year that we submit to having an exclusive LP release, followed by CD and digital. It's common for that success generate enough revenue to enable us to recoup on the entire productions. You could say Record Store Day has made so much of the work we do possible.
SE: You have extensive background with various labels. Name two lessons you've learned that have served you well.
ZF: One lesson I've learned is that my passion and natural enthusiasm is the most important asset I have. A writer at an international publication who became a mentor of mine, pointed this out to me. My passion early on may have been intimidating to others, but it has served me well as a label exec, producer and advocate. Being true to myself is what it's all about. I'll also never forget a conversation I had with the "Black Godfather," Clarence Avant, who said something he had said to a lot of other people, that "it's all about numbers." If you can't stand behind your numbers and forecasting, then you'll be lost. You need to know what these releases will sell and what the budgets will be. It's all about the numbers. We live by the numbers. One last bonus lesson: the devil is in the details. Who's going to buy it? What's your marketing campaign going to be? What are your ideas for selling these albums? It all has to be worked out in detail. Detail, detail, detail.
SE: What advice would you give to your 20-year-old self, as far as, how to find your path in music industry? You began as an intern in the mail room at Polygram, yes?
ZF: I began as an intern even before I began in the mailroom. I wouldn't do things much differently. I didn't pay attention to what the hours were, didn't look for promotions – I just did the best I could do each step of the way. I was never trying to back bite to get ahead. Just being best at whatever position I had and letting the ways of the universe work themselves out, from mailroom to merchandiser, salesman, marketing rep and A&R man. It all worked out the way it was supposed to. Some people have regrets, but I really don't.
SE: You talk about your partner at Resonance being your mentor. He opened the door for you to become a producer, right? How? Talk about about mentorship and what type of person you'd like to mentor?
ZF: I was very fortunate to begin working with George Klabin in 2009. When I started I was brought on to oversee distribution and to build an international distribution network for his new label, which was frankly new to me. George opened the door for me, and recognized early on that I was knowledgeable and passionate. I had never produced a record at that time, but he made me a deal that if I could go out and find recordings from a musician that had never been out before (and if he was into the music) then I could produce it. George and I also have some similar tastes and even share passions for many of the same artists which has been especially nice. I like to tell people, that it was like putting fire on gasoline. From Bill Evans to Wes Montgomery, Jaco Pastorius to Grant Green, we've been fortunate to grow as a company from (in part) my enthusiasm. Lot of people were there for me early on, but George allowed me to jump the fence and gave me that break. Working with other labels, I learned that people typically stay in their lane. Marketing and sales people don't work on the creative side, but George had no bureaucracy and I'm very grateful. If it wasn't for him, I might not be producing like I am today.
Mentorship is really important. I've had a chance over years to work with interns and people on other paths. Someone I would mentor would be very hard working, already with a set of skills that I could find a way to integrate into the day-to-day work. I've done that before, but I spend so much time with my production manager and associate producer Zak Shelby-Szyszko, that there's little time to devote to mentorship outside of that. It's a trick bag. Mentorship is important, but you have to know the person is going to compliment what you're already doing or have the time to invest in someone else and pay it forward. I like to instill lessons about reality and way things are. It's a very difficult business. 30 years in, I know how greatly in part the machine operates. Being able to help people is important too and I hope to be able to do more of it in the future.
SE: When you produce albums, what type of studios and engineers (including mastering) do you like to use? List your favorites and why?
ZF: First of fall, at Resonance we have our own in-house engineering studio for all the CD and digital mastering, and tape transfers. We outsource the vinyl mastering and lacquer cutting to either Bernie Grundman Mastering or Kevin Gray at Cohearent Audio, who are both legendary figures in the engineering world. At Blue Note, it's up to me to hire whomever I want for each project. Sometimes it's dictated by budgets. We work with people who are all top notch professionals, including trumpeter/composer David Weiss, who has perfect pitch and bring in other perspective to my productions by helping to choose the best material and work on the front lines in the mastering process with the engineers to get everything right. I'm not a skilled musician, but I utilize my team for all senses that I need to cover on a given project.
SE: I saw you getting emotional in a video interview when talking about Bill Evans and his impeccable performance. What do you think are qualities in his performance that create a time less sound.
ZF: It's an extreme honor and pleasure to work with the Estate of Bill Evans, and it's also a great responsibility when you work with such an important and iconic artist. You have to have a meticulous attention to detail with selecting material and working in the studio with the engineers. Evans' music touched me very deeply in my late teens. Now I've done 9 productions (with 2 more in development), and they all take on a very special meaning. I've become in some ways a guardian of his music, and since he's not on the planet physically, I have to deal with carefully preserving and guarding his legacy. Jazz in general has been special to me since my teens, and it touches me in personal way. I feel compelled to share my experiences and understanding of these artists with friends and the public.
SE: What distribution strategies would you advice to a new jazz artist today?
ZF: Very simply, it's about getting your music available to people to get their hands on it. You also have to be creative and clever about promoting it. It begins with the music itself, and music is very subjective. Often times, it's up to the creativity of the record label to figure out how to get it to the public. That should entail hiring a promoter/publicist that's going to want to work their heart out for it, which often take a leap of faith. Sometimes people just put music out, and as a former colleague would say, "sometimes albums can come out and escape," it's like produce, sometimes they have a very short lifespan. It's important to have strategy and formula, including singles, marketing, touring, etc. What are drivers behind the release? Its ultimately always about the music.
SE: At heart, you're an album collector. How did this passion begin and how many albums/vinyl do you currently have (seen in the pix behind you)? How do you organize them?!
ZF: My passion for record collecting began with my Mom and Dad's collection as a child. I took an interest in it and it was my salvation. I used it to escape. Listening to music had a therapeutic quality in my life. As the years have gone on, especially in the late 1990s, I began purchasing used records again. In pre-pandemic times I would go to Europe and Japan twice a year, and go to stores all over world collecting Blue Note, Prestige, Verve, Clef and all kinds of music, not all just jazz. I also enjoy classical records and was fortunate to represent Deutsche Grammophon, Decca and Phillips in my earlier years. I've been surrounded by all kinds of music and consider myself an omnivore in taste. I estimate my LP collection maybe around 6,000 to 7,000 vinyl LPs. I probably have the same amount or more of CDs. I even have a few Edison cylinders!! For me it's not about quantity, but quality, things I know I'll revisit and enjoy. One of my greatest joys is putting on music to hear although the time is growing sparce at times as I have often tapes I need to audition or for current projects I'm working on. I organize my jazz by label and try to maintain that. It's gotten kind of hard with so many new arrivals, but somehow I miraculously know where everything is. Sorting by label makes it easier for sure.
SE: What's your favorite drink or food to go?!
ZF:I'm a big connoisseur of fried chicken, sushi bbq and love my tonnarelli pasta with black truffles and sausage (Terroni in West Hollywood dishes it up grand). As for a drink, I drink a lot of water but when it calls for it, I enjoy a dirty martini on the rocks with a couple of olives, no vermouth, sometimes Kalmata olives and brine).