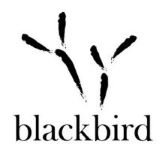 Waiting For Your Moment To Arise!
Blackbird is one of the world's most renowned recording complexes – known for its state-of-the-art production facilities and unparalleled collection of vintage and modern recording equipment. The facility covers nearly a city block in the Berry Hill Neighborhood of Nashville, with nine recording studios, The Blackbird Academy, a post-secondary audio engineering school, Blackbird Audio Rentals, and Inside Blackbird – a new online learning platform.
Founded by legendary sound engineer John McBride and his country superstar wife, Martina McBride (top right) in 2002, Blackbird is known for its unpararalledled production and recording services and collection of vintage and modern recording equipment.
Blackbird offers the highest-quality recording experience. It's the first choice of many accomplished artists, including Taylor Swift, John Mayer, Dolly Parton, Beck, Rush, Sheryl Crow, Miley Cyrus, Keith Urban, Kings of Leon, Tim McGraw and Faith Hill, Blake Shelton, Kesha, The White Stripes, Snoop Dogg, Pearl Jam, Neil Young, and countless others.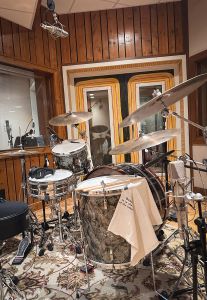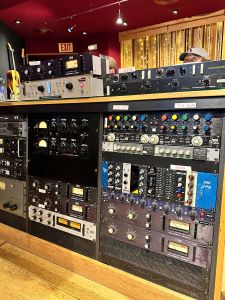 Studio ouboard
Blackbird Music Instrument Collection (partial)
50 assorted guitars and amps both new and vintage collectors models, Yamaha C7 piano in each of our 2 tracking studios, A & D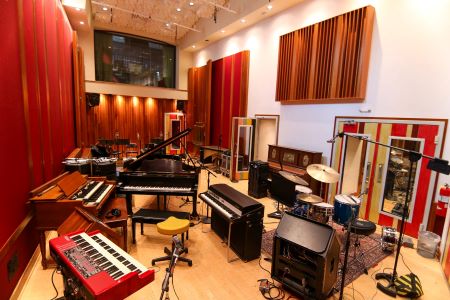 copyright 2023 studioexpresso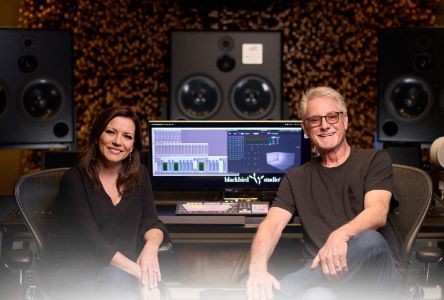 John and Martina McBride at Blackbird Studio A, April 2023 Credit: Jimmy Buffett IG

Studio C (below) features immersive music capabilities with 9.1.6 Dolby Atoms system w/AVID S6 control surface & ATC monitors and self-contained Sony 360RA system w/"in the box controller" and a 'portable' API - The BOX analog setup, that can be rolled in and out of the room, and is used for overdubs and smaller singer/songwriter recordings while accessing the ISO just off the rear of the control room.
Studio F has a 7.1.4 Dolby Atoms system. Here's a few comments from Engineers who have worked at Blackbird Dolby Atmos room
"Loved mixing in Studio C."
- Rich Chycki
"I'll take either F or C."
- David Leonard
" Could I get Studio C…or F is cool, too."
- Niko Bolas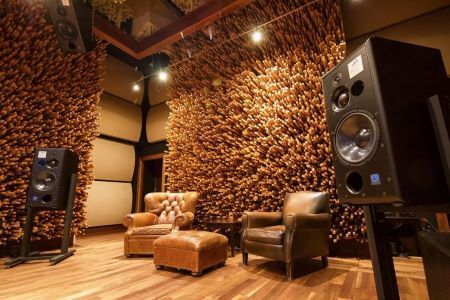 Blackbird Studio C
What's in Blackbird's mic locker?
There's 1200-1400 microphones spanning audio recording history, in Blackbird inventory at any given time. Dynamic, condenser, ribbon, tube, etc…Present are such staples as the Neumann U47, U47FET, U67, U87, M49, KM54, KM84, AKG C12A, C61, C451, and of course plenty of 57's, 58's, and 421's.
"We are here for the client in every respect. Offering as many choices as possible to allow the artist to paint their (audio) picture with 'every color on the pallet," says manager Rolff Zwiep.

Booking contact: Rolff Zwiep, Studio manager
fn: 615.642.2277 or email: rolff@blackbirdstudio.com

Blackbird Official
Facebook
Youtube Blackbird Academy