Toby Scott
producer l mixer l engineer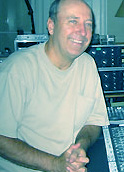 History: Having spent over a decade with Bruce Springsteen, Toby has earned his place as one of the leading engineers in the music business by recording and mixing one of the most talented artists of any generation over the course of 17 albums and numerous live performances.
From the early days to Springsteen's most current release, Toby has tracked and/or mixed "The River," "Born In The U.S.A.," "Live 1975-1985," "Tunnel of Love," "Chimes of Freedom," "Human Touch," "Lucky Town," "MTV Plugged," "Philadelphia (Original Soundtrack)," "The Ghost of Tom Joad," "Greatest Hits," "Blood Brothers," "Tracks," "18 Tracks," "Live In New York City," "The Rising," and "Devils & Dust".






Toby's unmatched attention-to-detail, his extensive recording knowledge, cool, easy demeanor and veteran sensibilities have earned him elite status in the recording industry.
Amazingly so, Toby Scott has been a part of over 150 million albums sold working with noted producers Tom Dowd, Keith Olsen, Ron Nevison, Sandy Perlman, John Robie, Steve Cropper, Booker T. Jones, David Sancious and Steve Smith. Toby was the original recording engineer on Springsteen's "The Rising" and recorded and mixed Clarence Clemon's "Live At The Stone Pony". Additionally, Toby has worked with Bob Dylan, Natalie Merchant, The Replacements, Dan Bern, Steve Perry, Patti Scialfa, Harry Chapin, Little Steven and the Disciples of Soul, Tommy Tutone and Clarence Clemons.






Current credits: On Bruce Springsteen's "Devils & Dust", Toby Scott was the original recording engineer and well as mixer on four tracks. Toby was also one of the engineers recording Patti Scialfa's latest, "23rd Street Lullaby".







Contacts: Joe D'Ambrosio Mgmt. 914.422.0022


copyright 2004 studioexpresso