Neal Pogue
mixer I engineer I musician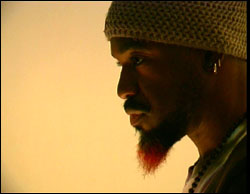 History: While the average music fan probably doesn't know his name, they are most certainly impacted by his work. Neal Pogue has put his own unique touch and polish on numerous songs and albums for artists such as Pink, Mystikal, TLC and most notably the recent Outkast release SpeakerBoxx/The Love Below, for which he won a 2004 Grammy Award. But long before he was an integral part of the success of Outkast's smash hit "Hey Ya!," he was a musician just trying to make his way in the logjam of artists and entertainers known as Los Angeles.
Raised in Roselle, New Jersey, Pogue decided at 20 years old that he and his friend were going to take their two-man band, The Bopsys, to L.A. to make it big. In 1984, the pop music scene was enormous and they found it difficult to break through. The band seemingly stagnating, his friend made the choice to call it a day and return to New Jersey and normal 9-to-5 life. But Pogue knew one thing for himself: He was not going to quit on his dream and go home.
He took a job at a warehouse in Southern California while he tried his best to latch on to touring acts as a drummer. His dream of becoming the next John Bonham or Neil Peart still very much alive but slowly fading, Pogue noticed an advertisement in the newspaper one day for Sound Master Recording, a local school for audio engineering. At that time Pogue didn't consider engineering as a possible career option, but thought that if he learned the craft on the other side of the recording studio glass, he could record his own demos.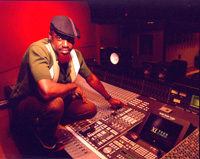 NPogue with SSL
While going through his technical education, he bought his first four-track recorder, followed by a keyboard and a bass guitar. He tinkered with these instruments and laid down demos for himself, slowly realizing that engineering was something he could not only do, but do very well.
He graduated from Sound Master Recording and then began looking for an internship at a local studio. The 1980's engineering scene was quite crowded and cluttered, but Pogue was able to get an opportunity through a friend that knew Michael Jackson's brother Randy, who owned a studio in the area. The King of Pop's sibling took a liking to Pogue and brought him in, making him the second engineer for the new album by Jackson's band, Randy and the Gypsys. Pogue at that time was working with Richard Cottrell, who helped to get him started in the industry.
While observing Randy and the Gypsys' mixing session at Larrabee West in West Hollywood, Pogue was offered a position by Larrabee's owner Kevin Mills, who ironically had rejected his request for a job early when he was fresh out of school. After getting Jackson's approval to do so, he accepted the job. It was 1988 and Pogue was now working with the likes of Taavi Mote, Alan Meyerson and Keith Cohen, climbing his way up the industry ladder.
By 1990, Mills persuaded Pogue that he was ready to leave Larrabee and begin working on his own. He had proven to be a quick learner indeed. Pogue began mixing records on spec, with his first offer coming from Jeff Lorber, a player in the jazz sector who was then beginning to move more into R&B remixes.
As Pogue mixed and tracked for more and more producers, he naturally developed more contacts, eventually catching on with Bobby Brown and Organised Noise. He followed Brown to Atlanta to work at Soundscape Studios, which Brown later purchased and called Bosstown (it later became Stankonia after Outkast purchased the studio in the mid-late 1990's). While working in Atlanta, Pogue's career really started to take off as he met members of R&B sensation TLC, as well as future hip-hop legends Outkast.

In 1993, he began work on Outkast's initial effort Southernplayalisticadillacmusik. Shortly after the album's release in 1994, Pogue was tracking and mixing on TLC's popular 1995 album Crazy Sexy Cool, which featured the mega-hit "Waterfalls." This was followed by what many consider to be Outkast's best album, Aquemini, with Pogue mixing about 95% of it.
Pogue had also worked with Toni Braxton and Goodie Mob while in Hotlanta, but as the century turned, the music scene was drying up down there and it was time for him to return to his industry beginnings in Los Angeles. It was 2002 and Andre 3000 was starting to come to Pogue with new tracks for Outkast's upcoming, soon-to-be Grammy Award-winning, album SpeakerBoxx/The Love Below.
One day Andre picked up Pogue in his rented BMW Mini Cooper so they could travel around the City of Angels and listen to his ideas for the album. Andre played the demo version of "Hey Ya!" that he had been working on, and Pogue instantly identified that as the track that would shine on the album. In the months following, he prodded Andre relentlessly to finish up the second verse and deliver him the future hit single. Andre had previously wished to release "She Lives in My Lap" as the first single, but Pogue correctly thought otherwise.
Under pressure from the label to deliver a finished product, Pogue worked diligently with Andre on "Hey Ya!" as well as six other tracks, including "She Lives in My Lap," "She's Alive," "Prototype," "Take Off Your Cool" (featuring Grammy Award-winner Norah Jones), "Spread" and "Vibrate." The result was a Grammy Award-winning album and a Grammy for Pogue, whose tireless efforts were finally recognized by the Recording Academy.
In 1996, during his stay in the dirty south, Pogue joined partner Walter McKennie to form Fulton Yard Unlimited, a diverse production company which currently produces the upstart Atlanta-based band Mama's Moonshine (pictured below).



<![if !supportEmptyParas]>
Current Credits:  Pogue has most recently completed the new album for Tahiti 80, a pop/soul act whose work is scheduled for release in the United States in January 2005.

Contact: Claris Sayadian-Dodge

<![if !supportEmptyParas]>
copyright 2004 studioexpresso