Mick Guzauski
engineer l mixer l producer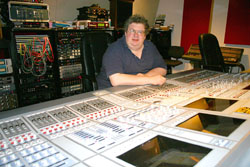 History: Multi-Platinum engineer/mixer Mick Guzauski's love for both music and technology called him when he was in high school. Growing up in Rochester, NY where there were no commercial studios, Mick put together his own studio in parents' basement with equipment that he had begged, borrowed, built, repaired and modified
. You could say Mick had one of the first home or project studios! "I met Chuck Mangione, an up and coming composer in Rochester and engineered his recordings as well as mixed his live sound. When Chuck signed with A&M records in 1975, he asked me if I'd like to go to Los Angeles with him to engineer his new album," says Mick.





Enter Mick's first experience in the "big time" recording: A 45 piece orchestra with rhythm section and soloists at A&M studios! "It was trial by fire but it worked out ok and everyone was happy. I engineered several albums for Chuck in the next few years and filally relocated to Los Angeles in 1978," says Guzauski.

Early '80s , Mick worked with Maurice White and Earth, Wind and Fire at the Complex (then George Massenburg Studios). "Being around George was a great learning experience in both the art of recording and in audio technology," adds Mick.





Conway Studios in L.A became Mick's home base in the mid 80's where he engineered and mixed projects for Burt Bacharach, Dionne Warwick, Mister Mister, Madonna, Talking Heads, Johnny Mathis, Henry Mancini, Patti LaBelle, Stanley Clarke, Georgr Duke, Quiny Jones, Michael Bolton, Cher, and many others.





"In 1991 I received a call from Walter Afanasieff, asking me to mix a Michael Bolton record he was working on. It's a great relationship with Walter and Michael, I still do work for both of them. Walter hired me to mix a Mariah Carey album in 1993. Tommy Mottola, then CEO of Sony, liked my mixes and asked me if I'd like to relocate to New York and work for him at Sony Studios. At the time, I sort of wanted to, but I still enjoyed being in L.A," adds Mick.




I accepted Tommy Mottola's offer later and

moved back to NY. "This made my wife happy who was shaken by the

'94 L.A.

earthquake

and created great opportunity for me to work on some time-less albums with

Tommy at Sony and at Mariah Carey's home studio. I was mixing projects for Mariah, David Foster, Babyface, Boyz to Men, All 4 One and many others," says Mick.







Mick's private studio, Barking Doctor Recording is located in Mount Kisco, NY, about 40 miles North of New York City. The studio has 2 control rooms and a small tracking/ overdub room. Studio A is built around a Sony OXF-R3 Oxford console and Pro-Tools HD Xcel 3 system with 96 IO's and tudio B is built around a Yamaha DM-2000 console and all the standard mixing outboard that he preferes (Eventide SP-2016's, Manley and GML EQ's, AMS's, EMP Plates and even the Sony 3348HR). "It's a beautiful, quiet wooded area. In 1995, I decided to build my home studio. I wanted my own work-space. I didn't want to drive home for an hour at 3am. I wanted to be able to recall a mix without having to go back and try to get the same room that I originally did it in. I wanted a room that everything would be the way I left it when I return. My assistant, Tom Bender, also an excellent engineer has kept the place running smoothly since '97," says Guzauski. At Barking Doctor Mick has mixed projects for Brian McKnight, Michael Jackson, Leann Rimes, Eric Clapton, The Corrs, BB King, Brandy , Marc Anthony, J Lo, Michael McDonald, Mariah Carey and many others.. The studio got updated in 1999 and Mick is currently working on projects for Eric Clapton, Lara Fabian, Jessica Simpson, Zucchero, Michael Bolton, to name a few.Mick mixed Paddy Casey (Sony/Ireland), Three Graces (Universal Classics) and Leehom (Sony). Mick mixed an R. Kelly single, "Rise Up," for (Zomba/Jive). He also mixed Michael McDonald's Universal album and completed mixing Breaking Benjamin's single, "Breath," and Evans Blue's "Q", both radio remixes for Hollywood Records.





Current Credits: JJ Cale & Eric Clapton's Road to Escondido (Reprise Records/Warner Bros.) won a Grammy for Best Contemporary Blues Album in 2008 mixed by Mick Guzauski, JJ Cale and Alan Douglas.






Contact:
copyright 2004 studioexpresso