> home page
> more producers/engineers
<![if !supportEmptyParas]>
Dan Garcia
engineer/mixer/producer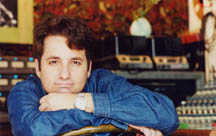 Read EQ in the Dec 2001 issue Dan featured recording percussions on JLO's cd

<![endif]>
History: Dan began his career in L.A. as an assistant engineer at Schnee Studio from 1982 to 1987, where he assisted for such artists as The Bee Gees, Neil Diamond, Diana Ross, Barbara Streisand, Don Henley, Whitney Houston, Amy Grant, Dolly Parton, Roger Hodgson, Toto, Maurice White, and Brian Ferry.





Since 1987, Dan has been working as an independent engineer, mixer and producer in L.A.
Dan's partial discography includes Christina Aquilera, Jennifer Lopez, Randy Travis, Whitney Houston, Earth, Wind and Fire, Toto, Boz Scaggs, David Crosby, Johnny Mathis, Kenny Loggins, Crystal Lewis, Jon Anderson, Robbie Nevil, Michael Franks, the Nevil Brothers, Little Richard, Philip Bailey, Starship, Jon Anderson, El Debarge, Jennifer Holliday, Helen Reddy, Micheal W. Smith, Donald Fagen & Friends, and Steven Curtis Chapman, and Bryan Duncan and Melissa Erico.



<![if !supportEmptyParas]>
Current Credits:  His more recent projects include Grammy nominee Kurt Elling's new album recorded in early 2003, and work on a Ron Wood and Charlie Watt's project late last year. Dan also mixed a 5.1 session for Crystal Lewis.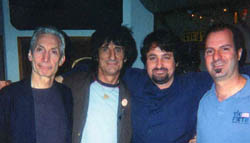 L-R: Charlie, Ron, Dan & John
<![if !supportLineBreakNewLine]>
Contact: Dan Garcia
copyright 2003 studioexpresso