<![if !supportEmptyParas]> <![endif]>
Bryan Carlstrom
producer/engineer/songwriter

Watch the RP Video Interview here (coming soon)!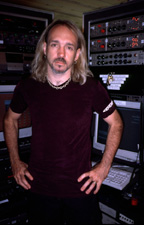 History: Bryan Carlstrom has been successfully cranking out records for nearly 20 years. Having seen over 50 albums through from front to back, his knowledge of production and record making is a given. His extensive client list includes: Alice in Chains, Rob Zombie, The Offspring, Social Distortion, Poe, PIL, Filter, Stabbing Westward, 4 Non-Blondes, Billy Idol, Love Spit Love, to name a few. His recording experience covers a broad spectrum of music genres, and includes movie soundtracks, commercials and sound for TV. Carlstrom was educated in music and voice at the University of South Dakota and he studied engineering at the Los Angeles Recording Workshop. He trained at Capital Records Studio and Track Record among other places. Prior to embarking on his production/engineering career, Carlstrom performed (guitar and vocals) with several touring indie bands back in the Midwest. He moved from his home state of South Dakota to Los Angeles in 1985 to pursue a career in music and quickly fell into making records. His interest music and technology came together naturally. He has had the pleasure to work with such well-known producers as Dave Jerden, Keith Forsey, Bob Rock, Ken Scott, Shel Talmy and Randy Burns among others.











Carlstrom has primarily been producing and writing with various artists the past several years. He divides his time between breaking new bands and working with well established acts. Carlstrom continues to maintain an active roll in the recording process, often engineering and mixing his productions. His production style is collaborative as he puts a high priority on the artists' vision for their project. Carlstrom strives to create a sonically accurate representation of the band, while pursuing a timeless and classic quality to the music. He has a consistent track record of making quality sounding records. A master of sounds and gear, he records through a large selection of vintage equipment and modern tube gear. Carlstrom is located in the Los Angeles area.










Carlstrom's expertise in Pro Tools recording is well recognized. His massive digital audio workstation has been featured in many international pro audio publications and websites. Carlstrom designed his adjoining rigs to act as a mobile recording set-up. He has been featured on Digidesign's website in their artist spotlight section and is regularly sought out for digital audio recording consultations. He has successfully made the transition from tape to disk recording without sacrificing the sonic quality of his recordings.

Current Credits: Carlstrom just completed recording and mixing jazz/world artist, Adam Rudolph (Meta/Ota Records) for his upcoming album. He also recently mixed Jet Black Summer (Lakeshore) and will continue working with the band later this year. Carlstrom has just completed further production and writing for Christopher Hall (former Stabbing Westward frontman) and the members of The Dreaming. He has been actively involved in developing this project during the past year.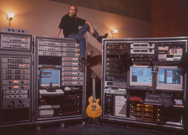 Contact:
Rich Renken
Rev4 Management
818-606-5480
For further info visit Carlstrom's website here


copyright 2003 studioexpresso