Terry Sawchuk
producer l writer I mixer I engineer

History:  Not to be confused with the late famous NHL goalie Terry Sawchuk... "I always wanted to play in the NHL but I figured that I already have my name on the Stanley Cup 4 times so why beat a dead horse. Could be worse... I could have been named after Gump Worsely," jokes Sawchuk.

Terry is presently signed to Sony/ATV Publishing Canada and lives in Nashville. Sony/Tree & Sony Studio's in Nashville have graciously welcomed Terry with open arms.

Originally from a small paper mill town in the northern part of Ontario Canada, Terry started writing songs at age 16. It wasn't long before he started composing original music for highschool musicals and started a garage band in his brother's basement. At age 21 Terry left home for the big smoke of Toronto to pursue music.
Sawchuk graduated from The Harris Institute for the Art's Production program. His first few breaks came in 1991 when he landed the job of engineer at Arnyard Studios in Toronto. Between '91-'95 Sawchuk helped record such albums as Our Lady Peace's "Naveed" and "Clumsy" (Sony/BMG), among others.
In 1994 Terry co-wrote one song with Alanis Morissette and producer Glenn Ballard. "Superstar Wonderful Weirdo's" went as far as being recorded and mixed during the "Jagged Little Pill" sessions.
Universal Music Canada signed Sawchuk and his alternative rock project The Miller Stain Limit to his first major label deal in 1997. At age 27 Terry produced, engineered, mixed and co-wrote the album "Radiate" which featured the top 20 single "Cellophane".




Sawchuk has been a panelist for the following music conferences. NXNE, Nemo Boston, Music Industry Adelaide Australia & is a member of the A.E.S. & SOCAN.

Awards: #1 pop radio in Japan with Back in Town. Matt Dusk BMG Japan: Writer/Producer #1 AC radio in Canada with All About Me. Matt Dusk/Universal: Producer # Top 10 Hot AC, 2 Canadian Music Awards, SOCAN Award in Canada with Night Like This
Terry co-produced with Decca/Universal artist, Matt Dusk's release called "Back In Town" which has charted top 10 in Japan. Terry who has worked with Gold and Platinum certified artists, co-wrote two songs for Dusk's debut album titled "Two Shots" featuring some of Britain's top songwriters including Bono & The Edge of U2 who penned the title track.






Current Credits:  Co-written with Josh Jenkins, Terry's song "I Still Love You" appears in TV show Reighn on The CW. 6500 views on youtube in its first week!
All this and a post on Terry's facebook that brings us back to earth...
"The 13 million plays my song received will earn me $151.66. Not the 58 cents I thought it would. Goodbye June's Comcast bill. Booya!!"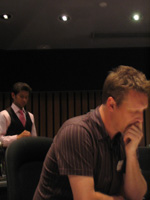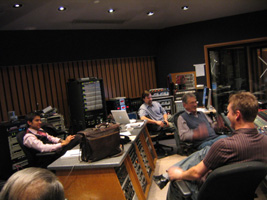 With Dusk... 2006 sessions at Capitol Studios, Hollywood, CA


Contact: Terry Sawchuk
Headtraffic Recordings
Sample Discography:
- Matt Dusk "Back In Town" Decca/Universal
Producer, Writer, Engineer, Mixer.
- Tomi Swick (Warner) Radio Single "A Night Like This"
Mixed.
- Ron Sexsmith (Maple/Universal) Radio Single "How On Earth"
Mixed.
- Kill Cheerleader Album (Independent)
Mixed.
- Simon Wilcox (She/BMG)
Mixed.
-Matt Dusk "Two Shot's" (Decca/Universal) 2002
Producer writer, engineer, mixer.
<![if !supportEmptyParas]>
copyright 2004 studioexpresso