Robert Shahnazarian Jr.
mixer I engineer I musician I producer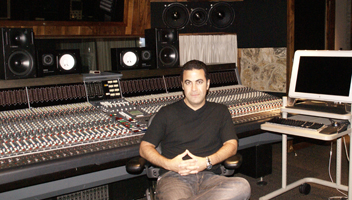 Robert Shahnazarian at Westlake Studio A

studioexpresso video interview with Robert SJR for Record Production Coming soon!

History: Robert Shahnazarian, Jr. (born July 28th, 1972 in Queens, New York) is a prolific record producer, having produced over 350 sessions for Sony Connect. These sessions have included such artists as The Killers, David Crosby/Graham Nash, John Legend, Kelly Clarkson, Snow Patrol, Silver Sun Pickups, and many others. In addition to producing sessions for Sony's online music store, he heads his own record label (feudalrecords.com) and production company, Feudal Productions.
He began his career in the music business in 1993 as an intern at Capitol Records. After graduating from Pepperdine University with an emphasis in music, he landed his first job in the legal department at Sony Music and on the weekends at KCRW during the radio program Café LA with Tom Schnabel. Next he was hired to work with A&R executive Tim Devine at Columbia Records. In 1997 he designed an in-house production studio in the A&R department at Columbia Records, performing pre/post production work with artists on their demos, album overdubs, radio spots, mixes and editing. In 2003, Robert moved into the space formerly occupied by Sony Studios in Santa Monica and began working with all of the artists on SonyBMG's labels. In addition he began producing "exclusive" sessions for the Live from the Connect living-room series, created by Ty Braswell and Neil Schield. He is an expert Pro Tools engineer who also pursues, develops and produces new talent as well as offers consulting for music industry related projects. He is a member of AES and NARIP, a voting member of NARAS and supports the T.J. Martell Foundation/Neil Bogart Memorial Fund. He has been interviewed by the BBC World Service and has served on numerous music panels.
In 2007, Robert left SonyBMG and formed Feudal Productions, to Produce artists for both his label and for other labels. Running his sessions, Robert prefers to capture the best live performance of the band as the foundation for the recordings, "getting out of the way of the music coming from the artist" and "letting it come through the console without any distraction". He views the projects he does with the artists he works with as collaborations, where "egos are left at the door and the music is served". Besides looking for artists with great songs and a strong work ethic, Robert places a high priority on pre-production and a mutual trust between himself and the artsts.
Past projects have included sessions with the following artists: Keane, The Killers, Snow Patrol, Kelly Clarkson, John Legend, Plain White T's, David Crosby/Graham Nash, Suzanne Vega, Incubus, Pete Yorn, All-American Rejects, Pat Monahan (Train), Peter, Bjorn and John, Silversun Pickups, Cartel, Tears For Fears, The Decemberists, Brandi Carlile, Black Rebel Motorcycle Club and many others. For a full listing of credits, please check out the following link: http://www.allmusic.com/cg/amg.dll?p=amg&sql=11:jjfoxqtald0e~T40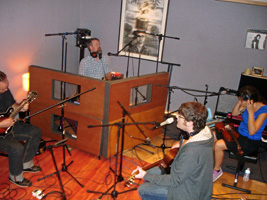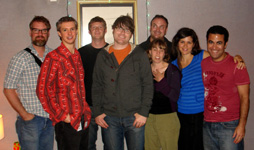 Shahnazarian Jr Capturing The Decemberists Live-In Studio Sessions

Current Credits:  Recent credits include the placement of one of Robert's productions on the television show "Nip and Tuck", two songs for the upcoming indie film "Eden's Curve" and one song for inclusion on the charity benefit album "Between Us: Angelenos for Music Education". In addition, Robert recently finished producing and mixing 3 songs for Los Angeles singer/songwriter J Scott Bergman. His last production by Dead City Sunday was released last year to critical success and is being released in Japan in August 2007. One of his other productions with singer/songwriter Trevor Lissauer was released independently in Australia and New Zealand. Previous projects include producing and developing demos by the Orange County rock group Redline 5, singers Jessica Williams and Mary Ellis and singer/songwriters Waylon Payne, Eddie Cohn and Billy Burke, for consideration by Columbia Records. Robert also recorded demos with Columbia/Ireland recording artist Paddy Casey produced and recorded songs for The Red's album "Let's Not And Say We Did" (Bella Records/Ozone).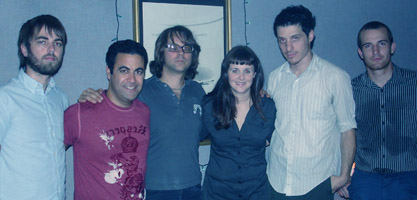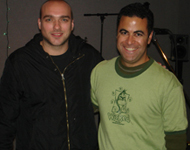 l-r: Robert Shahnazarian Jr. with Mute Math at Sony Studios; Jeremy Enigk & Robert SJ


Contact: Robert Shahnazarian, Jr. or Claris at studioexpresso

<![if !supportEmptyParas]>
copyright 2004 studioexpresso