Michael Beinhorn
Producer I Performer I Engineer I Mixer I Songwriter I Arranger




Beinhorn in front of his modular symthesizers at his private studio in Los Angeles
History: Michael Beinhorn's work has had an indelible imprint on popular music. His production has played a primary role in creating career-defining rock records for a diverse list of legendary artists to include: Herbie Hancock, Marilyn Manson, Soundgarden, The Red Hot Chili Peppers and Hole.
Beinhorn began his music career playing synthesizer in the seminal New York band Material which he founded with Bill Laswell in 1979. Together Beinhorn and Laswell built an impressive resume, working with Nona Hendryx, Brian Eno, David Byrne, Laurie Anderson, and Nile Rodgers. It was Herbie Hancock's multiplatinum album "Future Shock" with hit song "Rockit" co-written by Beinhorn that made Hancock Sony Music's most successful 12" single artist, selling over 3 million copies. In 1987 Beinhorn met with a struggling Los Angeles band called The Red Hot Chili Peppers. This collaboration produced 2 records- 1987's "The Uplift Mofo Party Plan" and 1989's "Mother's Milk".





Beinhorn developed a reputation for producing "career records" for artists, which was exemplified by his work on "Grave Dancer's Union" by Soul Asylum, "Superunknown" by Soundgarden, "Celebrity Skin" by Hole and "Mechanical Animals" by Marilyn Manson.
His approach to pushing creative boundaries, creating unique sounds and getting the absolute best out of performers became legendary.




"Conformity is a survival skill. Keep your head down and it probably won't get smacked by whoever pays your salary," says producer Beinhorn who has a new book out soon called: How To Save Popular Music






Beinhorn was contracted by Atlantic Records as a Vice-President of A&R. While in this position, he helped develop Brent Smith of Shinedown who became one of Atlantic's most successful rock bands. During this time Beinhorn also worked with Pharrell Williams and Outkast on the soundtrack to Oliver Stone's film, "Any Given Sunday".


Beinhorn has produced records from "Untouchables" by Korn and "…And The Glass-Handed Kites" by Mew to "Nobody's Daughter" by Courtney Love.



"One of my primary aims is to intuit who each artist is and what they require to make their project a uniquely personal expression," says Beinhorn who sees studios as "singular instruments with an endless supply of tonal colorations." Beinhorn believs that as creative and financial resources to properly develop popular music are drying up, people are beginning to once again recognize the need for high quality work.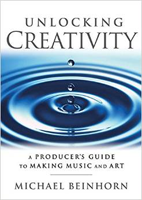 Beinhorn has a new book out in 2015 published by Hal Leonard called:
"

Unlocking Creativity: A Producer's Guide to Making Music and Art." Beinhorn reveals how to deal with interpersonal issues record producers face when they work with artists one on one or in small groups. This book is not about micing techniques or how to turn knobs. Instead Beinhorn focuses on the collaborative effort and how it enables record producers and artists to find solutions while working as a creative team. This perspective is especially valuable as it is transdisciplinary and can be applied to many occupations and modes of creativity outside of record production. Available May 23 from Amazon

Beinhorn recently recorded with the iconic Danish band Mew (due out end of May). "It is getting a lot of great attention. They are an odd mix of prog-rock with some pop, electronic and alternative. We recorded most of it under very unusual conditions- that story, itself, could be a book," says Beinhorn. +- is the first record to appear since the band's critically acclaimed 2009 release No More Stories.

Contact: Michael Beinhorn official

copyright 2015 studioexpresso