> home page
> more producers/engineers
Larry Klein
producer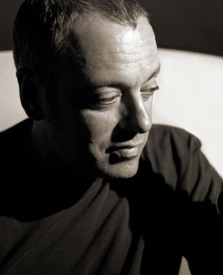 History: Google Larry Klein and what do you get - an eclectic, follow-me-if-you-dare/traveling resume of one of the music world's most coveted, yet, underrated talents. The in-demand producer's numerous collaborations include one of the most impressive arrays of jazz legends, rock stalwarts, female ingénues and revered superstars on record.
The affable Klein is enjoying the best reviews of his career for his production on the masterful sophmore record of singer/songwriter Madeleine Peyroux's Careless Love "(This album) is a stunner…" raves the Wall Street Journal and it was named to Newsweek's Top 10 Best Albums of 2004. What's even more incredible is the noted producer is receiving the accolades in the same workman-like quietude with which he began his career more than three decades ago.
From his earliest session and touring work with jazz greats such as Freddie Hubbard, Willie Bobo, Carmen McRae and others, (including a year-long sentence as in-house bassist on the Merv Griffin show) to room-stopping collaborations with rock culture icons such as Don Henley (Building The Perfect Beast), Bob Dylan (Down In The Groove), Joni Mitchell (Grammy winning Turbulent Indigo, among others) Tracy Chapman (Fast Car), Peter Gabriel (So), Warren Zevon (My Ride Is Here, among others), to touchstone soundtrack offerings like Raging Bull and the Allison Anders film Grace Of My Heart, to acclaimed producing/songwriting forays with female trailblazers such as Shawn Colvin, Julia Fordham and the above-mentioned Peyroux, the prolific Klein has consistently proffered only one mantra: 'It's about the work, stupid.'
Klein grew up in California, and it was an after-school musical program at U.S.C. that enabled him to hone his playing and compositional skills with university professors while still in high school. "I had been playing the guitar since I was 7, but I soon grew to love the bass. When I was in my teens I had a teacher who would sneak me into the old Playboy club in L.A. where I could see greats like Bill Evans. It was just mind-boggling. I mean I was 16 years old and here were all my icons playing right in front of me every night."

He began sitting in with various Jazz and Latin groups while still a college student at Cal State L.A, early breaks that led to nearly five years of touring with Hall of Fame caliber groundbreakers like Freddie Hubbard, Wayne Shorter and Joe Henderson, among others. But Klein also knew he had other worlds to conquer. It was that kind of vision that would later cause the legendary Stanley Clarke to cite Klein in an interview as one of the most admired musicians, calling him one of the handful of great bass players who have 'moved beyond the bass.' Klein traces such evolution to his early desire to broaden his horizons and kick the monotony of constant touring.
"I had an omninivorous appetite for music and despite all these great experiences with the masters that I was working with, I was also looking to break out of narrowness of the jazz mold after a while," he says. Talk about your six degrees of separation, Klein appeared on a head-turning assortment of records in the mid-70's and early 80's, displaying a tremendous range as he worked with everyone from Dianne Reeves to Bobby McFerrin, from Robbie Robertson to Neil Diamond. As Klein recalls, it was the 'Robbie Robertson tributary' that led to his acclaimed work with the up-and- coming tier of groundbreaking rock musicians, with Klein appearing on Robertson's first solo project, 1987's Robbie Robertson. He also collaborated with the legendary songwriter/guitarist, along with his equally brilliant cohorts from The Band, Garth Hudson and Richard Manuel, on the soundtrack of the historic Martin Scorsese masterpiece, Raging Bull, which kicked off Klein's growing interest in the production side of making albums.
But it would be Klein's celebrated collaboration in and out of the studio with revered singer/songwriter Joni Mitchell that critics viewed as the nexus of his career. The two fell into couple hood during the making of 1982's Wild Things Run Fast, becoming husband and wife the same year, inaugurating a notorious working/romantic relationship the would endure for more than a decade, and include such monumental albums as their first joint production, 1985's Dog Eat Dog, and their Grammy winning swan song, 1994's Turbulent Indigo, a programmatic suite of songs describing the dissolution of their marriage.
It was during the mid-80's that Klein's rep also gelled as a genre-defying musical marksman, with some of rock's biggest names seeking his bass and his ear, with Klein putting his magical touch to some of the seminal albums of the decade: Don Henley's Building the Perfect Beast (1984) featuring his work on the classic single "Boys of Summer", Peter Gabriel's So (1986), Tracy Chapman's self-titled debut album with the smash hit "Fast Car" (1988), and many others.

In 1985, Klein knocked off his first solo production credit with Cars bassist Benjamin Orr's The Lace. In 1988, Joni Mitchell released the Klein produced Chalk Mark In A Rainstorm, and critics began recognizing the bassist as multi-talented musician whose true calling might be behind the knobs.
Next, a fruitful session with hallowed producer John Robert "Mutt" Lange during work on Bryan Adams' 1991 release Waking Up The Neighbors, became a transformational production encounter for Klein. "I just have tremendous respect for Mutt as a producer; he is incredible at making the complex sound simple, I learned so much from being in that studio." He also fondly recalls his sessions with Peter Gabriel as memorable in both a learning sense and capturing the essence of a song. He also points to the ten years of sessions with Joni Mitchell as possibly the best production school one could ever attend. "She always stressed the importance of having the right climate and feel to a session. She taught me to always be cognizant of the emotional sub-text in the room, not to just think about solving problems. I think that the array of great musicians, songwriters and artists that I've worked with has provided more of a learning curve than sitting down and studying any particular technique."
Klein's numerous collaborations as a songwriter have also buoyed his reputation as an inquisitive and reliable songsmith, writing with and for great talents like Bonnie Raiit - "The Fundamental Things," and Warren Zevon - "Genius." Klein also collaborated with Zevon on much of his universally acclaimed later work.
It was partly on the strength of Klein's songwriting instincts that a new slew of debut female singer/songwriters began to seek out his production skills for their own albums. Critically acclaimed female artists such as Mary Black (Shine 1997,) and Shawn Colvin (Fat City 1994) and more recently Julia Fordham (Concrete Love 2002 and That's Life 2004) and most recently, Peyroux, have all tapped into his collaborative wisdom. In 2004 Klein produced actress/singer Rebecca Pidgeon's recent effort, Tough On Crime. He also has been the musical director/producer of the now famed Don Henley hosted benefit concerts for the Walden Woods Foundation. Klein produced Bjork in a stunning orchestral version of "Gloomy Sunday" for the female all-star CD of 20th century standards.

"Somewhere along the line I became known as being supportive of the female singer songwriter," he laughs. "But all of the women I've worked with have been so unique in their own way. Julia has this beautiful kind of blue-eyed soul thing, and Shawn is a killer talent. Madeleine is one of the most genuine and un-self-conscious artists that I have ever worked with. The real deal, no artifice."
Klein has also reunited in the studio recently with his most formidable female creative partner, Joni Mitchell, with the duo releasing Both Sides Now in 2000 that recontextualized eight great standards and two pieces of Mitchell's work for full orchestra. A subsequent double CD titled, Travelogue, which hit the streets in 2004, also traced the familiar musical and personal territory of re-setting some of Mitchell's most sophisticated work.
There is no denying Klein has unceremoniously arrived as one of only a handful of session players to blossom into an acclaimed producer. As one critic recently wrote of Klein's work: "It is a textbook for songwriters and producers alike on how to make classic sounding music." With such a rich legacy of musical genius to draw from, it isn't surprising that the forward thinking Klein has a wish list of artists of his own that he wouldn't mind producing down the road: Bob Dylan, Leonard Cohen, Norah Jones, Willie Nelson, Thom Yorke of Radiohead, to name a few. Asked to describe what he is drawn to in an artist, he replies that he is "drawn to voices, both as singers and writers, that don't connote artifice, ambition or self-consciousness. To my mind, those are the timeless diamonds."
"Every record I've produced has been such an rewarding experience," he says. "I always try to bring a new palette to every artist that I'm working with, and at the end of the day I'm always amazed at the sense of fulfillment I walk away with and by the kind of stretch we make together."
Current Credits:  In the works, are projects with Grammy award-winning musician and founding member of the seminal group Steely Dan, Walter Becker for his solo record due out in Spring 08'. Klein is co-writing and co-producing with Becker. He is also putting the finishing touches on music for two phenomenal films. The first is a biopic of overlooked, but versatile guitarist Hank Garland. The independent film portrays the turbulent life of the man who played on classic recordings for Patsy Cline, Kitty Wells, Eddie Arnold, among others and will feature newly recorded tracks sung by George Jones and Shawn Colvin. The second film, titled "Lucky You" is set in the world of Las Vegas poker starring Robert Duvall and Drew Barrymore and directed by Academy Award-winner Curtis Hanson. Madeleine Peyroux will make her screen debut appropriately as a lounge singer. Klein is also producing a track for the forthcoming Joni Mitchell tribute project on Warner Bros. Records. He will be working with Sheryl Crow on the early Joni classic "For Free."
Klein, having completed many other projects, including Vienna Teng's "Dreaming Through The Noise" for Rounder Records, and Till Bronner's "Oceana", continues to have an eclectic and productive year, having finished Luciana Souza's "The New Bossa Nova" (released Aug. 21) and Herbie Hancock's "River: The Joni Letters" (featuring Norah Jones, Leonard Cohen, Tina Turner, Corinne Bailey Rae, Joni Mitchell and Luciana Souza, as well as jazz icons Wayne Shorter and Dave Holland) for Verve Records (released Sept. 25). Klein will start work on a record with new artist Melody Gardot in November for Universal Records, and is working on songs featuring Rebecca Pidgeon for David Mamet's new film for Sony Classics titled "Redbelt".

Contact: email Larry Klein at studioexpresso or call 818-990-3031
<![if !supportEmptyParas]>
copyright 2007 studioexpresso