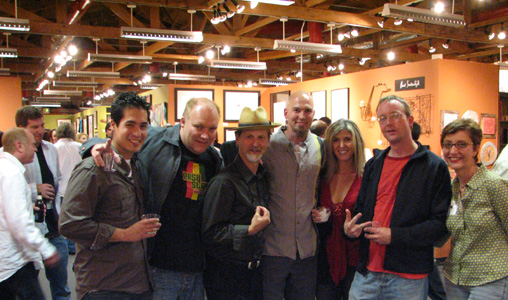 An Artful Experience l-r: , Vince Quintero and Jay Baumgardner (NRG Studios), Eddie Kramer, Jeff Sheehan (Bay 7), Karen Pinegar (Worlds End), Wade Norton (NRG Tech), Claris Sayadian-Dodge of studioexpresso with Ellis Sorkin and JT Meskiel (The Document Room) in the background
photograph by: Jay Kauffman
studioexpresso.com is artists' online connection to the professionals who shape the sounds of songs heard on commercial radio, college radio, satellite radio, film/TV soundtracks, and anywhere a tune can be played, broadcast, or streamed.
Access To A Choice Production Community

Over 100 sonic wizards with credits on AllMusic are listed with studioexpresso web site -- Elliot Scheiner (Sting), Joe Chiccarelli (U2), Chris Fogel (Alanis Morissette), Ken Allardyce (Goo Goo Dolls), Rafa Sardina (Luis Miguel), Lulo Perez (Alejandro Sanz), Raphael Saadiq (Angie Stone), John Wooler (Robben Ford), Matt Wallace (Maroon5), Michael C Ross (Christina Aguilera), Eddie Kramer (Zep), Terry Sawchuk (Matt Dusk),
Steve MacMillan (Kelly Clarkson) and the list goes on... Some are probably untouchable for true indie artists. But - surprise - you can actually schedule a session with some of these legendary studio masters via studioexpresso. "Too many people view recording as a technical experience. It is important to understand technology and be able to control it, but it's the music at center stage. It's the song people remember, not the recording system," says Matt Forger (Michael Jackson),

Major's Development Partner
While working primarily with stars, others at studioexpresso also make time for indie artists, including those with their own private labels and/or production companies. "These days it's getting more and more common for major artists to manage album budgets. I'm always happy to go to a major studio to do the work. But, when they get budget conscious on me, then I offer my services to include my private studio where I can track and mix," says 10-time Grammy winner Rafa Sardina. Others have their own labels where they develop talented artists they love. Steve Deutsch's SPACEBA Rrecordings label has released albums by talented newcomers Graham Lindsey and Blackcast. Producer Greg Ladanyi, who also acts as President / A&R Director of Maple Jam Records has signed The Terms, from Baton Rouge Louisiana.
Producers Andre Fischer (Natalie Cole) and Al Schmitt (Diane Krall) recently completed tracks with a talented newcomer, Sarah Sharp at Capitol studios. André who is past MCA A&R executive is president of KSF Enterprises providing music production, marketing and lecturing, for a variety of entertainment and technology companies. A twist of fate introduced Grey De Lisle to producer Marvin Etzioni with studioepxresso, initially brought aboard to play mandolin on some songs she wrote. The two hit if off so well, he immediately became a producer, collaborator and friend. Marvin who's working with number of talented new artists to include Adam Levy and Peter Salett, has produced each of De Lisle's three previous self-released efforts. Grey most recently was signed to Sugar Hill Records.
"Labels come to us because they're looking for viable artists. Sometimes we have to remind them that they're better off looking for the next big artist vs the next big hit. Our community of indie labels and production houses are seeding the future stars. "Undiscovered artists are like good seeds. Give them light, nourishment and space and they grow strong and flower each year," says Dodge.
Producers Are Listening
studioexpresso facilitates production by hire. Artists can submit up to 3 songs for production consideration. Click here for submission form (read submission policy first). "Any good artist manager will tell you. Every artist, no matter how established, needs to reinvent in order to stay in the game. Our community is here to guide the artists and go to work whether it's a first-time recording artist or an established one. Most new artists are quite sophisticated these days. They have a production schedule and budget and have the songs and a fan base before they come to us" says Dodge who also provides marketing, public relations, and management consulting to the recording industry, relying on the insight gained from more than twenty years of studio management, sales and PR experience. Through C Management, an affiliated company, Claris represents a choice group of producers and composers to include Ken Allardyce, Rafa Sardina, Lulo Perez and Chaz Jankel. Her past clients include: Dr. Dre, Michael Jackson, The Rolling Stones, Ringo Starr, and Green Day, to name a few. "Every producer is unique in their skill set, personality and resources they offer. So, once an artist is set on working with their favorite guy or gal, we facilitate proper introductions and take care of the details to secure a schedule," says Dodge.

expresso@8 Connects
Series of artful events or networking opportunities bring artists and industry together.
According to Claris, the casual coffee shop meetings have developed into intimate gatherings with a VIP guest list who gather to enjoy film screenings and art and photo exhibits. "This gives our community a chance to spotlight yet another talent of their own or their artist. Our last event at Wild About Music Gallery was an artist reception and photo exhibit by the legendary producer Eddie Kramer (Rolling Stones, Jimi Hendrix, Led Zeppelin, Kiss). "The Kramer soiree drew over 150 music and pro audio leaders from artists to labels, studios and management. Sign up here for studioexpresso ezine or calendar to hear about the next event," says Dodge.
Get On Expresso10
Listen to work hot off the studio from studioexpresso community listed in expresso10 on the home page. Each month, new releases (in no particular order) are reviewed and posted.

Free studioexpresso Ezine
With 20,000 plus industry subscribers worldwide SE's monthly e-zine is a good source of information on new and established artists in the studio and production trends featured in "artist talkback," "producer profiles," and "studio spotlights" sections. Sign up for the monthly ezine here -- http://www.studioexpresso.com/MailListForm.asp
Click To Try
Cruise on over to Producer Profiles and browse through recent credits of musicians, engineers and producers. You just might make the connection you need to take your music to the next level. studioexpresso connects artists, managers, labels, attorneys and music supervisors to the record industry's top production talent. The FREE service is offered to the artist and his/her support group. Visit: http://www.studioexpresso.com/
"It takes time to develop an artist or grow a thriving garden. Results are rewarding," says Sayadian-Dodge.

l-r: Kramer, C, Shelley Meyer, Brad Lunde (Las Vegas Pro Audio)
photographs by: Jay Kauffman
Interested collectors, please visit Wild About Music Gallery or direct inquiries about the photographs to Kramer Archives.com




l-r: Jimmy Page and Robert Plant Recording At Stargroves, 1972; Keith Richards rehearsing on a National Steel Dobro backstage at Madison Square Garden, NYC, 1969; Jimi Hendrix at Olympic Studios, London, 1967