Mixing With Masters
A Music Production Forum at NAMM, Hot Zone 1.25.13


Panelists:
Matt Forger (Michael Jackson, Simon Lynge)
Mark (Mooka) Rennick, Prairie Sun Recording Studio, Cotati, CA
Tony Shepperd (Take 6, Whitney Houston)
Brad Lunde, TransAudio Group
Moderated by Claris Sayadian-Dodge of studioexpresso.com


Panelists Brad Lunde, Matt Forger, Tony Shepperd and Mooka Rennick for Studio Expresso.

An Article by Matt Forger
I was excited when asked to participate on a panel discussion at the Winter NAMM show in Anaheim, California. NAMM, National Association of Music Merchants, is a trade show for the manufacturers and distributors of musical instruments, equipment, and all things that relate to the retail music business. It's an event attended by 100,000 participants, mostly professionals in the biz, but also some fans that are lucky enough to score a hard to come by pass. I told myself that I wanted whatever subject we spoke about, to be meaningful and engaging, not just boring, dry, technical talk.

The panel I was part of, was on the subject of music production, titled "Mixing With Masters". Claris Sayadian-Dodge, who runs the company Studio Expresso, a networking hub of production professionals, had invited me. She also manages recording producers and promotes recording studios and manufacturers of high quality gear. We had four panel members; Brad Lunde, president of TransAudio Group, a distributor of High End Pro Audio, who is very knowledgeable in professional studio practices. Mooka Rennick, owner of Prairie Sun Recording Studio in Northern California is also an engineer/producer who has worked with Grammy winning artists. Tony Shepperd, an engineer and producer very active with great credits and a good speaking presence, and myself, engineer/producer who, as I explained at the event, prefers to be called a facilitator of the recording process.

Claris the moderator skipped between us asking questions about gear, studios, trends and styles of working, in a very relaxed way. We were the second panel that was scheduled for that afternoon in what was called "The Hot Zone" (Hands On Technology) which provided a variety of speaking events on topics of music related subjects.

Brad spoke about Billy Woodman owner of ATC speakers who refuses to compromise in any way that would affect the quality of his company's product. No compromise is acceptable to increase profits, sonic quality is his number one concern in designing the ATC monitor speakers. Definition and clarity to the highest professional standards are paramount. They were used for playback during the panel and the sound was excellent.
Mooka was asked about his studio and he spoke on the experience of Tom Waits working at Prairie Sun Recording. Tom's "Mule Variations" album was recorded at the studio by engineer Jacquire King and mixed by Oz Fritz and Jacquire King. Mooka spoke of Tom's focus on the emotion of the music and his desire to have a spontaneous and fresh sound on the album. He said that Tom would check on how the mix was progressing after just a few hours of work and if he didn't feel the vibe, he would tell everyone to take a break and resume work the next day with a fresh approach. To him the feeling of the track was the most important quality and he didn't view the mixing process as a mechanical exercise. At the 2000 Grammy ceremonies he received the award for Best Contemporary Folk Album, proving his instincts were correct.
Tony, the other engineer was asked to play a track he had worked on. It was a female R&B artist, Sheléa, performing a good pop rendition in a big band style. She could really sing. It was top notch. It also happened to be on his label, Breath Of Life Records and was recorded at his studio. He told the story of how the track was sent to Stevie Wonder on his request and Stevie referred her to WETA (the Washington DC public broadcasting station) producers. She was chosen to perform at the presentation of the Gershwin Award to Burt Bacharach and Hal David at the White House. A great story of how sometimes timing works and things fall into place.

The first track I was asked to play was from the Michael Jackson BAD 25 album project. It was a previously unreleased demo called "Don't Be Messin' Round". I explained the process of putting together elements from three different multitrack versions of the song to create the finished product, while strictly adhering to the edict that nothing later than 1987 could be used in the mix. That is to say, no newly recorded elements, just ones that Michael had personally overseen could be used, in an effort to be authentic to the era and Michael's idea of how the song should sound.

As the event proceeded I was asked my opinion of many art and technology issues and I stressed that music is about emotion, feeling and soul. It's a form of communication from the heart and embodies the spirit of creativity that is best executed not as a cerebral exercise, but as an organic living expression of emotion. For one of the first times in my public speaking career I felt that I had an audience that completely got what I was referring to. They were all music people, they understood the vibe and groove of how music comes together when the conditions are right and when the energy coalesces, the magic happens.

I was asked to play the second track that I had brought. It was from the other end of the spectrum, not a world famous artist, but by a songwriter who I admire for his ability and talent and who's had a degree of success with accomplished artists recording his songs. In this case he was the performer of his own composition.

The song was titled "Buddy Holly", a biographical telling of his life from the standpoint of his music and inner feelings. The track began with a drum loop that led into guitar chords and as the audience listened I sensed an interest in what was a new sound for them. Then the vocal in a half spoken, half sung manner described who Buddy Holly was and what his feelings were, about his own music, as if telepathically interpreted by the artist, Larry John McNally. Of course, I've heard the song a thousand times and knew the words by heart as they rang out in the room with a clarity and purpose that enthralled all who were listening. The guitar built in intensity to the chorus "Yeah, yeah… yeah yeah." Second verse, the audience was drawn in by the story, transfixed with the telling of an insight into a figure in music they all knew, but were hearing new revelations about. Another chorus, "Yeah, yeah… yeah yeah." I was feeling the rhythm of the music carry the listeners to the next verse, as if hypnotized, including the moderator. We had only listened to brief excerpts of the other tracks but she too wanted to hear more of the unfolding story. The audience was transfixed. The panel members were moving their bodies to the beat. Every face had an intense look of wonderment, hearing something new and not knowing what was unfolding but enjoying the moment of revelation. Finally a sense of needing to continue with the discussion took over and I immediately explained how Larry and I had worked, taking his song demos and with the technology of Pro-Tools we had crafted an absolute masterpiece, editing, overdubbing, layering performances from his friends working in their own studios, and mixing a heartfelt tribute to an early genius of the popular song.

I explained that everything I did in production and engineering was to serve the purpose of fully realizing the potential of the song. There was no higher purpose or goal to my work, only to serve the music as best I could. I mentioned that Quincy Jones always said, "You leave your ego at the door," and if the nurturing and guidance of the team that has come to that special place, melds into a single spiritual moment of beauty, then you have created that which transcends our physical world and touches someone's heart. A young woman in the seventh row testified, "I hear you brother, I'm with you," her hand in the air. Smiles were across all the faces of the audience. They knew. They spoke the unspoken language of the ether. They understood the voodoo of the unknown. It was a moment in which I realized that I had found what I was looking for, a purpose, a realization that people want to know, they want to be reassured, that it is possible to cross the bridge into the realm of understanding, the why and the how it happens, and that, yes, it can happen to them if they just try. Try harder. Study more. Work, practice and listen to all that they can, and never give up learning that you need talent and have to work your butt off to achieve your goal.
It was for me, a day I will always remember.
Matt Forger © 2013
After a warm reception on the panel, I received some feedback and I'm including a few of the emails here:

Dear Matt,
You were fantastic on the HotZone mix panel
I have tremendous respect for you and everyone on our panel. Your self-expression was not only understood but felt by everyone in the room. I had positive feedback by panelists and the audience.
Thank you.
See you soon!
Claris Sayadian-Dodge
studioexpresso l C Artists
Hey Matt
What a pleasure to share a panel with you and thank you for the email. I was quite impressed with you, as its not often you meet those who have accomplished much but have not lost their kind natures. Your work is iconic, a rare achievement in this world. I am always struck how efforts like yours will live on for many generations-as those in the future will wonder just how on earth you captured magic in the bottle. Congratulations on work that has no time limit.
Brad Lunde

Hey Matt,
Thank you so much for the invite to the event. You were awesome! Loved the stories. You should consider writing a book and including a good portion of your untold stories.
-Tony

Matt
I wonderful experience !!! I love your soul level. I loved your mixes
and your work!!
The industry may be crazy but our resolve to get it right and with integrity will never change.
All The Best
Mooka

Matt
Appreciate your writing back; your panel, and your comments about music from the heart in particular, still the best part of NAMM for me this year.
If you are open to brief conversation about enabling the art to come out, let me know.
I thank you for your long contributions to our joy in the world. All the best.
Respectfully
Gary

And on this article:
Hi Matt,
Yea. You've captured exactly what was going on in the room that day and eloquently put it into words. Reading this, I felt just like I did when I was experiencing it live. Well done.
Barry


Matt Forger Matt at-a-glance: Michael Jackson, Donna Summer, Paul McCartney, Patti Austin, Missing Persons, Michael McDonald, James Ingram, Siedah Garrett, Quincy Jones, Steven Spielberg, John Landis, George Lucas, Francis Ford Coppola, Giorgio Moroder, Larry John McNally, George Duke, Patrick O'Hearn, Gilberto Gil, Simon Lynge, Rod Temperton, Bruce Swedien. It has been pointed out that there is no "Matt Forger sound" because his skill lies in letting the artist's true nature emerge through the recording process. Therefore, artists can count on Matt to let their vision burst forth without the coloration of extraneous points of view. "I am here to bring out the greatness in you," he states. Matt Forger is frequently quoted in "Man in the Music: The Creative Life and Work of Michael Jackson" by Joseph Vogel, published by Sterling Press. Forger was among the interviewed on the 25th anniversary of Michael Jackson's infamous Spike Lee directed "Bad" video (seen on TV last Thanksgiving).

Thank You Sponosrs!
TransAudio Group, the premier distributor of high-end recording gear to the US and Worldwide. TransAudio helps the industry's inventors build a business through product development working with top level end users and selling to the trade. TransAudio product lines include the best of the best: A-Designs (USA), ATC Loudspeakers (UK), Bock Audio (USA), Chameleon Labs (USA), Geoffrey Daking & Co (USA) Drawmer (UK), George Massenburg Labs (GML USA), SoundField Microphones (UK) and Tube-Tech (Denmark) to name a few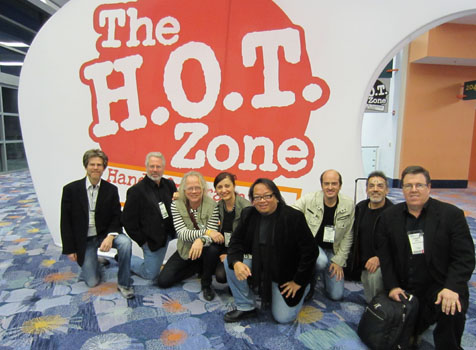 studioexrpesso at HotZone 2012: l-r: Brent Fischer, Jay Kaufman of Kaufman & Associates, Greg Penny,
Claris Sayadian-Dodge, president studioexpresso.com, Curt Bisquera, Rafa Sardina, Peter Schwartz, Brad Lunde, president TransAudio Group.

# # #
Past Events
studioexpresso Present Session Management
A Panel of audio professionals discuss artist empowering production trends at NAMM "Hot Zone" 2013
studioexpresso at Mix Open Golf Tournee
Monday, June 25, 2012
studioexpresso Presents The Art Of Producing Masters
A Panel of audio professionals discuss label-friendly production trends at NAMM "Hot Zone" 2012

studioexpresso Presents Rock, Record and Roll!
A Panel of audio professionals discuss label-friendly production trends at NAMM "Hot Zone" 2011

Studioexpresso Hosts Audio Underground 007
Presented by Trans Audio Group & studioexpresso

Studioexpresso Connects With Young Musicians
Presented By The Learning Annex & studioexpresso
An Artful Experience
Expresso@8 With Eddie Kramer Draws An Experienced Music Crowd

studioexpresso & Music Business Chops
studioexpresso hosts Demo Eval Sessions During MBC 2004

Sign me up for news on upcoming events here!