For Immediate Release: January 2013

studioexpresso Presents
A Music Production Forum at NAMM, Hot Zone 1.25.13

Session Management
High Impact Recordings... Studio to Stage

Hosted by studioexpresso, this forum will bring together the brains behind artists like Lady Gaga, Prince, Usher, Take6, Common and Bob Dylan.
A special Trans Audio Group high-end audio playback system with ATC speakers will be used to demonstrate recent and favorite recordings by our panelists.
Hear credited and award-winning music guests share their take on today's music production trends and offer helpful hints to stay on top of your game and grow your business.
Moderator: Claris Sayadian-Dodge, studioexpresso
founder and editor of studioexpresso, artists' gateway to the world's top music makers

Friday Jan 25, 2013
1-5pm
Room 204-B
Prior to Tec Awards at 7pm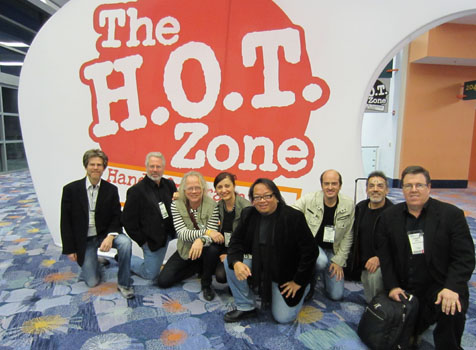 studioexrpesso at HotZone 2012: l-r: Brent Fischer, Jay Kaufman of Kaufman & Associates, Greg Penny,
Claris Sayadian-Dodge, president studioexpresso.com, Curt Bisquera, Rafa Sardina, Peter Schwartz, Brad Lunde, president TransAudio Group.
Panel -I --------1:00-2:00 Pre-Production = Your Business Plan

Christoff Bull (performing and recording artist)
Freddy Koella (performing and recording artist, Bob Dylan, k.d. lang)
Tim Reid, marketing executive (Common, Jill Scott)

Pre-production is where artist, repertoire, schedule, budget and marketing come together.
Meet some of today's successful artists in a panel where all this and more is addressed.

Panel -II -------2:30-3:30 Editing and Mixing Secrets

Matt Forger (Michael Jackson, Simon Lynge)
Mark (Mooka) Rennick, Prairie Sun Recording Studio, Cotati, CA
Tony Shepperd (Take 6, Kenny Loggins)
Brad Lunde, Trans Audio Group


Award-winning Engineers discuss formats, pet peeves and more, including how to find your signature sound in today's crowded mix market. Hear music featuring top quality studio gear (including ATCs, Boch Microphones, Tubetech, etc)

Panel -III 4:00-5:00 MDs in the House!
Brent Fischer (Usher, D'Angelo)
Cheche Alera (Lady Gaga, Christina Aguilera)
Justin Freer (Avatar, The Lord of the Rings: The Return of the King)

From sweetening sessions to TV and tours, Music Directors make the music world go around - hiring musicians, arranging, orchestrating, playing, to conducting - in the studio, on the set or on the road. Meet them and learn how to play in their world.


What's master-quality recordings?
When to hire a music arranger?
What can the right engineer/mixer do for your session and where to find them?
How to find gear the pros use for your studio without breaking your bank
Three Do's of pre-pro session
How to get the attention you deserve with a master recording
Listen to playback of few timeless recordings and ask questions!
Cheche Alara Born in Buenos Aires, Argentina, he moved to the U.S. after receiving a talent scholarship from the prestigious Berklee College of Music in Boston, where he obtained a B.A. in Orchestration. This was followed by a talent scholarship from the University of Southern California, where Mr. Alara obtained his Masters Degree in Jazz Studies. His involvement in TV includes the Grammys, American Music Awards, Saturday Night Live, MTV Music Awards, The Tonight Show, The David Letterman Show, The Jimmy Kimmel Show House Band, The Alma Awards, The Essence Awards, Music in High Places - and many others. Cheche has composed and arranged original music for NBC, ABC, CBS, The Disney Channel, Telemundo and Univision. He currently resides in Los Angeles, where he is developing new artists and concepts for projects at his studio.
Christoph Bull has been called "rock star organist", "Tiger Woods of the organ" and "most versatile musician on the planet". He plays classical music with a rock musician's sense of rhythm and a jazz musician's sense of improvisation. In L.A., he has performed at the Walt Disney Concert Hall, Royce Hall, and First Congregational Church, but also at the Whisky A Go Go, the Viper Room, the Roxy, Cinespace and Hotel Café. Mr Bull who has run the L.A. Marathon three times, is University Organist and Adjunct Associate Professor at UCLA.

Freddy Koella Freddy Koella is a native of Mulhouse, France. He plays guitar and violin. He has worked with Bob Dylan, Lhasa de Sela, Willy Deville, k.d. lang, Doctor John, and many others. He released his first solo instrumental album, titled "Minimal" in 2005. "Minimal is an acoustic guitar and tricone recording direct to stereo. Freddy's new album "Undone" (2011) with the label www.totoutard.com was recorded at Sunset Sound In Los Angeles with Jay Bellerose on drums and David Piltch on upright bass. It was recorded and mixed by Ken Allardyce.
Marvin Etzioni As a record producer, musician, co-writer and/or live performer Marvin has worked with Toad the Wet Sprocket, Counting Crows, Dixie Chicks, T Bone Burnett, U2, Tom Petty, Lili Haydn, Cheap Trick, Roy Orbison and Bo Diddley, to name a few.In the '90s Marvin released three solo albums, The Mandolin Man (1991), Bone (1992) and Weapons Of The Spirit (1994), which were lavished with praise by the press. And now he's back, with Marvin Country!
Brent Fischer music credits are on over 30 million CDs for Pop, R&B and Jazz royalty such as Usher, Raphael Saadiq, Michael Jackson, Prince, Al Jarreau, and Dianne Reeves, to name a few. Brent Fischer has carved a niche in the world of orchestral arranging, having worked with father, composer/arranger Clare Fischer for over three decades. Brent is currently on the advisory board of Fame Wizard, a revolutionary internet music services company dedicated to independent artist career development. Brent Fischer is also Director of the Clare Fischer Bands, which include: The Clare Fischer Big Band, The Clare Fischer Latin Jazz Group, The Clare Fischer Jazz Corps, a unique 30 piece ensemble, and The Clare Fischer Clarinet Choir. Most recently, Brent produced and directed Clare Fischer's 50th and 51st albums released on September 2011. This year the new album produced by Brent Fischer, ¡RITMO! garnered a Grammy Nomination for Best Latin Jazz Album. It
features Poncho Sanchez, Alex Acuña and the Clare Fischer Latin Jazz Big Band Directed by Brent Fischer. Brent is credited for arranging two tracks on ¡Ritmo! and penned Rainforest, inspired by nature and Latin rhythms, with both enjoying natinal airplay. ¡Ritmo! is Dr Fischer's twelfth nomination, including last year's nom for Best Instrumental Arrangement for In the Beginning* from Continuum, also directed and produced by Brent Fischer.
Matt Forger Matt at-a-glance: Michael Jackson, Donna Summer, Paul McCartney, Patti Austin, Missing Persons, Michael McDonald, James Ingram, Siedah Garrett, Quincy Jones, Steven Spielberg, John Landis, George Lucas, Francis Ford Coppola, Giorgio Moroder, Larry John McNally, George Duke, Patrick O'Hearn, Gilberto Gil, Simon Lynge, Rod Temperton, Bruce Swedien. It has been pointed out that there is no "Matt Forger sound" because his skill lies in letting the artist's true nature emerge through the recording process. Therefore, artists can count on Matt to let their vision burst forth without the coloration of extraneous points of view. "I am here to bring out the greatness in you," he states. Matt Forger is frequently quoted in "Man in the Music: The Creative Life and Work of Michael Jackson" by Joseph Vogel, published by Sterling Press. Forger was among the interviewed on the 25th anniversary of Michael Jackson's infamous Spike Lee directed "Bad" video (seen on TV last Thanksgiving).

Justin Freer American composer/conductor JUSTIN FREER was born and raised in Huntington Beach, CA, and has established himself as one of the West Coast's most exciting musical voices. He has served as composer for several independent films including Jahim Jones' Generation Never and has written motion picture advertising music for some of 20th Century Fox Studios' biggest advertising campaigns including Avatar, The Day the Earth Stood Still, Dragonball Evolution and Aliens in the Attic. Freer has been appointed associate conductor for The Lord of the Rings: The Return of the King Live in Concert with the Grand Rapids Symphony and will join the Sydney Symphony and Brisbane Philharmonic in productions of Fellowship of the Ring and The Two Towers. To follow he will appear as principal conductor with the RTE Concert Orchestra in Dublin (The Two Towers) and the Munich Symphony throughout Germany in 2013 (Fellowship of the Ring).
He has written music for world-renowned trumpeters Doc Severinson and Jens Lindemann and continues to be in demand as a composer and conductor for everything from orchestral sessions in Hollywood to chamber music at some of the largest music clinics and conventions in the world. Freer has been recognized with numerous grants and awards from organizations including ASCAP, the Society of Composers and Lyricists, the Henry Mancini Estate and the National Federation of Music Clubs. His list of composer/conductor residency engagements includes collaborations with the wind ensembles, orchestras and choirs of the Aries Composers Festival, Henry Mancini Institute, University of North Texas, UCLA, Texas A&M, University of Nebraska, Kansas State University, Purdue University, the University of Illinois, St. Cloud State University, Cal State University, Los Angeles and others. As a producer he has worked with the London Symphony Orchestra, Sir Neville Mariner, conductor, and the Pacific Symphony Orchestra, Carl St. Clair, conductor, on recordings of Paul Chihara's orchestral works. Freer is the Founder and Music Director of the Los Angeles Brass Ensemble and formerly held the post of Music Director of the acclaimed UCLA Brass Choir. His music has also appeared as a subject of discussion at the Oxford Round Table of Scholars and has been performed throughout the world from New York City's Carnegie Hall to Tokyo Opera City Concert Hall. Mr. Freer earned both his B.A. and M.A. degrees in Music Composition from UCLA


Brad Lunde founded TransAudio Group, the premier distributor of high-end recording gear to the US and Worldwide. TransAudio helps the industry's inventors build a business through product development working with top level end users and selling to the trade. TransAudio product lines include the best of the best: A-Designs (USA), ATC Loudspeakers (UK), Bock Audio (USA), Chameleon Labs (USA), Geoffrey Daking & Co (USA) Drawmer (UK), George Massenburg Labs (GML USA), SoundField Microphones (UK) and Tube-Tech (Denmark) to name a few
Tim Reid is a 20 year music business veteran who started at The Walt Disney Company's Hollywood Records in 1991 before becoming the Director of Marketing at groundbreaking indie Priority Records in 1995. In 1999, Universal Music Group's MCA Records brought Reid in as Marketing Director before elevating him to Marketing Vice President in 2001. Reid joined the powerhouse Interscope/Geffen/A&M Marketing team in 2002 and seven years later began his specialized marketing consultant company in 2009, Pro Franchise Group, LLC. During the course of his accomplished career in the music industry, Reid spearheaded the marketing campaigns/strategies behind successful album projects from superstar artists including Snoop Dogg, Common, The Roots, Mos Def, Jay-Z, Master P, Ice Cube, Tommy Lee, Akon's Konlive imprint, & Avant. Artist development, imaging, branding, and anticipating audience trends & technological advances are a few of Reid's strengths which have enabled him to help build careers and achieve gold and platinum levels of success with his artists/clients. As head of the marketing/branding company Pro Franchise Group, LLC, Reid devised the album campaign for Grammy Award winning, R&B superstar & actress Jill Scott's new album The Light Of The Sun (#1 debut on Top 200 chart) & Grammy Award winning, actor/hip-hop star Common's new album The Dreamer/The Believer. Additional clients include Epic Records & the Walton Isaacson Agency (Music Supervisor for TV One's new series "Verses & Flow"). Reid is now the VP Product Management at the cutting edge indie distributor INgrooves/Fontana Distribution focusing on the urban labels/projects.
Mark (Mooka) Rennick opened Prairie Sun, the legendary recording studios on the serene edge of Cotati 30 years ago. Ask Rennick why he has lasted and he says, "a deep appreciation of really good recording equipment. A really good vibe. A middle-class rate structure — but not cheap. It's about relationships. It's an attitude of gratitude. My whole thing here is about spirituality and faith. If you build it, they will come. Well, they've come."
Among those who have are Eric Gale, Beats Antique, Charlie Musselwhite, Primus, Ramblin' Jack Elliot, Greg Allman, Iggy Pop, Doobie Brothers and Van Morrison.
Scenes from the film "Coffee and Cigarettes," starring Iggy Pop, were filmed there. And Tubes drummer Prairie Prince designed and painted murals in the largest studio that featured a barn, corn fields and a cloudy blue sky on the ceiling.
Perhaps the best story is about Valley Ford's Tom Waits, who recorded his first album at Prairie Sun using a variety of distortion devices but generally disliked the studio atmosphere. Rennick says Waits did daily takes of about 30 minutes, and if they weren't good, he would leave and come back the next day. The end result was an album called "Bone Machine" that won a Grammy in 1992.
Tony Shepperd Tony Shepperd has logged nearly two decades in music business working with Take 6, Quincy Jones, Kenny Loggins, to name a few.
"I knew from a very young age that I wanted to be in music. It was a very big part of my life," said Shepperd (a Michigan and Texas transplant), who works and lives in California. . "It was a given in my family that I would get a college education. There was nothing I could do but go and learn... but the minute I got out I began building my first studio," says Shepperd who majored in photography at Loma Linda University.
As the years passed the studio grew right along with Shepperd's career. He landed his first big break in 1986 when Mervyn Warren of the group Take 6 heard some band demos that Shepperd had produced. "Little did I know that I would be working with Mervyn all these years later," Shepperd said referring to the Whitney Houston album, One Wish he recorded and mixed for Warren.
Shepperd recently opened his own private studio to fit his business and life flow. "It started out as a way to be closer to my family as I am a total family man. Shepperd continues to renew his enthusiasm for his craft on a daily basis. "Just when you think you have had enough of the music business I hear something fresh like this band, "Just Listen" I am working with and it inspires me. For me, it always comes back to the music.
Claris Sayadian-Dodge founded studioexpresso.com in 2000, a production resource for developing artists. Dodge is the publisher and chief editor of studioexpresso's monthly eZine for the recording industry and looks after an Award-winning roster of producers with the affiliated C Artist Management. Past positions include: Management III, PMK, Rogers & Cowan Public Relations, Ocean Way studios, Prairie Sun Recording and studio bau:ton.
Claris supports Grammy's MusiCare and sits on the board of a Film Foundation dedicated to documentaries on human rights. She has a BA degree in business and continues to create professional networking events to raise awareness and funds for art and music education programs and worthy causes.


# # #
Past Events
studioexpresso at Mix Open Golf Tournee
Monday, June 25, 2012
studioexpresso Presents The Art Of Producing Masters
A Panel of audio professionals discuss label-friendly production trends at NAMM "Hot Zone" 2012

studioexpresso Presents Rock, Record and Roll!
A Panel of audio professionals discuss label-friendly production trends at NAMM "Hot Zone" 2011

Studioexpresso Hosts Audio Underground 007
Presented by Trans Audio Group & studioexpresso

Studioexpresso Connects With Young Musicians
Presented By The Learning Annex & studioexpresso
An Artful Experience
Expresso@8 With Eddie Kramer Draws An Experienced Music Crowd

studioexpresso & Music Business Chops
studioexpresso hosts Demo Eval Sessions During MBC 2004

Sign me up for news on upcoming events here!