Edition: Nov 8- Nov 21, 2004
Crosstalk@musicconnection.com
Lulo Perez
By Andy Kaufmann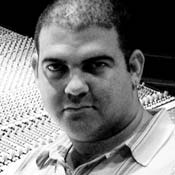 Alejandro Sanz, Ricky Martin, Alexandre Pires,
Café Quijoano
On September 1, Alejandro Sanz became the toast of the Fifth Annual Latin Grammy Awards. Sanz's album, No Es Lo Mismo, sold no less than one million copies in its first week of release. The album, which earned Song Of The Year, Best Male Pop Vocal Album, Record Of The Year and Album Of The Year, has torn up Latin charts worldwide. The disc even won Best Latin Pop Album at the 46th Annual Grammy Awards. But behind the seductive charm of Sanz's flashy career sits a man who is decidedly un-Hollywood. Lulo Perez, who's been working with Sanz since '97, appears oblivious to the trappings of success. "After winning an award, people get more interested in you and want to learn more about your work. In that respect, it opens new opportunities," he tells us, as if that were the ultimate reward of worldwide fame, in and of itself.
Perhaps this attitude is reflective of Perez's Cuban heritage, where music is an integral part of everyday life. "I left Cuba very young, when I was 18 years old," he recalls. "But I had the opportunity to work with one of the biggest artists of the country, Omara Portuondo. With Omara, I learned how to choose the basic elements of Cuban music in a subtle way and integrate it with other musical styles."
Perez's heritage, for better or worse, has colored his career. His music has remained heavily Latin, both in terms of languages sung and instrumentation. Still, "I would love to work with more English composers and artists," he insists. Besides, retrofitting musical styles for different languages isn't easy, or even always possible. "I try to accommodate the language of the music," he explains. "Every project is different and, depending on the artist, the approach is different."
The jolly Perez, who is also a musician, a writer and an arranger, started out by composing his own songs, arranging them and then making different mixes. Though he's played trumpet since the age of ten, "My main instrument is the piano, because it is the one I use for composing." With the new Sanz album, Perez contributed not only by co-producing but also by restructuring and re-harmonizing the songs, all of which were written by Sanz. The session was also a learning experience; Sanz taught him the elements of flamenco and bulerias music, further expanding Perez's knowledge of Latin styles.
Like so many producers, Perez stresses the importance of pre-production. "If you get to the studio without knowing what you want," he warns, "who knows what can happen!" That being said, creativity comes from working without preconceived notions. "I began producing by experimenting on my own. [If you] want to produce, follow [your] instincts and don't rely on what sells or what doesn't." When he and his artists have differences of opinion, Perez insists, the music always wins. It all comes down to preserving the artist's identity. "Some producers forget that fans are smart. [Fans] know when they hear something that's well done. Why should they pay for something that's average?"
As we've noted, fusing genres remains one of Perez's professional passions. "When different Latin styles are united, a completely new style emerges," he enthuses. "So new that it needs a new name!" And what, in his opinion, does the future hold for Latin music? "It's unclear. I hope it's not less music –– lush harmonies and melodies are what I love. As the market for Latin music widens, the danger of responding to marketing needs increases the need to put out predictable work. Today's DJ formats don't require talented musicians –– just scream through a microphone accompanied by a loop! I don't think that's a healthy trend. Instead, I'd like to see artists who take risks and introduce new musical styles."
Contact: C Management
Claris Sayadian-Dodge
818-990-3031 fn