Aronoff Uncommon
Uncommon Studios LA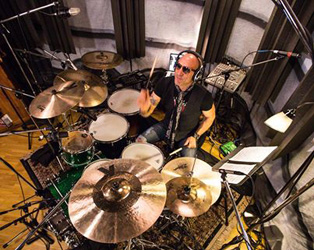 "..Widely recognized as one of the greatest drummers of the rock era both as a live and session drummer..." says The Rolling Stone of Kenny Aronoff whose drum solo appears on classics like John Mellencamp song: "Jack and Diane"
Now, that we've got you humming, think of this. It's truly uncommon to dominate the musical landscape of both live and session work for a solid three decades.
Meet studio ambassador and uncommon drummer Kenny Aronoff. Today, Aronoff continues to play in some of the world's legendary studios, Arenas, 9000+ capacity concert halls, and on major TV shows like the Super Bowl, Kennedy Center Honors, Grammy Foundation, to name a few.

It's a treat for us Angelinos to find Aronoff right here at home playing intimate venues like The Lucy's, The Baked Potatoe or at his own recording studio in North Hollywood called what else? Uncommon Studios LA.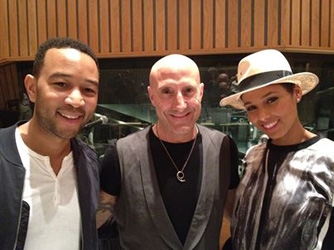 With John Legend and Alicia Keys
Uncommon Studios LA is located in the same building with Hollywood Studio Rentals. This is where artists like John Fogerty, Steve Lukather, Steve Stevens, Michael Landau, and many others store their prized gear. "Owner Chris Johnson also owns Drum Paradise where I have a lot of my drums stored for sessions. Chris and his team do cartage for all of us. I took over John Shanks' room, and converted it into a practice and recording studio," says Aronoff who keeps his choice 18 mics up there, ready to record all the time. "We ran a snake from my room across the hall into a control room where I have my BAE Pre ams and EQ's, and other gear to make my sound amazing," says Aronoff.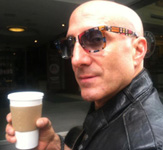 "People either come to us with hard drives or send me files through the internet. I make very very detailed charts of each song before any one shows up so I am not waisting any time recording," adds Aronoff.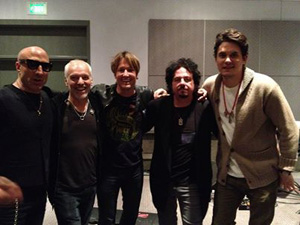 With Peter Frampton, Keith Urban, Steve Lukather and John Mayer

Kenny Aronoff has graced covers of many Drum Magazines for over 20 years and travelled the TV show circuites to include: 2014 Beatles 50 Special, Ellen DeGenerous, Grammys, David Letterman Show, Jimmy Fallon, Ellen DeGenerous, Tonight Show with Jay Leno, Jimmy Kimmel, Austin City Limits, to name a few.
He has toured with the likes of John Mellencamp, Bob Segere, Smashing Pumpkins, John Fogerty, Joe Cocker, Melissa Etheridge, STYX, The Jefferson Airplane, Goo Goo Dolls and and Richard Thompson. Aronoff is one of four rotating drummers in Daryl Hall's house band for his Live From Daryl's House webcast. As of 2011, Aronoff is to jam with members of Chickenfoot and is confirmed to tour with the band promoting their second album, temporarily filling in with Chad Smith who is unable to participate in the tour due to commitments with his main band Red Hot Chili Peppers. Aronoff makes time for drum clinics too!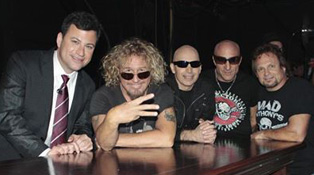 with Chickenfoot on Jimmy kimmel Show

Uncommon control room is all wired by Mogami 2552 Cable With Neutrik connectors and features a MTA 980 series console with API mods (32 Input 24 returns). Recording engineer, Nathan Staley has his mixing board, protools and other gear. Uncommon Studios LA feature: Pro Tools|HD3 system with a Mac Pro Dual G5 2.0GHz 8G RAM; 3 Digidesign PCI Core - 1 Core 2 Accell; Pro Tools HD 8.0.1 Software; Digidesign 192 i/o & 96 i/o AD - DA Converters.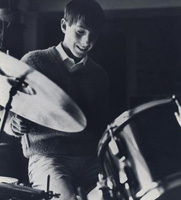 Watch Kenny Aronoff demonstrates how he interprets the groove and fills on the song "Soap On A Rope," from Chickenfoot's eponymous 2009 debut album, originally recorded by Chad Smith.
Drums anyone?! Uncommon studios LA is a drum heaven filled with percussion instruments that can only satisfy its master. Uncommon Studios LA features some of Aronoff's vintage Ludwig Snares and special Zildjian cymbals. "My main drum kit is a Tama starclassic maple that has been on many tours and sesssions with me.
I think the kit has aged well and become a combination of a vintage and modern sounding drum kit," says Aronoff Kenny Aronoff main drum kit sizes: 24"x16" kick, 10",12", 16" and 18" Toms. He also has lots of vintage drums available.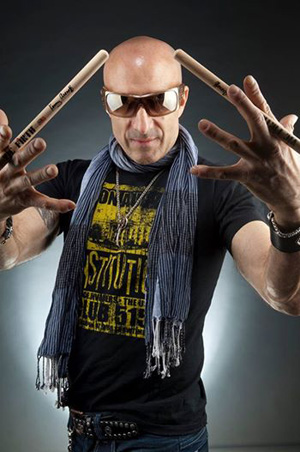 Kenny Aronoff is one of the world's most influential and
in-demand drummers. With a style of playing that combines power and finesse, Kenny was named the #1 Pop/Rock Drummer and the #1 Studio Drummer for five consecutive years by the readers of Modern Drummer Magazine, and in addition has played on over 30 Grammy-nominated recordings. Some of the musicians Aronoff has played with include: John Mellencamp, Smashing Pumpkins, The Rolling Stones, Bruce Springsteen, Sting, Bob Seger, John Fogerty, Eric Clapton, Sammy Hagar, Jon Bon Jovi, Slash, Dave Grohl, Steven Tyler, Don Henley, Joe Walsh, Chris Cornell, Santana, Elton John, Rod Stewart, Roger Waters, Bob Dylan, Iggy Pop, Lynyrd Skynyrd, Alanis Morissette,
Avril Laavigne, Neil Dimaond, Celine Dion, Mick Jagger, Meatloaf, Bonnie Raitt, Elvis Costello, Norah Jones,
Alicia Keys, John Legend, Alice Cooper, Johnny Cash, Waylon Jennings, Willie Nelson, Ray Charles, B.B. King, Kid Rock, Garth Brooks, Rob Thomas, Steve Windwood, Gregg Allman, Dr. John, Sheryl Crow, David Crosby, Natashia Bedingfield, Nelly Furtado, Cyndi Lauper, Shelby Lynne, Pat Monahan (Train), Shooter Jennings, Lucinda Williams, Kris Kristopherson, Carroll King, Emmylou Harris, Mavis Staples, Jennifer Hudson,
Merle Haggard, to name only a few.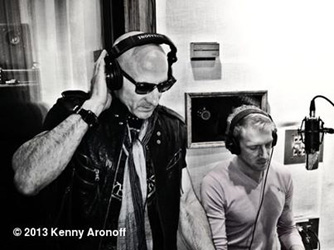 Aronoff produces records when he's not on tour or doing sessions for signed and unsigned artists or bands.
"I produced and played drums on for a new artist, Matt Gold (above). Dave Bianco engineered with bass player Lee Sklar, Tm Pierce on guitar and Kevin Savigar on synths. "Amazing players… they rock..," says Aronoff who can work with all kinds of budgets at his place, at Uncommon Studios LA. Gold's album is due out Spring 2014.
Aronoff recently recorded 2 songs on Rod Stewart's new cd, also he recorded for Brian Wilson, Trace Adkins, John Fogerty's new cd due out May 2014 and many others.
Kenny Aronoff on Producing:
"My favorite part of producing is taking a song, creating a vision with the artist and then going after that vision by hiring the right musicians, getting the right feel, sounds and performances from everyone."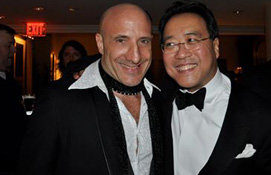 Aronoff with Yo Yo Ma at Kennedy Center Honors photo by Georgina
"The purpose of creating a studio was to make it possible for artists who want to work with me but have a smaller budget or have no record deals. The music business has changed so much, I saw a need to adapt," says Aronoff who recently has toured with Chickenfoot and Joe Cocker.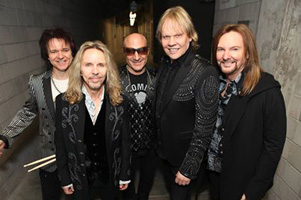 With STYX photos by Jason Powell
Who has been recording at Uncommon Studios LA?
John Fogerty, Kill The Alarm, Kid Rock, Trace Adkins, Paul Gilbert, bodeans, Camryn, Beverly, Skylar, Ryan Orway, Jon Guilesspie, Amanda McCoy, Bill Bell, Setting Fires, The Moog, Paolo Preite, Jason Humphrey, Jessie Blaze Snider, David Lane, Joe Floyd, Mark Moran, Max, Jason Sadites, Paul Dexter, Steve Ouimette, Tidewater, Stone Glory, Velvet Saints, John Kerr, Bruce Miller, Owen Campbell, Jason Wibur, Erik Bennett, Fernando Laura, Adam Michaelson, Joe Sciacca, Johan Liljedahl, Keith Cornella, Tragedy, Ron Armstrong, Jeau James, Karen Nash, Sticky Fingers, Michael Smith, Tommy Korberg, Kerry Hotchkiss, to name a few.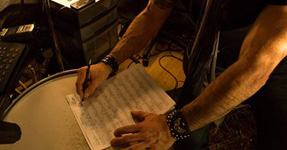 Watch Aronoff talk about Game-Changing Moments we should all look
forward to!
Booking Contact: Kenny Aronoff
Visit Uncommon Studios LA Website