Welcome to Thud Studios

NoHo's Rehearsal and Recording Space at Musician-friendly Rates All Under One Roof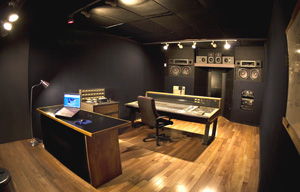 You figure after touring the world and selling more than 3.5 million records being the bassist for rock band Fuel you would want to slow down a bit and enjoy the fruits of your labor. Not Jeff Abercrombie, owner of Thud Studios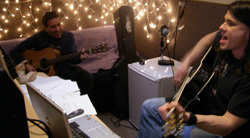 The No Ho Arts District of North Hollywood in California now offers musicians, artists, producers a professional, vibrant, and creative environment called Thud Studios.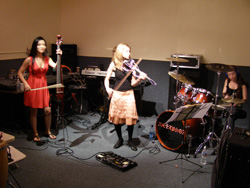 Here you can rehearse or record with reasonable rates - hourly or monthly lockout deals available. Though the facility offers a network of engineers, producers, and songwriters, clients are welcome to bring their own entourage.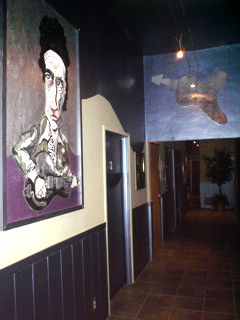 Recent clients include: Wind Up recording artist Endless Hallway and Corporate Punishment Records artists Silent Civilian.

Other clients include: Ralph D (formerly of NIN), Stephen Short, Master Jedi Grammy winning Producer (Peter Gabriel,Paul McCartney, Queen), Fuel, Evan Taubenfeld/Avril Lavigne, Wade Williams/Rockstar Super Nova, Reed Diamond/ Eric Stonestreet, Cowboy Robot, JINNRAIL, Marc Jordan, Chris Maggiore & Mike Thomas, Agent-Love Hate, Bang Tango, Steven Adler, Class Clown, The Yelling and Endeverafter.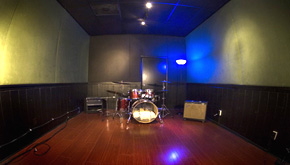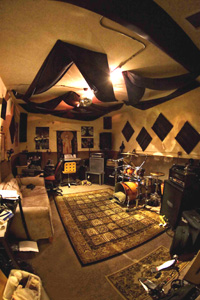 Studio B has a Trident 70 series and newly re-chipped and re-capped with a rebuilt power supply. For analog recording fans, the studio offers a Sony MCI two inch 24 track along with the old reliable protools mix system. "We have the newer protools 7.3. Soon to come is our Protools HD system with a protools Procontrol console in Studio A," says Abercrombie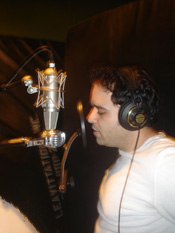 Rob Michaels in Studio-B at Thud II (Touring with the Goo Goo Dolls for over 2 years as a hired backup guitar player and session guitarist in the studio for Chris Daughtry's multi-platinum album)
"What's unique about our facility is that we make it comfortable and affordable for musicians with 24-hour access, says Jeff Abercrombie, owner/manager.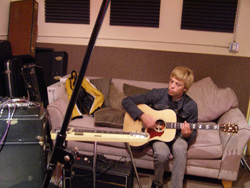 Jon from Cowboy Robot writing the next big hit...
Thud Studios can also host your next corporate event or company launch party. With Wi-Fi internet, bottled water, coffee, kitchenette, outdoor patio with conversation bar and ample parking, the site is becoming popular with the budget minded.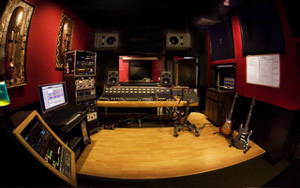 Add ample parking to the mix and you're ready to make music at Thud Studios!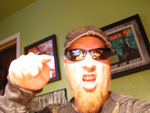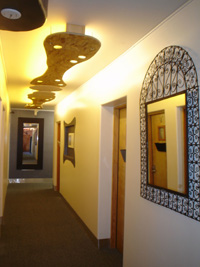 Booking Contact: Jeff Abercrombie
Call 818-378-8162 or 818-506-4648.
e-mail: owner/manager here