Marsh Mastering
Mastering Gold In The Heart of Hollywood
Custom-tailored masters, exceptional customer service and superlative sound


Marsh Mastering is a unique, purpose-built mastering boutique located in the heart of Hollywood, CA. The studio is known worldwide for an exceptional customized processing chain, accurate clocking and conversion, and a finely tuned critical listening environment.

Owner and chief engineer Stephen Marsh, alongside fellow mastering engineers Stephanie Villa and Fernando Lee, provides experience, talent, and musical passion, while offering custom-tailored masters, exceptional customer service and superlative sound. http://www.marshmastering.comThey provide custom services with Steph's trademark customer service and the superlative sound for which his name is synonymous.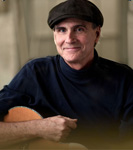 "Mud Slide Slim" marks the fourth James Taylor album remastered by Audio Fidelity at Marsh Mastering. Other limited edition titles already available are "Sweet Baby James" (1970), "One Man Dog" (1972), and "Walking Man" (1974).

Audio Fidelity, leader in audiophile remastering of classic rock and pop, has completed James Taylor's "Mud Slide Slim and the Blue Horizon" at Marsh Mastering in Hollywood. Working from the original 1971 analog master tapes, Audio Fidelity engineer Steve Hoffman joined mastering engineer Stephen Marsh for the critical remastering sessions in preparation for a limited edition of 5,000 numbered 24K Gold CDs."We are tryingto create today's definitive version of the record," explained mastering engineer Stephen Marsh, "to get as close as you could possibly get to the master tape and honestly capture the artist's original vision, using modern technology to present the music in an unadulterated fashion."


"Our goal at Audio Fidelity is to deliver the optimum remastered Compact Disc from an analog recording that was done a long time ago," said Steve Hoffman, who has tens of thousands followers in his online audiophile forums. "We are maintaining all of the integrity of the original sound, while creating a recording that sounds exceptional on good listening systems.

"It's a very delicate process," added Steve Hoffman. "In some cases we have to carefully dehydrate or 'bake' the analog tapes that are unplayable otherwise." Stephen Marsh adds, "Every particle of oxide that falls off is part of a song that you will never hear again."
"Luckily, all the James Taylor analog master tapes have been in fantastic shape," says Hoffman, "well stored by the archival folks at Warner Bros. Audio Fidelity is in contact with James Taylor before these reissues and he is very pleased with our work. That's the ultimate compliment -- if he's happy, we are happy."
Watch a 3-minute video of the "Mud Slide Slim" James Taylor session at YouTube

"Mud Slide Slim and the Blue Horizon" will be available as an Audio Fidelity 24K Gold CD in Spring 2012.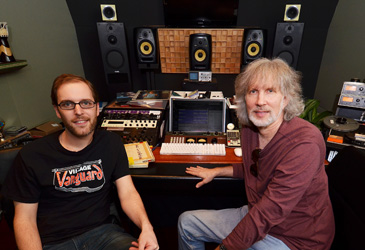 L-R: Mastering engineer Stephen Marsh and Audio Fidelity engineer Steve Hoffman at Marsh Mastering in Hollywood Photo by David Goggin.
A native of New York, Stephen Marsh came west at 19 to take a job at the Sony West Coast Mastering room working under David Mitson. With Grammy® nominees and winners, multiple gold and platinum albums and numerous chart successes among the thousands of releases to his credit, Stephen's credits include: Los Lobos, Ben Harper, Megadeth, Kenny Loggins, Jars Of Clay, The Donnas, Pharcyde, Incubus, Ginuwine, and Keb Mo's 2004 Grammy winner Keep It Simple. His Soundtrack/Score credits include Bored To Death, the Sex And The City films, The Elf, The Notebook, The Hangover films, Friday The 13th, A Nightmare On Elm Street and the Golden Globe nominated score for Sideways with composer Rolfe Kent.

"We understand the independent nature of modern music production. With flexibilities in both scheduling and pricing, Marsh Mastering is able to accommodate your needs when, how and as required," Marsh says of his work that includes diverse cross section of major and independent artists from across the globe.
Marsh Mastering's purpose-built hybrid tube/discrete console was developed in-house with Steve Firlotte of Inward Connections and features custom and modified processing from EAR, GML, Maselec, and Inward Connections. High-resolution digital processing is by Weiss and Waves, while the console operates in both Left/Right and Mid/Side configurations simultaneously. Console tubes are hand-selected Telefunkens; our elliptical and M/S networks are one-of-a-kind designs from Steve.

Marsh Mastering also features a selection of the finest Apogee, Burl and Prism Sound clocking and conversion available and proprietary wiring feeding a custom monitor chain with Bryston-powered PMC mains and KRK mid-fields. "Our system complement includes a Prism Sound interfaced HD-Accel Pro Tools system for digital file playback and a Sonic Studio Soundblade mastering platform with full No-Noise and DDP facilities," says Marsh. In addition, a restored ATR-104 with Flux Magnetics Extended Response heads in multiple configurations is available for analog playback, as are all standard digital formats. Transformer isolated, balanced power distribution is employed throughout the facility.


Contact: Stephen Marsh
Tel: 310-598-6038
web site: http://www.marshmastering.com/