Sonikwire Studios
OC's Premier Recording Destination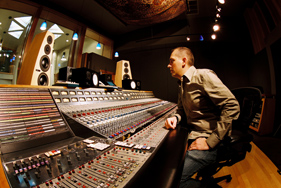 Justin Schier, co-owner of Sonikwire in Studio A control room with
vintage Neve 8028 (owner: Josh Gordon)

Open since 2001, Sonikwire Studios was created to meet the growing demand for world class recording facilities in Orange County, California, about 45 minutes south of Los Angeles.
One would drive right by Sonikwire in its quiet business park and never know of the studio's existence. But one step inside reveals a beautiful, warm, and creative recording studio environment filled to the brim with the most in-demand recording gear available.
Studio co-owners Josh Gordon and Justin Schier spent nearly two years building the studio with two goals in mind. Gordon says, "Our number one concern was building a space that has all the amenities and services you'd find in an LA studio." About the second goal, Schier says, "We designed it with an aesthetic that values creativity and life, and inspires musicians and producers to do their best work."
Sonikwire's Studio A features a newly refurbished 60-channel custom Neve 8028 console with Flying Faders. "The Neve adds amazing warmth and punch to the sound of any tracking or mixing session, and is big and flexible enough to handle both large and small projects" says Alex Bush, Sonikwire's Head Engineer.
The studio features both analog and digital recording options. "Most clients opt to use the 60-channel Pro Tools HD3 Accel set with Apogee Rosetta 800 and Digidesign 192 interfaces. Others choose to record on the low-hours Studer A820 analog multitrack," says Bush.
Sonikwire's 2,600 square foot facility offers a comfortable and private environment with several fully isolated recording rooms. The spacious 650 square foot control room has been carefully tuned for accurate main or nearfield monitoring and features Yamaha NS-10s with SW10 Subwoofer, Genelec 1030a nearfields with 7070a Subwoofer and Dynaudio C4 Main monitors. The 900 square foot main tracking room has a slate floor, 18 foot high ceiling, and a hardwood floor isolation room. It also features adjustable sound absorption, six skylights, and enough room for a 15 piece orchestra.
The studio comes with a comprehensive collection of outboard gear and superb selection of vintage microphones, including Telefunken ELA M-251, AKG C12, C24, C12VR, 451, 414, Neumann M49, U47, U48, U67, U87, M149, M149, M159, KM183/184, to name a few.
Outboard gear includes Neve 1073's, 1066's, 1075's, 1082's, 1084's, Pultec EQP-1A and EQP-15, as well as Lexicon 480L, 960L, PCM81 and PCM91, Distressor, LA-2A, 1176, Esoteric 660 and DBX 160vu among many others. The complete list of equipment is available on Sonikwire's website, www.sonikwire.com.
"Additionally, we can support our clients with project management, graphic and web design through our affiliate company, Sonik Newmedia," says industry veteran Jane Scobie, who joined the Sonikwire team as
a consultant in June, 2006. "When I went to see the studio for the first time, my eyes lit up when I saw the beautifully refurbished vintage Neve console. Together with the amazing collection of microphones and Neve mic pre's, I knew Sonikwire was a winner," says Scobie.



"It's all about making clients feel comfortable and free to create. There's no clock in the studio. It's really important to us that all the equipment works, all the time. We've removed as many of the obstacles to a smooth and productive recording session as possible." says Gordon.
The studio is suitable for recording a wide variety of projects, including full bands doing live tracking, choirs, voice-overs, drum sessions, horn sections, midsize string ensembles, editing, and mix sessions.

Upstairs is an elevated observation loft that provides an unobstructed view of the entire session, and includes a kitchenette, lounge, high-speed WiFi, a web-connected computer, Sony Playstation 2 and digital satellite TV.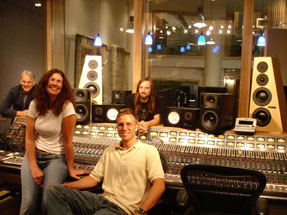 L-R: Vincent Van Haaff, architect; Jane Scobie, Marketing Consultant; Luke Allen, Studio Manager and Alex Bush (back of console), Chief Engineer.
Recent clients include several well known artists and producers. Skinny Puppy mixed their last record on the Neve console with Ken "Hiwatt"Marshall. Disney mixed their "High School Musical" which hit No. 1 on the Billboard charts and on iTunes song downloads. Producers Adam Watts and Andy Dodd recorded drums for Jeremy Camp's album, "Restored". Josh Freese tracked drums for John Wackerman's Drum Duets CD. Producer Stacy Heydon completed all the audio post production and mixing on the "Great Wall of Hope" live concert DVD that was staged and recorded at the Great Wall of China. Producer James "Jimbo" Barton was in recently tracking with Avion. Well known engineer Bryan Carlstrom recently tracked several songs for ABC television with Emmy-nominated artist Rie Sinclair.
"Whatever the project, Sonikwire Studios brings together the best of analog and digital sound recording in an attractive, professional, and artist-friendly environment," says Justin Schier.
Located in Irvine, Southern California, Sonikwire is a recording oasis just ten minutes from the beach and within easy reach of John Wayne Airport.

Booking Contact: Alex Bush
Sonikwire Studios
17831 Skypark Circle, Suite K
Irvine, CA 92614
877-766-4555 toll free
949-851-9340
visit Sonikwire website