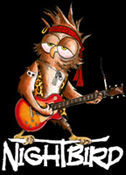 When NightBird Sings At The Studio!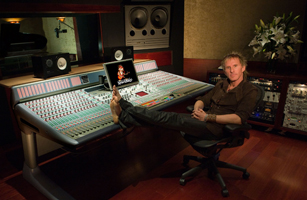 Owner Jed Leiber at Nightbird the Studios
Photo: MosesSparks.com

The recording studios at the Sunset Marquis Hotel & Villas is celebrating 15 years in the industry with a new name, NightBird The Studios! And that's not the only change. With recent architectural remodel and addition of State-of-the-art gear, NightBird the studios is set to offer artists and producers an inspiring working environment. Plus, you can expect the same top flight service the facility has been known to provide.
From Aerosmith and Ozzy Osbourne to Madonna and Mary J. Blige, NightBird, the studios at the Sunset Marquis Hotel & Villas has provided the most luxurious and unique haven for songwriters, producers, actors, film composers and musicians alike since opening its
doors in 1993.

Owner and BAFTA award winning, Grammy-nominated songwriter Jed Leiber takes great pride in instituting an extensive,
high-end remodel from interior design to recording and technical equipment. On its first operating day, Seal recorded with his producer Stuart Price in one room while Cyndi Lauper recorded in the studio next door.
In collaboration with renowned acousticians George Augspurger and Peter Maurer, the additional new production rooms created with rich, solid mahogany combined with custom leather sofas, create a warm atmosphere more like a private VIP lounge than a recording studio. The studios feature an ideal combination of the best vintage equipment and the most advanced technology in digital audio and video. Surrounding Digidesign's Pro-tools HD6 and flagship Icon console, are six LCD HD displays measuring up to 65" for working to picture.
Discretion, elegance and luxury go hand in hand with NightBird's location on the grounds of the Sunset Marquis. All hotel amenities are offered to those utilizing NightBird's compound including delicious 24-hour meal and beverage service, valet and concierge services, as well as massage and spa treatments. When recording or writing, Studio guests may take a break to write poolside or step into Bar 1200 for a cocktail.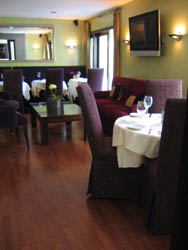 About NightBird

Born when Jed Leiber and Jeff Beck were jamming in a hotel room and were told to go downstairs by Sunset Marquis GM Rod Gruendyke, they found an empty space under the hotel, and Jed never left!
Setting the standard for recording, NightBird is a joint venture between the Sunset Marquis and musician/composer Jed Leiber. Technologically on par with the best-equipped commercial recording facilities in the world, NightBird has facilitated numerous feature film scores, soundtracks and album recordings.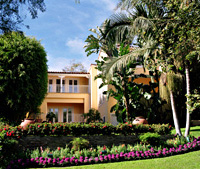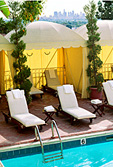 An experienced staff is fluent in all aspects of production from programming through tracking and mixing. With its state-of-the-art recording capability and new production and screening rooms, NightBird is the only facility of its kind and caliber in a hotel. It offers all of the services of a world-class music studio with all the amenities of a first-class hotel, The Sunset Marquis in the heart of West Hollywood, California
For those who require complete secrecy when writing or recording, talent may go direct from the underground garage to the studio with no eyes upon them.
The Sunset Marquis is known as the place "certain A-list actors and musicians" like to live, which makes NightBird a most enticing location for film voiceovers, editing film scores, writing music, and recording. NightBird also provides a unique, private, and elegant environment for photo shoots, recording interviews and high-tech conference presentations.
In addition to the recording studios, a world-class screening room has been created for not only those working on films, but also as an amazing option for private screenings on an HD projector with a 120" screen and 7.1 surround sound.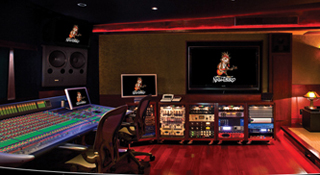 Over the years, NightBird The Studios has garnered a reputation as the place where members of the entertainment industry elite stay. The Hotel's understated elegance, central location, the privacy it affords its distinguished guests and a young, creative management team are among the reasons groups like U2, The Rolling Stones, and Aerosmith are long-standing, loyal clients.The Studio has become a big favorite of musicians, producers and composers staying at the hotel. Clients include: Aerosmith, Ozzy Osbourne, Burt Bacharach, Jeff Beck, Dave Navarro, Warner Brothers Film and Music, Universal, New Line, Virgin Records, William Orbit, Marius De
Vries and Chris Fogel (Alanis Morrissette).
Some of the feature films scores and soundtracks recorded at the studios include: Ocean's Eleven, Out of Sight, Cradle 2 The Grave, Polar Express, SWAT, Scooby II, Summer Catch, KnockAround Guys, Disappearing Act, Blue Chips, Lake Placid, Urban Legend-Final Cut

"When you're in a studio, a few people are working, and everyone else is bored out of their minds," says Leiber. "Here, you can go for a swim or go up to your room in between sessions.'

Conveniently located in the heart of fashionable West Hollywood (near House of Blues), NightBird, the studios offers boutique style production and mixing rooms for record, film & video projects.
Contact: Lisa Yastic, Mgr
(310) 657 8405
http://nightbirdrecordingstudios.com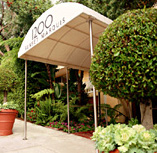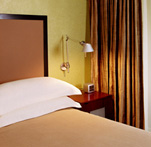 copyright studioexpresso 2002