Manhattan Center Studios
Big Apple's Music & Media Hub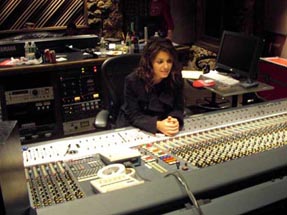 Recording artist Katie Melua records her newest release (out Sept)
In the Log Cabin (Studio 4) at Manhattan Center with Mike Batt producing with Steve Sale engineering and Halsey Quemere assisting.

Manhattan Center Studios is a film, television and music company located a short block away from Madison Square Garden in New York.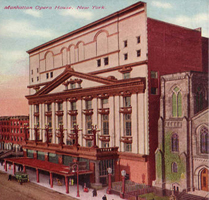 Built in 1906, the Manhattan Center was known as the Hammerstein Opera House.
When first built in 1906, the Manhattan Center was known as the Hammerstein Opera House. Since 1986, the building has become a state of the art production facility housing 2 television studios, 2 recording studios, video post production suites, and 2 concert venues - the Hammerstein Ballroom and the Grand Ballroom.
Many popular recording artists have taken advantage of both the Hammerstein Ballroom's and the Grand Ballroom's connectivity to both the recording studios and the television studios, making these two venues the perfect place to broadcast, video tape and record concerts.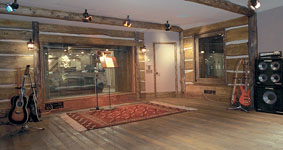 The Grand Ballroom is renowned for its natural acoustics. Its connectivity to Studio 7 allows it to serve as a large sound stage for film scores as well. Equipped with a Neve VR96, the console has a custom modified monitor section. The components have been assembled and wired together in a customized way that enable stereo and surround to co-exist seamlessly inside the console. "Because all the amp stages and other circuitry are actual Neve components, it sounds like a Neve," says OBie O'Brien, Studio Manager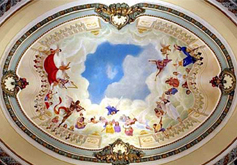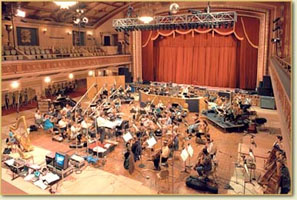 Elliot Goldenthal, Carter Burwell, Terrence Blanchard and Howard Shore are just a few of the many composers who have entrusted their music to Manhattan Center's amazing Grand Ballroom and Studio 7.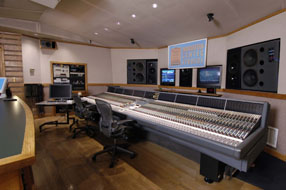 Studio 4, otherwise known as the 'Log Cabin' is also equipped with a Neve console, the VR 72 and like Studio 7, is equipped with Pro Tools HD. Studio 4 has been home to many artists/producers over the years including Timbaland, Jay Z, Bjork, Katie Melua and Missy Elltiott, just to name a few.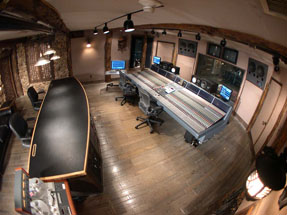 More and more artists are taking advantage of the marketing advantages Manhattan Center offers. More recently, the Counting Crows did their album release here with a live webcast and added broadcast into movie theaters around the country. "Because of what we have in the house, [we] can create a whole variety of products" says Peter Ross, President/General Counsel of Manhattan Center. "Whether it is a live album, a television show or whether it is recorded live for webcasting, later broadcast or a DVD. Manhattan Center does it all," Ross says.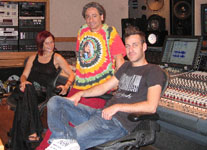 L.A.-based recording artists Ultraviolet recently mixed their newest EP "Fast, Cheap and Out of Control" here in New York City. Mixing duties were performed by Bonzai Caruso in Manhattan Center's Studio 7.


Recent Clients include: Engineer Dan Grech-Marguerat mixed the new Scissor Sisters CD "Ta-dah" in Studio 7. He was assisted by Manhattan Center's Adam Hagar. Robert Miller recorded a symphonic piece called "Cosmic Collisions for the Hayden Planetarium. It was engineered by Kevin Halpin and assisted by Halsey Quemere. Engineer/Producer Jimmy Douglas mixed "Sticky and Slow" for Atlantic Artist Pretty Ricky. New England sensation Katie Melua was in Studio 4 along with producer Michael Batt, tracking a couple of new songs. Steve Sale was engineer, assisted by Manhattan Center's Halsey Quemere. Engineer/Producer Alfonso Brooks mixed several songs for Legendary Record's "The Reggae Carifest" in Studio 4 and Studio 7. He was assisted by Adam Hagar and Sheldon Yellowhair Gilbert.
Booking Contact: OBie O'Brien, Studio Manager
Manhattan Center Productions
Office: 212-695-6600 Ext 212
Fax: 212-564-1092

visit MCS Web Site