Le Mobile Celebrates A Milestone
40 Years of Star-Studded Sound On Wheels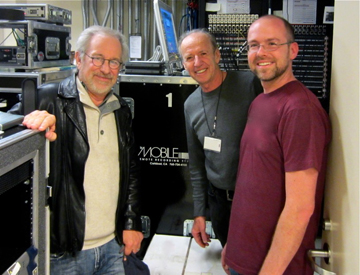 Le Mobile's Guy and Ian Charbonneau with Director Steven Spielberg during the recording of Lincoln soundtrack by John Williams

Shout out a 40-year roar to Le Mobile, the award-winning mobile recording facility owned and operated by Guy and Ian Charbonneau. Most recently producer/arranger Kristopher Pooley with Katy Perry came in to record for her Witness Worldwide Finale.
Only if these wheels (rather walls) could talk...the artists recorded here resemble Billboard's top twenty play list: Linkin Park, No Doubt, U2, Aerosmith, The Eagles, Deep Purple, Fleetwood Mac, The Offspring and Jane's Addiction.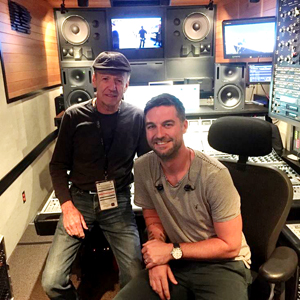 Guy Charbonneau with Kristopher Pooley recording for Katy Perry's
Witness Wordwide Finale

Its creator, music pioneer Guy Charbonneau, attributes
his success and longevity to having passion for what he does.
In fact, Guy has been on the road for four decades recording artist as diverse as Katy Perry, Keith Urban, Kanye and Andrea Bocelli. Other legendary solo artists recorded by Le Mobile include Gwen Stefani, Faith Hill, Eric Clapton, Christina Aguilera, Peter Gabriel, and Kenny Chesney.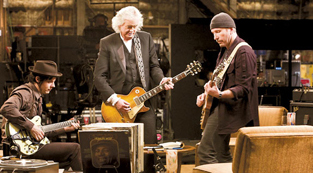 Documentary film "It Might Get Loud" was recorded by Le Mobile
l-r: Jack White, Jimmy Page, U2's Edge
A Sound Passion

According to Charbonneau Passion can take you to heights never imagined. "From an early age, my life's passions were cars, electronics and music. I was lucky to combine all three with Le Mobile! I just followed my passion. Unlike Dreams, your passion never stops. Le Mobile is the proof," says Charbonneau who continues the business with his standards of excellence, integrity and always staying current and in the game.

Love Music

It doesn't matter what genre of music Le Mobile is engaged to record. Every artist gets the same focused attention and care. "One day it's Bocelli, another day it's Kanye. We give each session the same attention it deserves regardless of genre. I love to record music and capture artists live. My approach is to create layers of sound, it is like a painting for me. I want dimension and excitement, remember I talk about recording live concerts. I am probably one of the last engineers besides my son Ian to EQ and compress during the recording (Like we used to do in analog)," says Charbonneau.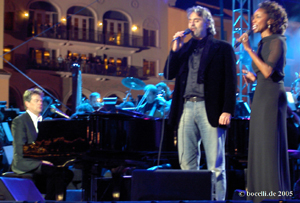 Le Mobile recording Bocelli with David Foster
Solutions
Neve meets Fiber

Guy thrives on solving problems and insists the best way to start is to communicate directly with each band or artist's technical crew and understand their requirements before each show.
What has changed? Over the years, the distance between the stage and where Le Mobile is able to park has increased. In large part this is due to changes in security but also to advances in digital technologies. "So in order to compensate, I decided to create a custom digital interface using a MADI fiber system with our prized Neve 8058. This allows us to use the Neve Mic Preamp and EQ while replacing the long analog audio copper snake that I had been using," says Charbonneau.
In fact this very unique approach has opened new doors for Le Mobile and Charbonneau who believes in doing only "quality" work.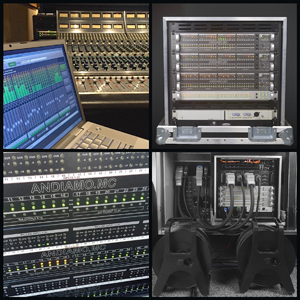 Le Mobile's custom MADI Fiber system interfaces with its prized Neve 8058

Service

Le Mobile offers production packages and full mixing services based on both audio or Video needs to include:
CD, DVD 5.1 surround, motion picture soundtracks, webcasts and Television music specials.

Most will tell you that when it comes to live recording it's best left to experts. Why? You don't get a second chance!
In the words of a recent customer, Van Morrison's long time engineer, Mick Glossop, "It's the reputation that leads to confidence in great service." Show producer Alastair McMillan agrees. "The audio sounds fantastic, in fact it puts me under pressure to do a mix that justifies Le Mobile's work!"

Festival work is the most challenging. "With multiple stages and bands (up to 12 a day) and no rehearsals, you have to be alert and focused.
Musicians and show producers have relied on Le Mobile for live recording. "We're also the favorite cost-effective choice to record and walk away with a ready master," says Charbonneau.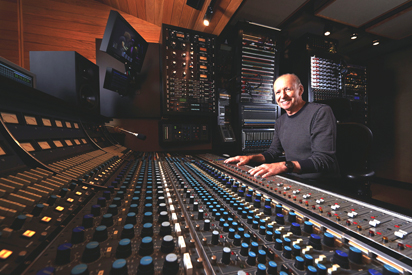 LeMobile Founder and Audio Pioneer Guy Charbonneau celebrating a 40 year milestone in live recording

Work With The Best
To achieve his quality standards, Guy works with a combination of various crews that he knows and trusts. "Over the years I've created relationships with great stage crew and assistant engineers who bring great dedication, passion and skill sets to our projects," adds Charbonneau. Le Mobile's experienced crew gets credit for handling the most unexpected situations under time pressures while capturing the magical performances we've come to hear and see.
Best Advice. "Do it right the first time for the best recording," Guy emphasizes.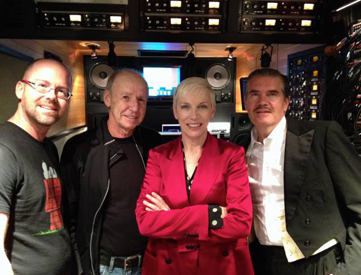 Ian and Guy Charbonneau with Annie Lennox and producer/Music Director Mike Stevens
Fly Pak Meets Pure Quality

An alternative to the full Le Mobile truck, is the high-quality recording
Fly Pak system used in the Lincoln Film score for Steven Spielberg.
"My approach to recording live music has stayed the same through the years. I've always tried to capture and preserve a live performance in its purest form," says Charbonneau.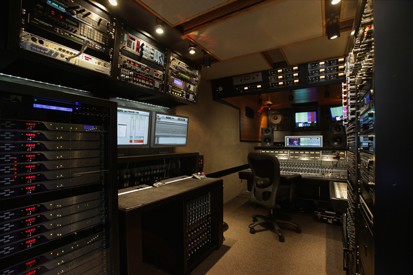 Relationships

Aside from Quality, Guy takes pride in the relationships he has developed using two important ingredients in his business: Integrity and trust . Le Mobile's relationship with Paul Tollett of Goldenvoice and Coachella for many years is a good example. "Paul brought us on board for his "Desert Trip" festival. Most of the performers already had a relationship with Le Mobile so it was a winning combination. Nonetheless many artists, engineers and producers keep coming back to Le Mobile over the years to include: Garth Brook, Eric Clapton, Rolling Stones, Beyonce, Chicago, Andrea Bocelli, Josh Groban.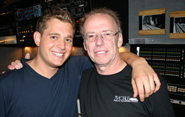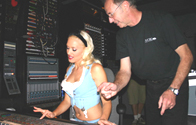 Guy Charbonneau with Michael Bublé and Gwen Stefani

History

Guy began his career recording and mixing the Montreal Jazz Festival for television broadcasts in the 70's. "This was the beginning of recording multi-track and mixing for television. At the time, I worked closely with the video editor." After a 1977 recording at New York's Carnegie Hall for the Canadian Broadcasting Corporation, producer Phil Ramone saw Le Mobile and asked Guy to record "One Trick Pony" movie soundtrack with star Paul Simon in Cleveland. In 1984, Guy moved to the Southern California where Le Mobile gained a permanent home. Over 40 years, Guy has developed an unsurpassed style that allows the ambiance of a live show to be recorded, without having to re-create it later in a studio. According to Guy, majority of technological changes have occurred in the past few years mainly with the transition from recording on tapes to workstations. "Recording is easier in a sense, but not always for the better," he adds.
Awards
Guy Charbonneau's long and prestigious career has brought him numerous audio and TV industry music awards and worldwide recognition for live remote recordings, production, mixing and his world-class facility. Indeed Le Mobile has won numerous TEC Awards in the category of Outstanding Institutional Achievement Remote/Location Recording Engineer. Guy, a longtime member of The Recording Academy, was awarded an Emmy at the 52nd Annual Creative Arts Emmy Awards.

Le Mobile


Le Mobile headquarters, Carlsbad, CA
So next time you see a shiny black truck on the road, it's the heavyweight in mobile recording. Hunk 4x for forty more years of Le Mobile delivering magnificent music!
This monumental studio on wheels is headquartered in Carlsbad California and ready to meet you wherever your music is staged.
Numerous gold and platinum awards grace the walls of Le Mobile, attesting to its impressive history.
What does Guy like to do when he's not on Le Mobile? According to son Ian, that's simple. He's using Q-tips to clean the tread of the tires, polishing it and always updating and modifying equipment.
"Of course, I have some car time to relax. I like to customize my cars instead of leaving them the way they come from the factory," says Guy.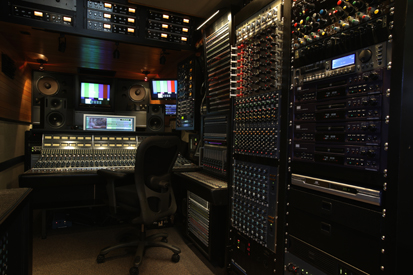 As for future plans for Le Mobile?
Guy says: Record more music!
Contact: Le Mobile
email: recording@lemobile.com
fn: (760) 734-4100
Grey Hawk Court • Carlsbad, CA 92010-6651
web: http://www.lemobile.com/
facebook: https://www.facebook.com/lemobile