Sweet Sounds On Wheels...LeMobile!
The short list of the bands recorded by Le Mobile sounds like Billboard top twenty: Linkin Park, No Doubt, Keane, The Pretenders, U2, Genesis, Aerosmith, The Grateful Dead, Rush, The Eagles, Deep Purple, Fleetwood Mac, The Offspring and Jane's Addiction.

Guy Charbonneau's long and prestigious career has brought him numerous audio and TV industry music awards and worldwide recognition for live remote recordings, production, mixing and his world-class facility.

Le Mobile is offering full production packages based on both audio or Video/DVD needs which include:
CD, DVD 5.1 surround, motion picture soundtracks, Internet or Television music specials.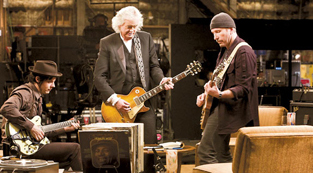 "Through the experience of working with multiple video production companies over the years, I can confidently guide my client's to select the most appropriate and complete production package based on the individual needs of each project," says Guy who recalls recording and mixing the Montreal Jazz Festival for television broadcasts in the 70's. "This was the beginning of recording multi-track and mixing for television. At the time, I worked closely with the video editor. My goal is to bring back this relationship once again to increase total project efficiency. I am in the completion phase of building an in-house studio to be available that will allow audio and video personnel to collaborate in order to produce the best-finished project.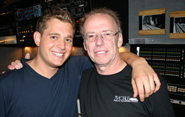 Dealing with Le Mobile from start to finish is the most economical way to record your project and get it right the first time as opposed to fixing it later. Musicians and show producers have relied on Le Mobile for live recording and now we're also the favorite cost-effective choice to record and walk away with ready masters," says Charbonneau pictured with Michael Bublé above.
One of the heavyweights in the mobile recording industry, the monumental studio on wheels is headquartered in Carlsbad California. The new location is complete with numerous gold and platinum awards to showcase the impressive history of Le Mobile.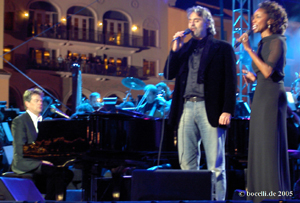 Most will tell you that when it comes to live recording it's best left to experts. Why? You don't get a second chance! In the words of a recent customer, Van Morrison's long time engineer, Mick Glossop, "It's the reputation that leads to confidence in great service." Show producer Alastair McMillan agrees?"The audio sounds fantastic, in fact it puts me under pressure to do a mix that justifies Le Mobile's work!"
Guy finds festival work the most challenging, "With multiple stages and bands (up to 12 a day) and no rehearsals, you have to be alert and focused. In fact, it gets so busy, I have to hire someone to go to the bathroom for us," he says with a smile.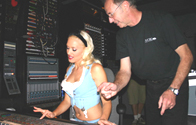 Legendary solo artists recorded by Le Mobile include Gwen Stefani, Faith Hill, Eric Clapton, Christina Aguilera, Peter Gabriel, Andrea Bocelli, Kenny Chesney, Roger Waters, Van Morrison and Sting.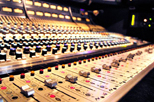 History: After a 1977 recording at New York's Carnegie Hall for the Canadian Broadcasting Corporation, producer Phil Ramone saw Le Mobile and asked Guy to record "One Trick Pony" movie soundtrack with star Paul Simon in Cleveland. In 1984, Guy moved to the Southern California where Le Mobile gained a permanent home. Over 30 years, Guy has developed an unsurpassed style that allows the ambiance of a live show to be recorded, without having to re-create it later in a studio. According to Guy, majority of technological changes have occurred in the past few years mainly with the transition from recording on tapes to workstations. "Recording is easier in a sense, but not always for the better," he adds.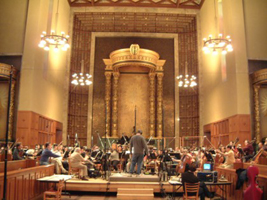 Indeed Le Mobile has won numerous TEC Awards
in the category of Outstanding Institutional Achievement Remote/Location Recording Engineer. Guy was awarded an Emmy at the 52nd Annual Creative Arts Emmy Awards.

Le Mobile's experienced crew gets credit for handling the most unexpected situations under time pressures while capturing the magical performances we've come to hear and see. "Your music can be recorded with an incredible attention to detail without losing the emotion behind the sound," says Briana Graham, production and personal assistant for Le Mobile.

Best Advice. "Do it right the first time for the best recording," Guy emphasizes.

Member of The Recording Academy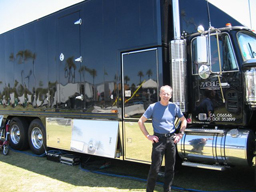 Contact: Le Mobile
email: guy@lemobile.com
fn: (760) 734-4100
Grey Hawk Court • Carlsbad, CA 92010-6651
web: http://www.lemobile.com/