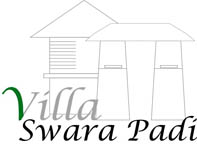 Play Record and Love!
Destination Recording, Bali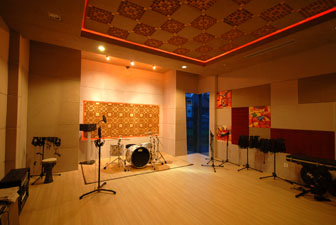 Villa Swarapadi is the first resort-villa equipped with a world-class Recording Studio, located in the picturesque area of Kutuh Kaja, just 7minutes from Ubud town-center known as God's Paradise Island.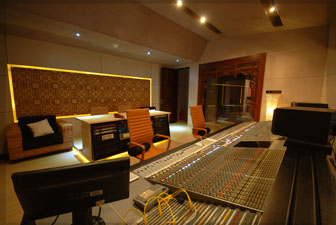 Swara Padi is the Balinese word for 'sound of rice paddies'.
The verdant area around outskirts of Ubud offers great views
to the rice fields. According to the owner, Didi Kartanegara,
the inspiration behind the studio is his passion for music, recording, and vacationing in Bali. "There is no professional recording studio in Bali. We saw the opportunity. Our philosophy is simple. Give artists the best service," says Didi.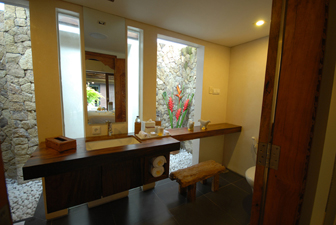 Villa Swara Padi caters to musicians who are looking for a peaceful and luxurious environment to record and create. The recording studio is equipped with high-end equipment both in the analog and digital domain including the only 9000J series console in the country. "We can also recommend good session players when you need one," says Didi.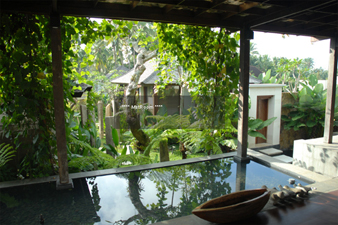 The facility offers many microphone studio standards: Neuman U87, Shure 57s and Sennhesier MD 421s. Other unique selection include: Lawson L47, JZ blackhole, Sanken CU44X dual element, Crowley & Trip ribbon, DPA 4011, CAD M9 tube, etc. Among the offerings are a 2 chl custom mic pre built by John Brant with impedance selector, 2 ch Limited edition Focusrite ISA 110, 2 ch Quad Pacifica mic pre module and racked by LaMesa, Millennia Media TD-1, Tube tech CL1B compressor, Lexicon 300 reverb, and many TC electronic processors. Musical instruments are: 5 piece DW collectors series drum and 15 Zildjian K custom cymbals for drummer to choose. There are five synth including Roland Fantom X8, Korg M50, Korg Triton. Gitar amps from Marshall and Mesa. Recording room is about 18' x 21' with natural day light.



Villa-Only Nightly Rates:
Low Season: US$ 900
High Season: US$ 1200 | Peak Season: US$ 1500
Studio weekly rates available upon request.

Swara Padi is a fully serviced villa, staffed with a full-time manager, housekeepers, security guards and gardener.
The general manager of the studio, Oyon JZ, is formerly of the Hard Rock hotel's r recording studio. Prior joining Swarapadi, Oyon graduated from SAE in Germany and set up and ran a large recording/ rehearsal studio complex called fxmusic. There are two assistant engineers in the villa with helpful attitude. "We are proud of our staff. Though they don't have the major credits, they are skilled, love what they do and give their 100% to support our clients," adds Didi.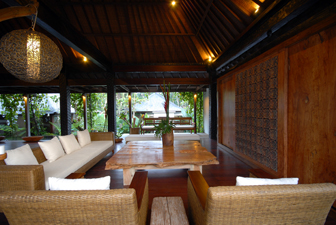 Villa Swara Padi has two master bedrooms plus an en-suite bathroom, all with outdoor showers and luxury bathtubs. Two additional guest rooms, each also with en-suite bathroom and outdoor shower can make your stay comfortable. All rooms face the villa's beautiful gardens or ponds, and they are fully air-conditioned, equipped with satellite, DVD player, 32" LCD TV, safe deposit box, centralized stereo system and ceiling fan.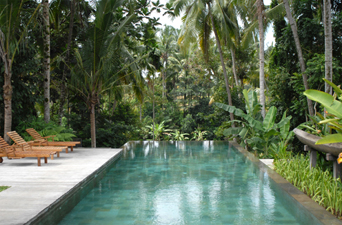 For movie lovers, there is a tastefully designed home theater equipped with surround sound. Villa Swara Padi comes fully equipped with all the five-star amenities including a multi-room stereo system which can be selected independently from every bedroom, living room, as well as pool and garden area.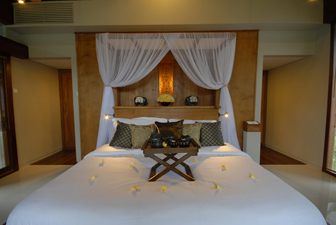 Up to 8 adults can stay in the villa comfortably. Additionally, there is an Inn just 20 meters from villa, and can be rented for crews. Ubud is not only known for center of arts & crafts, but also areas for its 5-star hotels and friendly local people. Within 10-15min there are luxury hotels and villas such as the Como Shambala, Four Season Sayan, Maya Ubud, Komaneka Bisma, etc. Most of these hotels offer breathtaking nature views, and built on a large land. For example we're told Julia Roberts stayed at the Four Season Sayan during filming her moview "Eat Pray & Love," Maya Ubud was voted no.1 best hotel by Condenast magazine. Sting stayed at Como Shambala.
"We feel that by having a recording studio close to nature, and surround by positive energy, creativity will flow," says Didi.


Distance to beach: 1 hours
Distance to airport: 1.2 hours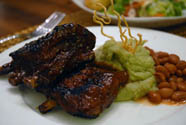 Booking Contact: Jakarta-based Lamesa, a sound engineering and design company.
emai: lamesa@cbn.net.id

studio web site: http://www.swarapadi.com/


Copyright 2011 studioexpresso