The Young And The Restless At
Studio City Sound!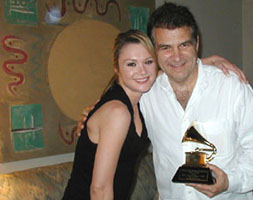 Tom Weir is holding his GRAMMY AWARD, with singer/songwriter Lauren Woodland who is also a lead actress on "The Young and The Restless".
Studio City Sound is a newly renovated state-of-the-art recording studio and post production facility conveniently located in Studio City, CA, on Whitsett Avenue at Moorpark.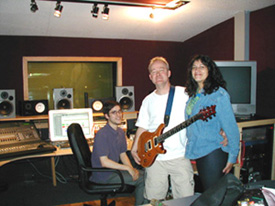 Tim Pierce (Goo Goo Dolls, Phil Collins, Bon Jovi, Celine Dion), one of LA's busiest guitar players stops in for some SCS
With three recording studios, the facility features the latest technology in equipment and software combined with unique vintage gear. Additionally, each studio has a plush lounge with Internet access.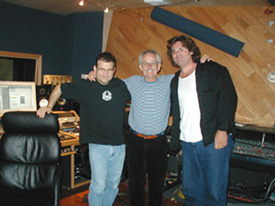 l-r: More SCS Sessions with Tom

The studios are booked for tracking, mixing, overdubs and MIDI. Featuring: Pro Tools HD4, Pro Tools Mix 24 Plus, Studer 24 track, Amek Angela, Yamaha C5 Grand Piano, Hammond C3, Avalon 737's UREI 76's, Tube Tech, DBX 160's, AMS Reverb and more. For a complete list of gear including microphones visit: SCS
Some of our past and present clientele include:
Kevin Coleman (Smashmouth), Phantom Planet, Rooney, Josh Freese, , David Darling, The Go-Go's, Meredith Brooks, Lisa Loeb, Graham Nash, MC Hammer, Blondie, Mo Rodgers, Boxing Ghandies and Michael Damian, to name a few.
True to its name and location, Studio City Sound also has many film and television credits, some of which include: Miramax, New Line, Warner Bros., Disney, Triad Films, Nu-Image, Fine Line, 7th Heaven, Drive Me Crazy, Slackers, Not Another Teen Movie, Mumford, Blind Date and The Young and the Restless.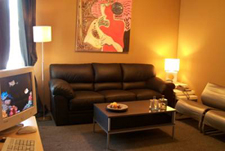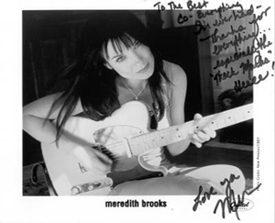 Most recently guitar ace, Brian Setzer and his band "The Brian Setzer Trio" as well as the soon to be released new album by EchoBrain (Metallica bassist Jason Newsted's band) were at SCS.

Owner/chief engineer Tom Weir just finished recording and mixing John Oszajca's upcoming release entitled "First Sign of Anything". Oszajca's new album, his first with Universal Records, is being produced by Dave Darling (Boxing Ghandhis, Meredith Brooks) and features a heavy guitar based sound, a departure from his debut album "From Here To There."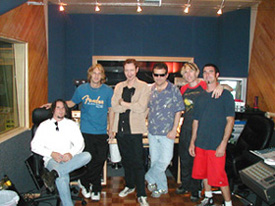 Toeheads with Tom
Tom Weir, who acts as the chief engineer, is one of those hands-on studio owners who gets involved with many of the projects that come to SCS. Tom received a Grammy Award for mixing the "Toots and The Maytals Album" - "True Love," which received the Best REggae Album of The Year Award.

"Tom is the reason for the continued success of our studio over the past 18 years. His superior quality of work and dedication has established a high standard of service that the staff here strives to emulate on a daily basis," says studio manager Estelle Harrison.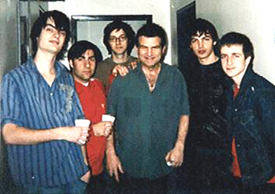 Phantom Planet and Tom of SCS
If you have any questions or would like to discuss a booking, please feel free to contact Tom or Estelle via e-mail or call (818) 505-9368.
Visit Studio City Sound Website!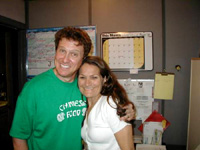 Estelle with Roger Rose