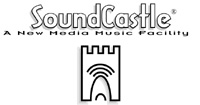 There's Gold in Them Hollywood Hills! Welcome to SoundCastle where classic technology meets the requirements of the new millennium.
SoundCastle, which has hundreds of gold and platinum albums to its credit, has gone through recent remodel and studio upgrades. Celebrating a 25th Anniversary, the studio reports new music recorded/mixed here that's getting heard.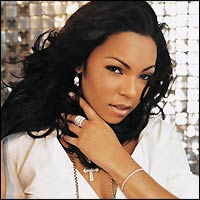 "Ashanti" #2 on Billbord 200 charts this week
#2 Billboard 200 spot (two weeks in a row) is taken by 21-year-old Ashanti's self-titled debut on Universal label Island Def Jam which was recorded (vox tracks) and mixed at Soundcastle. According to Associated Press the cd has sold 1 million copies in less than a month. Murder Inc.'s president Irv Gotti produced the tantalizing blend of edgy hip hop grooves and subtle R&B styling with Brian Springer, Irv Gotti and 7 mixing. The single "Foolish," has already made waves on the radio.
Multi-Grammy winner Universal Latin artist, Juanes was at the studio co-producing his soon to be released record mixed by Thom Russo and produced by Gustavo Santaolalla (Juanes co-produced). Anibal Kerpel engineered and was associate producer.
Nestled in a quiet and private neighborhood in Silverlake, Soundcastle has drawn the who's who in music. Clients include: Alice in Chains, Ashanti, B.B. King, Back to the Future, Batman, Beach Boys, Beastie Boys, Billy Joel, Bone Thugs 'n Harmony, Bose, Boyz II Men, Brandy, Bruce Springsteen, Charlie Haden, Coolio, Dada, Dr. Dre, Faith Evans, Garbage, George Duke, Gerardo, Goo Goo Dolls, Herbie Hancock, Ice Cube, Ja Rule, Jane's Addiction, John Tesh, Juanes, Lee Ritenour, Limp Bizkit, Madonna, Magic Johnson, Marilyn Manson, Mary J. Blige, Mary's Danish, Master P, Nike', Paul McCartney, Pepsi, Rage Against the Machine, Red Hot Chili Peppers, Snoop Dogg, Social Distortion & U2, to name a few.

Designed in 1967 by AIA Fellow Architect, Carl Maston, Soundcastle is comprised of two block, redwood and glass buildings built 73' apart on a one half acre lot housing three studios. In 1968 the buildings received the prestigious AIA award for qualiy of construction and design.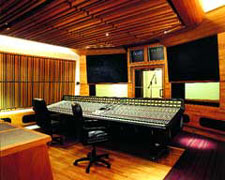 studio 2 with the world's 1st SSL 4000G+ Classic

Studio II (featured in The Class of 2001, January "Mix") was refurbished by Studio 440 (originally designed by Waterland) and houses the world's first and only 5.1 full-surround SSL 4000 G+ "Classic" console and custom Augspurger monitors with TAD and JBL components.

Veteran studio owner, Buddy King, praises SSL's return to its original black "raven" paint finish for the G+ Classic. He adds, "I think it's the most attractive music recording desk I've seen in 35 years of being in business," and have been told by several top recording engineers it's the best sounding console Solid State has ever made!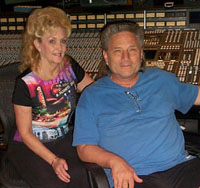 L-R: studio manager Pat kane, studio owner Buddy King
Studio II is wired for CAT-5 and offers Pro Tools hook-ups, but the emphasis is very much on analog.
Recording formats include Studer 827 and 820 24-track recorders, an 820 1/2-inch, Panasonic DAT's and Sony BVU 950 3/4-inch video for work-to-picture.
Six rack bays house an engineer's dream complement of outboard gear, including Universal Audio 175-B, UREI LA2A & 1176LN, Neve 34628, GML and API parametric EQ's, and a variety of Avalon, Pultec, TC, Lexicon and dbx equipment.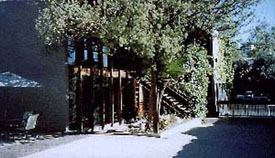 60's architectural gem housing the studios
The tracking room, Studio I, features an SSL 9000 J console with an equally large collection of outboard gear and four cue systems, including a "mix your own" system.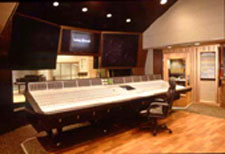 studio 1 with SSL 9000J
It is King's belief that, today's recording facilities have opportunities for generating new revenues from previously released content. To service this market, SoundCastle is creating an interactive design and development company, named Showtown Media Park!
"We're all really excited about the possibilities of 'interactive post development,' as I call it," King continues. As the former producer and owner of an independent label, distribution and advertising company, King believes the new modes of transmission, enable one to artistically contemporize music content from existing classical music assets.
Presently the repurposing of music assets is going to video and theater dubbing rooms, whose 5.1 environments are not necessarily the same as in today's home theaters and new automobiles. However, according to King, the biggest difference of these facilities is not in the dimensions, but in the personnel. When it comes to the re-purposing of musical assets, King cites the artistic creativity of classically educated and trained personnel having a feel that simply cannot be duplicated. The difference, while seemingly similar to "the bean counter," is as contrasting as an automobile with rear-wheel drive as compared to those with front-wheel drive.
"We are interested in the entire re-purposing process: From the interactive design to the interactive implementation of its picture and, more importantly, the 5.1 surround re-recording. The mission of our new company is using classic technology in the repurposing of existing classic recordings for the millennium's new audiences. Simply put, the music and performances are timeless," says King.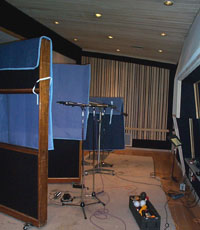 studio 1 main room

In an effort to provide digital services at cost-effective production rates, SoundCastle is developing Digital Suites with Tie Lines to all Studios. Studio III will be the first production studio featuring Digidesign's recently introduced HD3 ProTools system.

"We were the first studio in the U.S. to use SSL's Screensound nonlinear editors," reports King. "Those rooms are now being converted to writer/producer Pro-Tools rooms. We're also converting our machine room into an information technology and tape transfer room," says the visionary studio owner.
Call for an in-person tour!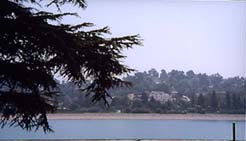 scenic Silver Lake
Contact: Pat Kane, studio manager
323-665-5201
pat@soundcastle.com

SoundCastle
PO Box 39878 LA/Hollywood, CA 90039
www.soundcastle.com