Celebrating over 25 years of
history in sound excellence
Welcome to Skywalker Sound, home of Titanic, Jurassic Park, E.T. and Star Wars, where gifted terrestrials are spotted making musical history daily!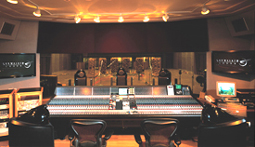 Skywalker Sound, which won Mix Magazine's TEC Award for 'Post-Production Facility of the Year' for the seventh time in the last eight years, has a world-class scoring stage, six mix studios, ADR and foley stages, 34 editing suites, and a 300-seat screening room.

Many feature films have recorded their scores at Skywalker including Hellboy, Requiem For A Dream, The Company, Sky Kids, and Mimic. In addition to records and films they are also recording and mixing the music for Game projects such as Sony Playstation's Syphon Filter, and Lucas Arts KOTOR 2.

The score for Hellboy, the Grammy Award winning recording for The Kronos Quartet and Vanessa Carlton are just examples of exceptional work coming out of the world-class facility.



Feature production credits include sound design and audio post-production for Minority Report, Star Wars Episode Two, Monsters Inc., Pearl Harbor, A.I. Artificial Intelligence, Jurassic Park III, From Hell, Bandits, Tomb Raider, Final Fantasy, Cast Away, Quills, Dinosaur, What Lies Beneath, Space Cowboys, Fight Club, A Bug's Life, Saving Private Ryan, The Horse Whisperer, Titanic, Contact, Hercules and both Toy Story movies.



Artists who have recorded on the scoring stage include Isaac Stern, the Kronos Quartet, Harmonia Mundi, Smashmouth, Pearl Jam and Phillip Glass.


Located 30 minutes north of San Francisco and 15 minutes from Hwy 101, Skywalker Sound is a world away from conventional studio recording. The Scoring Stage was originally designed for film score orchestra recording, but the architects added unparalled flexibility allowing the studio (stage) to be used for any type of music. The walls have moveable panels that allow the reverb time to go from 3.6 seconds to .6 seconds.

Skywalker Sound is a Lucasfilm Ltd. company serving the digital needs of the entertainment industry for audio post-production. Skywalker Sound has been honored with 17 Academy Awards for Best Sound and Best Sound Effects Editing.
The Lucas group of companies also include LucasArts Entertainment Company, Lucas Digital Ltd., and Lucas Licensing Ltd. LucasArts Entertainment Company is the leading international developer and publisher of entertainment software, whose games have won critical acclaim with more than 100 industry awards for excellence. Lucas Digital Ltd., which consists of Industrial Light & Magic (ILM) and Skywalker Sound, services, the digital need of the entertainment industry for visual effects and audio post-production. ILM has won 14 Academy Awards for Best Visual Effects and 14 Technical Achievement Awards. Skywalker Sound has been honored with 17 Academy Awards. Lucas Licensing Ltd. is responsible for the licensing of all Lucasfilm's film and television properties. Star Wars has spawned the most successful film-based merchandising program in history.

Most recently Skywalker Sound and The Hit Factory Join Forces to bring Remote Recording Services. This alliance highlights sterling quality with a price point. The mobile recording facility will use the Hit Factory for music mixing and post on the East coast, and Skywalker on the West.
Skywalker has an excellent staff of first and second engineers, knwledgeable about any kind of recording, and full-time on-site technical support. Known for our "hi-fi" approach to recording, you'll find the latest in mic pre-amps, outboard processing, digital converters, and premium microphone cables that have a direct path from the studio to the control room.
The studio offers a Neve 88R with Encore automation and a 8x8 post panel allowing easy interchange between the Pro Tool HD's, stereo, 5.1 and film mixing formats.
Equipped with a Euphonix R1 48 track hard disk recorder, and two Studer 827 analog 24 tracks, Skywalker offers the best of all worlds.



Leslie Ann Jones, Director of Music Recording + Scoring, Skywalker Sound
After a long tenure at Capitol Studios Leslie Ann Jones Jones returned to Northern California in 1997 to accept a position with Skywalker Sound, to manage and mix at their Scoring Stage. "Being at Skywalker allows me the opportunity to combine my skills as a engineer in the studio with my desire to create a studio environment that is not only artist friendly but engineer and producer friendly as well. Here I continue to enjoy the unique combination of music for records and film," says Jones.
Jones is a past Chair of The National Academy of Recording Arts and Sciences Board of Trustees, the organization that gives out the Grammy Awards. She is the first woman to hold a National Officer position in The Recording Academy. Jones' engineering credits include: Michelle Shocked, Dwight Yoakam, Herbie Hancock, Michael Feinstein, Rosemary Clooney, Kronos Quartet, and Bobby McFerrin, to name a few. She recently received a Grammy nomination for Best Engineered Recording-Classical, and won a Grammy as Recording Engineer for Kronos Quartet's "Berg: Lyric Suite".


The Skywalker Ranch Inn has superb amenities including 1-, 2-, and 3-bedroom apartments and there are several restaurants, a pool and fitness center on site.
For booking or more info contact:
Skywalker Sound
E-mail: Leslie Ann Jones, Director of Scoring and Music Recording
fn: 415-662-1000
visit web: www.skysound.com