Diamond & Roll!
Diamond Sound Recording, the New world-class studio in Orange County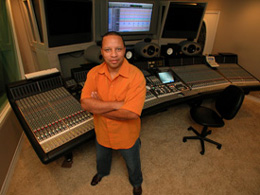 producer/mixer/engineer Ralph Sutton at Daimon Sound Recording in front of its new K Series SSL console.
Welcome to the new state-of-the-art recording studio in Mission Viejo, Calif. According to the studio owner AJ: "Lot of great artists live or like coming to Orange. Now, you have a nice studio to come home to."
Fortunately it was AJ's good sense in business that facilitated his desire to create a world-class studio. "I think all musicians have similar needs when it comes to making a record. Feeling safe and inspired in a room that doesn't cost a fortune are good reasons why Daimond Sound is an attractive choice for artists and producers who want the best for less," says AJ.
A musician and writer himself, AJ has visited and worked at many great studios in Hollywood and Burbank over the past two decades. "Frequenting these rooms has taught me a great deal about what good rooms should sound or looks like," says AJ.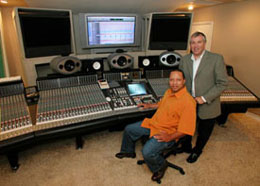 Sutton is pictured with SSL's Phil Wagner in front of Orange County's first SSL XL 9080K Series console at Diamond Sound Recording in Mission Viejo, CA.

When it came to creating a professional space suitable for cutting vocals or mixing, AJ hired services of one of the best in the industry, Vincent Van Hoff of Waterland. Widely known for creating acoustic environments that look as good as they sound, Vincent satisfied the owner's admiration for studios with sensible and attractive design.
In addition to mixing and over dubbing, the studio is designed to accommodate and is nicely equipped to handle tracking, editing, and remixing in stereo and 5.1 surround sound. Additionally, variety of recording formats -Analogue and Digital with Pro Tools HD-Accel, Studer A827 are available.
Musical instruments on the premises include: guitars (Jackson, Gibson Les Paul, Fender and Ovation both electric and acoustic and midi guitars) and some keys including a Korg keyboard and DW Drums and Fender Jazz bass.

Diana Gone Wrong Mixed at Diamond Sound for her upcoming release

Choosing a mixing console for Diamond Sound Recording was easy...only the best modern console would do. " I listen to a lot of music. SSL's top of line 9080 K series console was used to mix recent works by Britney Spears, Outkast and Black Eyed Peas. K series is the console I picked for our mixing room," says AJ
According to the owner, selecting the outboard gear package was the next logical step. "I picked 2-3 top mixers I knew and asked about their wish list, then we stocked the room accordingly," adds AJ.
In order to get the room online and working smoothly, mixer/engineer Ralph Sutton (Stevie Wonder, Prince) was brought on board to help streamline the process. According to Sutton who's mixing tracks for one of his productions, the room should satisfy the mixing needs of most good engineers today.

Sutton has worked with a diverse and impressive list of recording artists and musical styles, ranging from Motown to Rock. Sutton's illustrious career spans almost three decades and includes sessions with Lionel Ritchie, Prince, Stevie Wonder, Marvin Gaye, Michael Jackson, Whitney Houston and Motley Crue. Diana Gone Wrong, the 18 year- old singer who plays kick-ass electric guitar was recently in the studio with producer Mike Balboa who mixed the tracks for Wrong at Diamond Sound.

"I always wanted to build a studio that artists could come and feel right at home. Combining the World's best gear and know-how in a pleasant environment at Diamond Sound should do just that. We're open arms and looking forward to hosting some great sessions in the coming months," says AJ.
For out of town guests, the attractive residential space offers a fully furnished bedroom with a private bath. A perfect over-night-stay for artists or producers/mixers from Los Angeles or visitors from neighboring states or countries who want a real taste of California recording. Those of you who need to disconnect and focus on the creative side of music or seek privacy, you'll find Diamond Sound a nice destination. Have your own private lake and enjoy the nearby restaurants and hotels -- a short drive or boat ride away!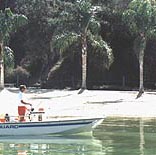 For booking or private tours, contact:
studioexpresso
fn 818-990-3031
email: Booking Diamonds
see gear list on the web: