Castle Oaks embraced by scenic views and Latin Sounds!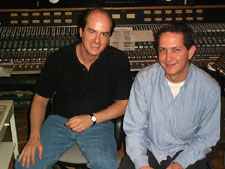 L-R: Mixer Rafa Sardina with Musician/composer/arranger/producer, Juan Carlos Paz Y Puente in studio B working with Warner Latina artist, Manuel Romero.
Founded in 1986, Castle Oaks is located in the privacy of the Santa Monica mountains just 20 minutes from the media district of Hollywood. The four-room estate-like grounds feature fully-equipped, internationally acclaimed recording studios, and is capable of producing world-class albums from recording to scoring.
Favorite of both ProTools and vintage Neve users, the studios designed by Vincent Van Hoff (Conway, A&M, Village, etc.) offer highly competitive automated mixing & tracking rooms in both Digital and Analog formats.
Additionally, Castle Oaks can meet any of your post-production, scoring and sound design needs from animation to feature films.

studio D

Studio D is designed primarily as a complete Post- and Music-Production center. It features the latest 24-bit Pro-Tools system and a Mackie HUI, as well as two 24-input consoles for a total of 96 inputs, and a small kitchen.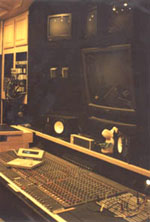 studio C with Pro Tools, Logic & Nuendo systems
Studio C is a 96 track digital studio recently occupied by producer/engineer Franklynn Jones whose non-conventional and innovative approaches to recording can be heard across all genres from electronic to the most modern rock.
"The Studio is all about synchronization, fusing (3) Da-88's (2) Mx2424's and a Pro Tools 24 System together to provide up to 96 tracks in ultimate sonic fidelity," says Jones.
The studio is also equipped with a large
acousticly treated room for getting the massive drum sounds required from most modern artists today. The studio provides session support for the finest audio software ranging from Logic, Pro Tools and Nuendo and will also offer studio clients an alternative option of percussion re-triggering, loop programming, sound design, overdubbing, and track transfers for sessions that are occupying other studios in the facility.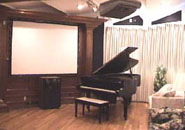 For an aditional fee the studio also hosts a number of vintage analogue synthesizers, esoteric plugins (Some programmed by Franklynn himself), and an online sample library of over 500gb which is more then capable of
catering to the most esoteric of tastes.

The studio provides original scores and sound design for motion pictures, independent and student films, television and other broadcast media, video art projects, computer and console games, multimedia presentations, interactive and virtual-reality environments, art installations, choreographed dance, and theater.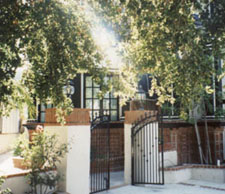 Studio A is designed for tracking, overdubbing, and mixing, and features a Neve 8038 Pure Class A 38-input console with Flying Faders automation, 16-channel programmable events and custom modifications including 8 discreet effects sends on all faders, group A & B muting, and solo-in-position with effects.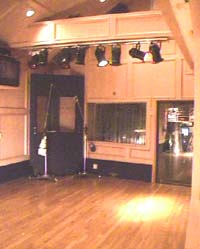 studio A -Tracking/mixing room
A has two rooms with different sonic characteristics: The main room is approximately 28' x 25' with a 23' ceiling. This room has a medium amount of controlled liveness. There is a large drum booth in one corner. The second room is 22' wide and 20' deep with a 10' acoustically-designed ceiling. It is live, with a longer decay time than the main room.

Past recent artists include: Ricky Martin, James Horner, Sergio Mendes, Reverend Horton Heat, Bonnie Raitt, The Dancehall Crashers, Rick
Braun, Pete Escoved, Kilgore, The Misfits, Nathan & Marcel East, No Use for a Name,Toto, Bobby Lyle, Oleta Adams, Sheila E and Robben Ford to name a few.
Engineers/Producers Ed Stacium, Paul Lani, George Massemberg, Simon Franglen, Moogie Canazio, Benny Faccone, Michael C. Ross, Don Murray, Armin Steiner, KC Porter, Frankpet Verschuuren & Rafa Sardina work here.

Studio B offers a Neve 8038 Pure Class A 60-input console with Flying Faders moving fader automation (4 of the 24 monitor section faders are also automated, and 16 additional monitor faders have automated muting). The console has custom modifications including 8 discreet effects sends on all faders, group A & B muting, and solo-in-position with effects.

"We like you to think of Castle Oaks as the Rolls Royce of low budget studios where you can have ProTools, vintage Neves and good vibes," says studio owner, Frank Jones.

contact: Frank Jones
E-Mail:Castle Oaks
web: Castle Oaks Productions
Phone: (818)222-1070
Fax: (818)222-1087

copyright 2002 studioexpresso