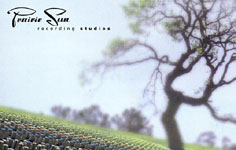 Recording Under The Prairie Sun

Tucked away in scenic Sonoma County, Prairie Sun Recording is a full-service, three-studio professional facility for tracking, mixing, mastering, and a host of peripheral audio services.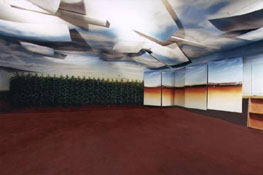 View of the drum chamber
Located just fifty miles north of San Francisco, the 12-acre ranch known as "the Farm" houses two classic Neve tracking rooms, a state-of-the-art mix studio, Eugene Productions' mastering department, and available on-site lodging.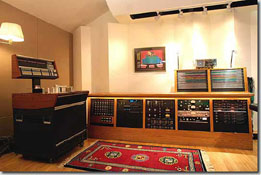 studio A

Already renowned for unique acoustic chambers and an enviable collection of vintage analog equipment and instruments, Prairie Sun has embraced the latest and greatest digital technology and developed the perfect balance of analog and digital recording. This balance is evident in the presence of both a Studer 2" analog tape machine and a Pro Tools HD system in all three studios, and in the recent acquisition of the astounding RADAR 24 digital multitrack.


With its full complement of studios and living spaces, Prairie Sun has traditionally been well-suited to housing an artist and his/her project from pre-production all the way to mastering, all at an unprecedented value. However, the boom in digital recording and project studios has brought in a new type of client. Independent artists on a budget can now track basics in one of our live chambers with excellent mics through a Neve console ­ perhaps to 2" tape ­ and then take their Pro Tools sessions home on a firewire drive for overdubs and vocals. Other artists will bring in Pro Tools or other DAW sessions from a project studio to mix on the SSL in Studio A with our collection of vintage outboard gear and an engineer who knows who to make mixes sing. Whatever the situation, Prairie Sun is finding new ways bring world-class recordings to the independent musician on a budget.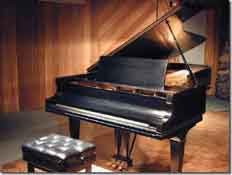 Baldwin SD10 Circa 1960's 9 ft Concert Grand Piano

The most unique acoustic spaces at Prairie Sun are the two live chambers that make up Studio C. These include the large, high-ceilinged Prairie Room, which can feature a decay time of up to 5 seconds, and the inimitable Waits Room, which has been featured on countless records (including two Grammy-winning Tom Waits albums) both as a tracking space and a reverb chamber. Studio C is rounded out by a custom 24x8x24 Neve console with a full complement of 1073 modules, a Studer A80 2" tape machine with 16 or 24-track headstack, a 24in/24out Pro Tools HD system, and Furman headphone mixing and distribution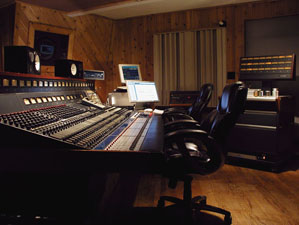 Studio B control room
copyright 2001 studioexpresso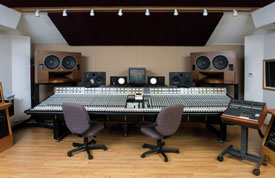 SSL console in studio A

Studio B serves both as an excellent tracking room and a wildly different mix room from Prairie Sun's Studio A. Studio B's mixing character is derived from a beautiful vintage 26x8x24 Neve console originally commissioned for Pete Townshend and now featuring Flying Faders automation. Studio B also features its own 24in/24out Pro Tools HD and the impeccable Studer A827 2" 24-track. The tracking room features a tight, warm, woody sound and two iso booths, as well as Furman headphone mixing and distribution. Thanks to audio tie lines between all three studios, endless combinations of tracking spaces and reverb chambers can be developed.
Prairie Sun's Studio A was built from the ground up as a high-performance mix environment around a massive 80-input SSL 4080E/G console. Now recognized as some of the best SSL's ever built, the E/G series features the well known E and G series EQ's and Dynamics sections, as well as incredible flexibility, Total Recall, and VCA automation. With either a Studer A820 2" 24-track or a 24in/48out Pro Tools HD as the multitrack, the final mix can be printed to half-inch or quarter-inch tape, or straight to digital through the Lavry Blue A/D converters. With a mountain of vintage outboard, state-of-the art digital gear, and two EMT plate reverbs, the possibilities are limitless.


The Prairie Sun microphone collection includes both a healthy dose of the well-known vintage classis and some of best modern microphones in production. Present are such staples as the Neumann U47, U47FET, U67, U87, M49, KM54, KM84, AKG C12A, C61, C451, and of course plenty of 57's, 58's, and 421's.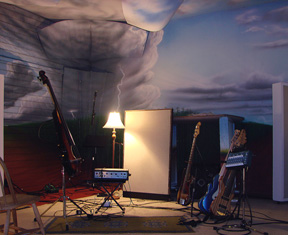 The Prairie Room in Studio C
With such modern classics as the Royer ribbons and a large sampling of the Tracy Korby line of hand-built mics an additional set of colors is available. The unique infrastructure in each studio is complemented by a roaming collection of vintage and modern outboard EQ's, compressors, mic pres, and more that include the most respected names and models: UREI, Neve, Sontec, Pultec, Requisite, Avalon, Manley, dbx, Lexicon, Eventide, Publison, and AMS. And of course Prairie Sun is famous for the incredible collection of vintage acoustic, electric, and bass guitars and amplifiers available to all in-session artists. A Hammond B3 with Leslie, a 7ft Kimball Grand, and a 1960 Baldwin 9ft Concert Grand round out the selection.

Special Features: On-site lodging, live acoustic chambers, vintage Neve consoles, rare tube microphones, seamless integration of analog and digital recording, vintage instruments, rural atmosphere.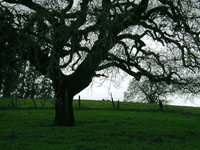 Booking Or Info, Contact:
Mark "Mooka" Rennick, Co-Owner/Founder

(707) 795-7011

www.prairiesun.com