Sonic heaven at Ocean Studios!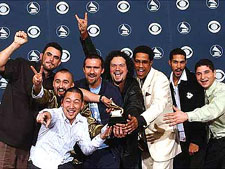 Ozomatli proudly posing with their Grammys for "Embrace the Chaos", featuring many tracks recorded at Ocean

Operating since the early 90's, the facility is known for having a good combination of new and vintage gear, great sounding tracking room (one of the largest in town), a big comfortable control room, well-maintained tube equipment and matched pairs of tube mics.
The facility is housed in a marvelous 6,400 square foot old brick building built in the 1920's. Sister studio, Mama Jo's Recording, has been in business over 30 years and has an impressive history and story in it's own right.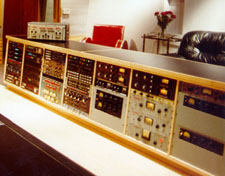 Ocean got a re-design and control room rewiring in May 2000 with the installation of a Large Frame 80 Series vintage Neve (1081, 1073 and 1084 modules). "We consulted with some of the best ears in the business to make this console a dream Neve - Pink Floyd's "The Wall" Producer/Engineer James Guthrie and Don Henley Engineer Rob Jacobs among them," says studio manger, Bob Breen.
In response to client needs in the last year, the studio added 2 new isolation booths, numerous microphones, Altec and Gates Sta-Level tube compressors, 2 Distressors, Genelec 1031A speakers, a pair of vintage Dolby A301s, and more.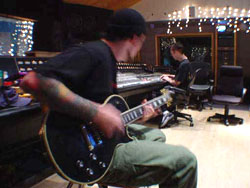 Billy Meyer of The Color Red (RCA) with Producer/Engineer,
Johnny K. in the background

Notable sessions in the last couple of years include Double Platinum album "Sinner" by Drowning Pool, Grammy Winning "Embrace the Chaos" by Ozomatli, and Grammy nominated "Canto" by Los Super Seven (also see studio footage on the recently released "No Borders" DVD that features "Canto" performances). "Digimortal" by the hugely influential metal band Fear Factory, current KROQ hit "Seein' Red" (and the accompanying album "Elva") by Unwritten Law, new tracks by Paul Rodgers' Bad Company (#3 most added mainstream rock radio this week), and upcoming releases by SR71, Man Made God, and The Color Red were also tracked on Ocean's vintage Neve.
Producers and engineers who have been at Ocean include Rick Rubin, John Shanks, Steve Berlin, Dave McNair, Bob Power, Jerry Finn, Neal Avron, Ry Cooder, Jay Baumgartner, Johnny K., Ethan Johns, Joe Chiccarelli, Brian Joseph Dobbs, Clark Germain, Eddie Delena and Steve Churchyard.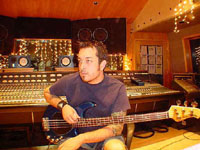 Marc Zamora of The Color Red (RCA)
Hear what some of Ocean's clients are saying:
"The best drum room I've ever heard – hands down!!" – Bob Power, Producer/Engineer/Mixer (Ozomatli's Grammy Winning "Embrace the Chaos" recorded at Ocean).
"The drum sounds were among the best I've ever recorded." – Chad Smith, Drummer, Red Hot Chili Peppers.
"…the best sounding console in LA!" – Jerry Finn, Producer/Engineer/Mixer, (recorded Fenix TX's "Lechusa" at Ocean)
"...the best kept secret in town. Guys, do not book this room because I want to book it for my tracking sessions." - Stan Katayama, Engineer
Grammy Nominee for Rage Against The Machine (Recorded Power Station at Ocean)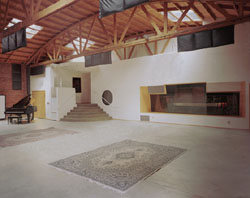 Ocean's 55'W / 37'D / 22'H tracking room


The building was completely refurbished and remodeled to create a high-end loft environment. The natural light created by the skylights, the personality of the brick walls, and the arch of the 22-foot high wooden ceiling make it a space that is quite exceptional yet comfortable.The spacious lounge features a pool table, foozeball, ping-pong, video games, big-screen TV with DVD and surround sound, and 24 hour DSL Internet access.

Ocean offers a gourmet kitchen suitable for in-house catering, three restrooms (one with shower), and upstairs office space. A Pro Tools editing suite, which came online in June 2002, is also now available for booking.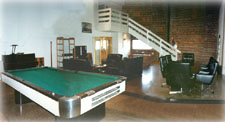 Ocean's 1200 sq. ft. lounge

The ¼" TRS patch bay, Studer A800s, an impressive selection of tube microphones and vintage outboard collection round out a gear selection chosen purely for sonic integrity. Highlights include (6) Telefunken ELAM 250/251 mics, 3 Fairchild Limiters, Pultec EQs, and plenty of the standard vintage gear you would expect; lots of 1176s, LA-2As, DBXs, EMT 250s, matched pairs of tube and ribbon microphones, and so on. The studio also has a Yamaha C-7 grand piano, Wurlitzer keyboard, and a stunning Hammond B-3 with Leslie.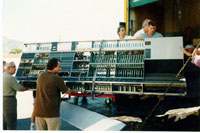 L-R: Frank Day, Dan Lienhart, Freddie Piro, Geoff Tanner (partly hidden), Freddie Piro Jr., unloading the 80 Series Neve frame way back in 1997.

All the modifications on the Neve console (delivery of which is shown above) were developed and labored over with the generous input of some tremendously talented individuals like: Eddie Delena, James Guthrie, Dave Hecht, Rob Jacobs, Phil Kaffel, and Erwin Musper. Much brainstorming and design went on between the Ocean Building Team as well, consisting of Phoenix Audio's Geoff Tanner (former NEVE Head of the Electrical Design Drawing Office - his initials are on the original console schematics), Technician Stacey Dodds, Studio Manager Bob Breen, and the driving force behind the project, owner Freddie Piro.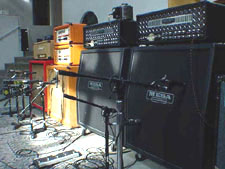 "We hope to automate the Neve, likely with Flying Faders, before 2003. Look for a remarkable 16-channel tube console to come online later this year as well - but that's all I can say for now," says Bob.
Booking Contact: Freddie Piro or Smith Craig
(818) 955-9010 fn
web: Ocean Studios