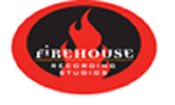 The Firehouse Chill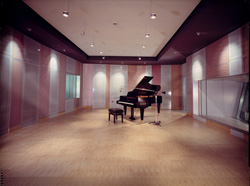 studio A with Bösendorfer Grand Piano

Musician extraordinaire Nathan East likes Firehouse studios so much that he wrote a song called the "Firehouse Chill" for the Fourplay CD Journey that was recorded there. Located in the heart of historic Old Town Pasadena, Firehouse Recording Studios offers state-of-the-art recording facilities and services for the recording, music, film, television, and advertising industries.

Firehouse has a long-standing, industry-wide reputation as a unique, creative environment with a highly trained technical team and a long list of world-renowned recording artists. Firehouse – one of largest digital studios in North America – offers the industry the best of digital and analog recording capabilities, with equipment that ranges from the latest Icon board to vintage mics and a 7'4" Böesendorfer piano.
The three suites include tie lines connecting all control rooms. Studio A (24' deep by 22' wide), the largest room, can be used for major productions and can accommodate up to a 30-piece orchestra. The control room adjoins three isolation booths that lead into the main tracking room. Studios B and C can be used for isolated instrument recordings or vocal/voiceover sessions. All three rooms are ideal for mixing, mastering and scoring to picture, plus Studio A is equipped for 5.1 to 7.1 mixing.

Firehouse also provides ISDN and Source Connect Recording for worldwide commercials, films, and TV shows.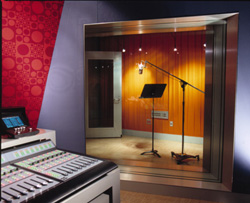 ISO A
A sampling of some of the on-site gear includes: Pro Tools 8.0 | Accel-80 input wide, Digidesign ICON console 48-fader,
X-10 Meyer Speakers with X-800 Subwoofers 5.1, 16 Neve 1073 Mic Pre's with EQ; Millennia HV-3D 8 Channel Mic Pre, Avalon VT-737 Mic Pre/Processor, API Mic Pre's with 550A & 550B EQ's, 4 Cal Rec Mic Pre's, and extensive plug-in selection.
Some of the artists who have worked at Firehouse include: Aretha Franklin,
Bob James, Brian McKnight, Chick Corea, Dave Grusin, Dave Matthews, Herbie Hancock, Lee Ritnour, Phillip Baily,
Randy Newman. Film & TV Productions include: Pirates of the Caribbean,
Tarzan, Dancing With the Stars,
George Lopez Tonight, ER


control room A with Pro Tools HD3/192 system


Quotes about THE Firehouse Experience:
"Firehouse Studios blends the most contemporary digital technology with the best of the vintage analog gear. Firehouse is truly my home way from home."
--Don Murray

"Firehouse is one of my favorite places to record just about anything…The staff at Firehouse are very good at what they do and the studio is…let's say one of the best in L.A. proper."
--Chris Tedesco

"A great room in a historical building with great equipment and a wonderful piano is just the beginning at Firehouse. The personal attention and the expertise of their people gets you from the first moment on. So welcoming, friendly, and efficient. I love it."
--Oscar Castro-Neves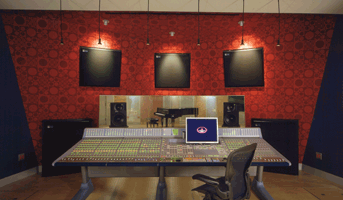 Housed in the livery of Pasadena's 1889 Firehouse, this groundbreaking facility is founded by Producer/Songwriter Tena Clark (Betty Crocker, Johnson & Johnson, Kellogg's, 7 UP, Target, Toyota, United Airlines).
For Studio A, Firehouse selected Meyer's new X-10 for the front left, center and right tuned by famed engineer Bob Hodas.
Designed by award-winning architectural firm, Studio 440 Firehouse offers vintage and the latest digital recording capabilities.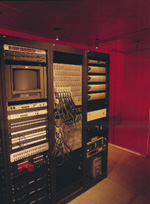 The studio's audio and data network wiring, designed by industry veteran Paul Cox, snakes through the new walls.
Firehouse Microphone cabinet offers an extensive collection of industry standards like: Neumann TLM170s, KM84s, U89s, U8s, AKG 414s, KM184's and 480s; Electrovoice RE15s and RE20s; Sennheiser 421s; Schoeps and Shure SM57. Plus, you can find the much desired tube mics, including a classic AKG C24 stereo mic and Neumann M49's.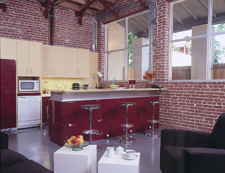 A first-class lounge and kitchen, complete with an outside patio, ensure the ultimate comfort and privacy for clients. Along the east side of the building are two smaller control rooms that share a vocal/instrument ISO booth (9'6" deep by 8' wide).
Firehouse Recording Studios offers complete concierge services, including access to world-class hotels, restaurants and spas. Located in the heart of historic Pasadena, it is within walking distance from some of southern California's finest restaurants and shops.

"Our chic state of the art facility has a great vibe and is truly a creative environment. We are equipped to meet a wide array of audio recording including tracking, scoring to picture, overdubbing, stereo to 5.1 mixing as well as voiceover recording and editing. Best of all we're affordable for those ever shrinking budgets," says David Dubow, facility's managing director.

"My staff and I value our client's parentage and are here to make them feel comfortable and cater to all their needs.
Our tech staff are highly trained, personable and capable of engineering, assisting, running Pro Tools, editing and we pride ourselves on combining the latest digital technology with the best vintage analog gear. We also have ISDN and Source Connect capabilities for linking to or from studios around the world. Plus our 7'4" Bösendorfer grand piano is one of best sounding pianos you can find anywhere," says Dubow.



For rates and bookings contact:
David Dubow, Managing Director
626.405.0411 | ext 654
david@firehouserecordingstudios.com

35 West Dayton Street
Pasadena, CA 91105

web: Firehouse Recording Studios
Other happy customers say:
"The rooms sound great, the vibe in Pasadena is as close to New York/London as you can get in L.A. And most importantly, the staff is fantastic. Why would you go anywhere else!"
---Mark Macina
"I liked it so much I wrote a song called the "Firehouse Chill" for the Fourplay CD Journey that we recorded there. They really did it right at The Firehouse!"
--Nathan East