.
When recording in the Big Apple have a slice of Pie Studios.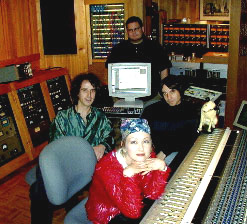 clockwise:
Cyndi Lauper, Perry A. Margouleff, George Fullan, William Wittman.

Pie Studios "...is about the music. . . and the people making it," says owner Perry A. Margouleff. Only 45 minutes from Manhattan by car or train, Pie Studios is located on the beautiful North Shore of Long Island, nicknamed the Gold Coast in the early 1920s.
Easily accessible from Manhattan, Pie Studios provides producers and musicians privacy and
distraction-free recording experience.


L-R: PIE engineer Dylan Ely, Brian Malouf and bandmembers Ido Zmishlany (sitting), Matt Reich and Neal Saini

Established in 1993, the single-room
facility offers clients an intimate recording environment while maintaining a world-class level of technical excellence. Recognized for its collection of vintage equipment Pie proudly features the only fully-discrete Neve 8078 on the East Coast.
Here, record labels have the advantage of hosting their acts in the New York area at a fraction of the cost!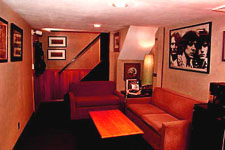 The facility offers an extensive array of classic outboard gear, amplifiers and musical
instruments. Alongside the classic gear and Studer machines, you'll find ProTools Mix Plus with 4 Apogee AD8000 convertors plus hot-swapable Glyph hard drives.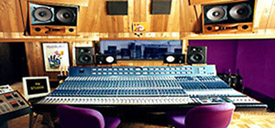 The spacious control room (26 x 20) offers clients an extremely comfortable
working environment. "Acoustically tuned by George Augspurger, it provides an
optimum level of acoustic accuracy," says Margouleff.
Studio monitoring is Augspurger Custom with Yamaha NS 10Ms, JBL LSR 28Ps and Genelec 1031As.
"The first time I walked into Pie Studios I noticed the casual and relaxed environment that's just right for getting inspired performances from an artist. With tons of old outboard gear, microphones and Massenberg automation on a classic Neve console;
there's a perfect balance between warm vintage sound and high-tech convenience. Most importantly, the sound that comes out of this place is as good as it gets," says Jimmy Bralower (Producer/writer/musician: Cyndi Lauper, Celine Dion, Eric Clapton, Steve Winwood, Carly Simon, Hall & Oates and Diana King).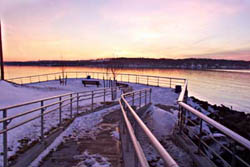 view just blocks away from the studio

The live room at Pie (35 x 28) offers an 18 foot ceiling height plus two adjacent isolation booths, one downstairs (7.5 x 7.75) and one upstairs
overlooking the live room (13x 10). The main room is exceptionally well-balanced, relatively live yet controlled. It is an excellent environment for cutting drums, strings, guitars -- you name it.

The studio offers a nice choice of musical instruments such as:1931 Steinway Model B Grand Piano; Hammond B-3 with Leslie; One of the top collections of vintage Marshall, Vox and Hiwatt, Ampeg as well as pre-CBS Fender amps in the world. A Ludwig Drum Kit (Ringo model in Blue Oyster Pearl with DW hardware) is also available.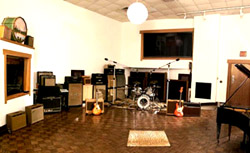 Pie Mic cabinet includes: AKG C-12; C-24; 414's; Neumann FET 47, KM-56 tube, KM-84i's, U-47 tubes. Outboard gear highlights: RCA BA6A, LA2A and LA3A; AMS RMX & DMX; EMT 140 Stereo Tube Plates & 250 Reverb; Eventide H 3000SEs; Neve Stereo 33609 and 2254eCompressors, Pultec, API (550a, 560 ) and GML EQ's.
For a more complete selection of gear visit the Pie Studios website.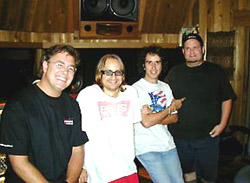 L-R:
David Theoner, Brendan Brown, Perry A. Margouleff, George Fullan
Artists and producers who have recorded at Pie include: Jackson Browne; Cheap Trick; The Chieftains; Cyndi Lauper;Brian May;Joe Perry (Aerosmith); Rolling Stones; Soundgarden Producers: Mike Chapman; Rick Chertoff; Russ Kunkle; Eddie Kramer; Bob Margouleff; Russ Titleman; Steve Albini, David Thoener and William Wittman.
Whatever you're looking for, from the inexpensive to the extravagant, you'll find it in Glen Cove or the neighboring village of Sea Cliff. The friendly studio staff can provide a listing of hotels in the area to accommodate any budget, and the numerous restaurants will appeal to any appetite and
pocketbook.



Contact:
Pie Studios
Nicole M. Lawrence, studio manager
67B Glen Cove Ave
Glen Cove NY 11542