go barefoot - take your next production to an enchanting retreat-recording at Dark Horse!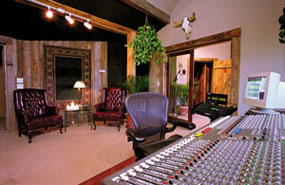 just twenty minutes from Nashville's Music Row and just five miles from Franklin's town square, you'll feel you've been transported to another world. A private and secluded facility is nestled in hundreds of acres of rolling hills where you can take a stroll down to the nearby river, watch a sunset from our 50-foot lookout tower, or hang out with thoroughbred horses... you'll feel as if you're on vacation.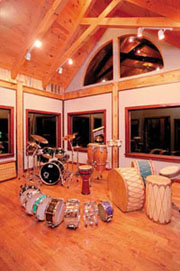 But wait, there's more... welcome to one of Tenesees's most beautiful settings for a world-class recording studio! Past/recent guests include: Vince Gill; Amy Grant; John Hiatt; Jars of Clay; Waylon Jennings; Jewel; The Judds; Delbert McClinton; Michael McDonald; Kirk Whalum; Brown Bannister and Michael Omartian.

"Since the day we opened our doors, there have been scores of gold and platinum albums cut here. We have an outstanding technical staff on site to ensure that sessions run smoothly. At Dark Horse our goal is simple... to make sure you have the best recording experience ever," says manager Bill Elder.

The lodge is the biggest of the four studios, with a control room large enough to accommodate a half dozen players during a tracking session. Don't let the high ceilings and many windows fool you - this is an acoustically-correct listening environment, perfect for even the most intimate mix session.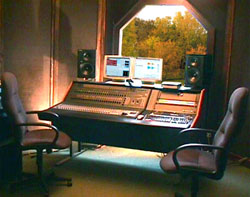 The Lodge features a 48-input Trident Series 80 desk married to a Martin Sound ACX 24-channel side car for a total of 72 channels of AMS/Neve Flying Faders automation. This Trident is heavily modified by Bud Wyatt: EQ, mix, summing amp, and IC chip upgrades with functional modifications.


The Cabin is a separate building, connected to the Lodge by a 400-foot covered walkway, with its own driveway and entrance insuring total privacy. It has a kitchen stocked with food and drink, a beautiful lounge, and every room is filled with windows and skylights. The Cabin has a Yamaha C-7 Midi Grand piano and five separate recording rooms, which make it ideal for tracking. The console is the twin sister of the Trident Series 80 desk in The Lodge.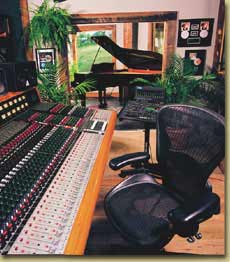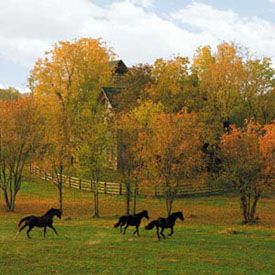 Barefoot, the 3rd studio, can be configured in many different ways. All the equipment is modular and adapts to fit a variety of needs. It's a ... "portable studio in an acoustically correct environment." The control room and the two recording rooms have windows that feature spectacular views of the countryside.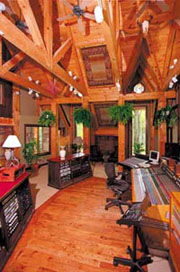 Barefoot has a DDA CS3 32-input console and a Yamaha 02R standing by, plus all the tape machines, monitor speakers, and microphones available from the Dark Horse equipment pool, including a powerful rack of outboard equipment for a great signal path to tape. All this is offered for an unusually affordable price.
Dark Horse has a dedicated Protools studio complete with an adjacent recording room and lounge. There is a machine room that houses the Protools mainframe, as well as other recording formats for doing transfers.
Dark Horse Recording is the only studio in the Nashville area with overnight accommodations. Guest apartment has a magnificent view over the countryside and is totally private. It features a full bathroom, full kitchen, a beautiful queen size sleigh bed, a built in bunk bed and a couch that converts into a double bed. It also boasts a home entertainment center with DVD and cable, as well as Internet access, and is highlighted by beautiful custom wood trim throughout.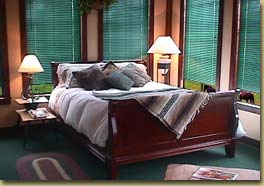 The guest room also features a home entertainment center with DVD player, cable, and internet access. It sleeps three comfortably and is just down the hall from two full bathrooms and our main kitchen.

You'll enjoy 19 phone lines with individual voice mail in every room of the studio
Dedicated fax lines, T-1 Internet connections through-out the studio.
Outdoor and indoor barbecues at least once a week and of course studioexpresso's favorite, Gourmet coffee!
For bookings or more info e-mail or call:
Bill Elder, Studio Coordinator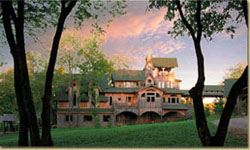 Dark Horse Recording Web
2465 Old Charlotte Pike
Franklin, TN 37064
Phone: (615) 791-5030
Fax: (615) 791-5800