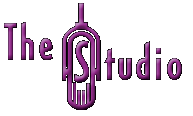 Check Yourself In.... The studio
At The Sunset Marquee & Villas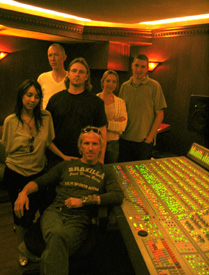 Jed Leiber with staff

Imagine checking into a luxury hotel where you can order room service and book a studio session to score
a film or write a song.
At the Sunset Marquis Hotel and Villas, you can!

This past month producer Marius Devries checked in to record vocals for Josh Groban's new album on Frank Sinatra's Vintage Neuman mic (courtesy Glen Ballard). Marius also put finishing touches on Phil Collin's single for the new Disney Broadway musical Tarzan.
Barry Rudolph mixed artist Jason Rowe's debut album for Jobst Neermann and Andy Hilfiger's new label. All the tracks were mixed on the new Icon that's fully loaded with a pro tool HD 6 system with plug in, too numerous to mention.

Joe Cocker is amongst other legendary artists who have called The Studio, "one of the best in the world."
Twice Grammy nominated writer/record producer Jed Leiber (Aretha Franklin to Jeff Beck) who won the British Academy Award for best original score, also works here. Leiber's credits include work in television, music theater and film scoring for major studios. But to Leiber, experiencing is believing. "It's a funny beast," he said.
"it began four years ago as rented space for my own work, then evolved into a commercial studio. "But what really makes The Studio unique is its environment," he said. "There is no place else that offers the seclusion of a residential recording studio with the perks of a first-class hotel."

The Studio has since evolved into a multi room recording facility over the last several years.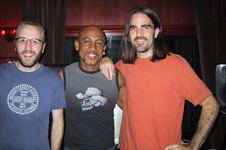 Montel Williams with Asst. Engineer Ryan Fell and Engineer
Brian Blackburn
.
Studio A is linked to an over dub room with two multi-use production suites, Studio B (the Mahagony suite ) is home to such notable artists as Madonna, Mary J Blige and Nelly Fertado.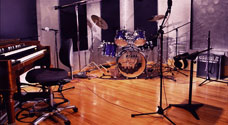 Additionally, the facility offers a Digidesign mojo pix interfaced (compatible with Avid files) with the Icon console. This offers 5.1 / 7.1 mixing and monitoring, large projection screen and super comfortable environment. The facility recently acquired the Icon with the latest Apple Quad computer. The accompanying
Digi HD6 system can handle up to 192 channels of 96k audio which makes it suitable for mixing films (including dialogue, sound effects, etc).
"All the rooms are networked together with full digital and analog ties as well as DSL connections with Pro Tools Digistudio Internet server," says, staff engineer Jesse Vanderford.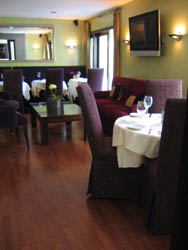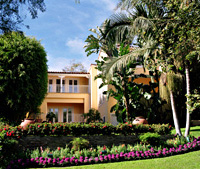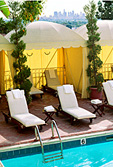 The Studio is Big on Amenities. Where else can a guest return to their private villa to have a massage between vocal takes, or pause to take a swim & sauna before tackling the next film cue?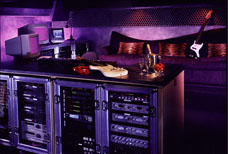 (update this list) Over the years, the Sunset Marquis has garnered a reputation as the place where members of the entertainment industry elite stay. The Hotel's understated elegance, central location, the privacy it affords its distinguished guests and a young, creative management team are among the reasons groups like U2, The Rolling Stones, and Aerosmith are long-standing, loyal clients.The Studio has become a big favorite of musicians, producers and composers staying at the hotel. Clients include: Aerosmith, Ozzy Osbourne, Burt Bacharach, Jeff Beck, Dave Navarro, Warner Brothers Film and Music, Universal, New Line, Virgin Records, William Orbit, Marius De
Vries and Chris Fogel (Alanis Morrissette).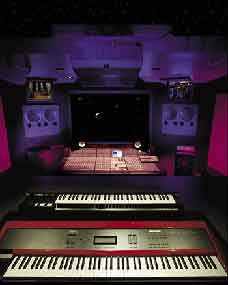 Some of the feature films recorded at The Studio include: Ocean's Eleven, Out of Sight, Cradle 2 The Grave, Polar Express, SWAT, Scooby II, Summer Catch, KnockAround Guys, Disappearing Act, Blue Chips, Lake Placid, Urban Legend-Final Cut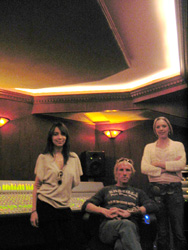 "When you're in a studio, a few people are working, and everyone else is bored out of their minds," says Leiber. "Here, you can go for a swim or go up to your room in between sessions.'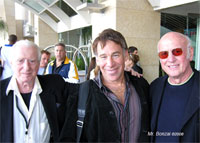 At 2006 ASCAP EXPO (L-R) Jerry "Hound Dog," "Jailhouse Rock," "Stand By Me" Leiber, Stephen "Broadway's Wicked, Godspell, and Pippin" Schwartz, and Mike "Spanish Harlem," "On Broadway," "Loving You" Stoller. Photo: David Goggin

Conveniently located in the heart of fashionable West Hollywood (near House of Blues), The Studio offers boutique style production and mixing rooms for record, film & video projects.
Contact: Jesse Vanderford, Engineer/Tech
(310) 657 8405
http://www.thestudioweb.com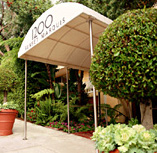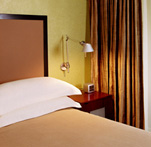 copyright studioexpresso 2002