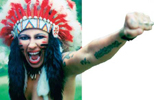 One of the world's most uniquely styled studio environments, the two-room facility designed by studio bau:ton is now a private studio for the red-hot songwriter/producer Linda Perry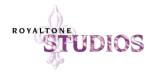 Albums worked on at Royaltone have included Alanis Morissette's Supposed Former Infatuation Junkie and Under Rug Swept, No Doubt's Return to Saturn, Melissa Etheridge's My Little Secret and Toto's Minefield. Also recorded and/or mixed at Royaltone were projects for Audioslave, Rage Against the Machine, Christina Aguilera and Vanessa Carlton, among others, as well as the soundtracks for Moulin Rouge and 8 Mile.
X-Royaltone manager, Jane Scobie can be reached at 323-646 7345.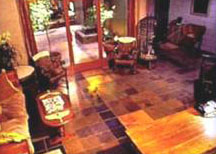 Royaltone Studios is situated in the heart of the Southern Californian recording mecca, Los Angeles and recently celebrated its five years as one of North America's top recording studios. This 11,000 square foot, two-room facility offers a spacious tracking room and is a welcoming sanctuary for everyone involved in the record-making process. Studio A houses a Neve 8078 and Studio B has an SSL G+ console.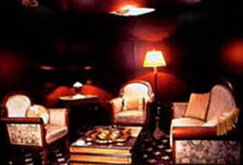 Partial artist/producer/engineer list: BUSH with Dave Sardy & Greg Fidelman; LISA LOEB (Geffen) with Peter Collins & Michael C. Ross; STING (A & M) with Ron Fair & Frank Wolf; SAMANTHA MUMBA (A & M Records) Ron Fair & Michael C. Ross; CHRISTINA AGUILERA (RCA) with Ron Fair Michael C. Ross; COYOTE UGLY SOUNDTRACK Disney with Trevor Horn & Steve Macmillan; DON HENLEY (Warner Brothers) with Stan Lynch & Rob Jacobs; NO DOUBT (Interscope) with Glen Ballard & Alain Johannes; ALANIS MORISSETTE (Maverick) with Glen Ballard & Chris Fogel; TRACY CHAPMAN (Elektra) with D. Kershenbaum &Duane Baron; TOTO (Sony) with Scheiner/Toto Elliot Scheiner; BLINK 182 (MCA) Jerry Finn; JIMMY BARNES (Warner) with Don Gehman & Mark Dearnley; R.E.M. (Warner) Pat McCarthy; ROD STEWART (Warner) Dennis Charles & Roger Sommers; STONE TEMPLE PILOTS (Atlantic) & RAGE AGAINST THE MACHINE (Epic) Brendan O'Brien; ALICE IN CHAINS (Columbia) Toby Wright; PALO ALTO (American) & MELANIE C. (Virgin) Rick Rubin David Schiffman; ROD STEWART (Warner) Kevin Savigar & Steve MacMillan; METALLICA (Q Prime) Jimbo Barton; HOOTIE & THE BLOWFISH (Atlantic) Don Gehman & Doug Trantow.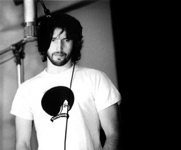 James Blunt at Linda Perry Studio
Photo: Romy Suskin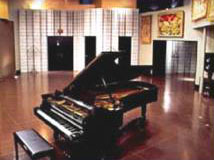 Each studio has its own private artist lounge decorated tastefully in comfortable traditional English style, and a full dining room with daylit corridors and a luxurious moonlit jacuzzi.
Add to this generously equipped mixing and overdub rooms and an impressive client list and you've got your next hot recording destination in Los Angeles.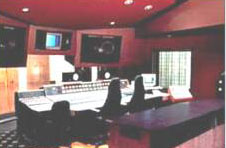 Perry recently penned a tune with the Dixie Chicks, is currently revamping the careers of Enrique Iglesias, Vanessa Carlton, and Ben Jelen, and is playing fairy god-mogul to her brand-new label, Custard Records. Her first artist, British balladeer James Blunt, has already sold some 3.4 million albums of his debut in the U.K. and Europe


James Blunt is Nominated for five Grammy awards for Record of The Year, Song Of The Year, Best New Artist, Best Male Pop Vocal, Best Pop Vocal.
Custard
http://www.custardrecords.com