Built by a musician for musicians!
"Beam me up, Scotty!"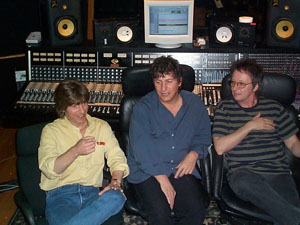 L-R: John Idan; producer/engineer/mixer Ken Allardyce

When guitar virtuoso Steve Vai moved into this house years ago, he turned it into a comfortable recording space where he and his friends could make music. The facility was recently upgraded to accommodate professional musician community and record labels.

Welcome to Mothership Studios, a full service professional recording studio...1400 square foot space occupying the second floor of the 5000 square foot 4-story house nestled high in the Hollywood Hills.
The Mothership's Control Room features a 40-input API Console with GML automation and a 40 input return section. The main speakers are KRK-813's which have been Tri-powered and tuned for clarity and accuracy. A pair of KRK E8T's and Yamaha NS10's round out the playback system. There is a large array of outboard gear from Reverb, Multi effects, compressors, EQ's and gates. A complete and comprehensive list of out-board gear can be found in the Equipment List.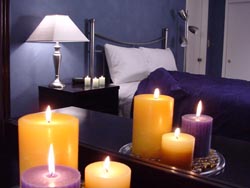 Bands/Producers who have worked at Mothership include: LIT; The Wallflowers; Slash; The Yardbirds; Eddie Kramer; Chris Lord-Alge; Mike Clink; Greg Ladani; Steve Vai; Ken Allardyce; Ozzy Osbourne; Sugar Ray; Eddie Van Halen; Billy Sheehan; Chick Corea; Eric Sardinas; Greg Koch; Steve Lukather; Larry Carlton; Jeff "Skunk" Baxter; Tony MacAlpine; Greg Bissonette; Robben Ford; Michael Landau.

Well-maintained analog tape machines (Studer 827 and Studer 800 2" and 1/2" ATR 102-2 track) complement the Protools HD system running on a Power Macintosh G4 with Pro-control and 1 extended fader pack, Waves plug-ins and ProTools Sync I/O. Want to lock up Protools to the Studer and use both? It's no problem with Mothership's 2 Timeline Lynx timecode modules!

The studio offers a large selection of microphones to choose from including vintage, rare (and unbelievably great) AKG C-12, AKG C-24, and Nueman UM57, all in excellent condition.
The main room has a wood floor - and can be covered with rugs when less reflection is needed. Drapes when opened, allow you to see the Hollywood Hills while laying down tracks; or close them and turn down the lights for a moodier recording atmosphere. A drum riser and an array of guitar amplifiers (including Carvin Legacy and Marshall half-stacks) and bass amplifiers (including an SVT bass amp with 8x10 cabinet) round out the recording experience.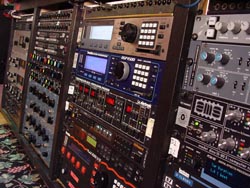 Comfortable lounges offer TV and DVD player with a large couch and chair to hang out and get away from the rigors of recording.
Warm up on one of two Ibanez Jems available for your use, or sit back and relax with one of over 100 DVDs available for your viewing pleasure. This room also has a large window featuring views of the Hollywood Hills.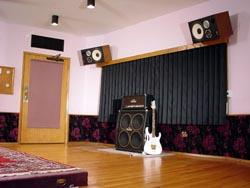 A Power Macintosh G4 with high-speed internet access and printer can cater to all your online needs, along with a copier/fax machine for your business-related needs.

Steve Vai at Mothership


Available with rental of the studio, the 3600 square foot third and fourth stories of The Mothership are luxurious living/entertaining quarters.

The large master bedroom has a four-poster king-sized bed, fireplace and a view of the Hollywood Hills. Off the bedroom, a walk-in cedar closet, and dual sink full bathroom all with a very cozy feel. The room is also equipped with a TV, DVD player and a desk area with high-speed Internet access ports for your laptop - so you never lose touch. From the bedroom, walk out onto a huge balcony with lounge chairs to enjoy the sunrises and sunsets

Another bedroom in soothing deep blue has a panoramic view of the Hollywood Hills, a double bed, full bathroom and huge balcony.


Perfect for the band members...a room with two twin beds with its own full bathroom and desk, a TV and DVD player and generous closet space.
High-speed Internet access is available via data-ports conveniently located by the desk, or sit back and relax with a DVD or one of the many books available in this room.
.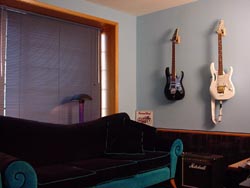 The common area has an open, spacious living room with comfortable couches and TV & DVD player. A guest bathroom, dining room with space for 8 or more, and fully appointed gourmet kitchen round out the upstairs amenities.
From the living room and the kitchen you have access to the back patio and beautiful garden - great for entertaining, or just quiet and peaceful reflection in nature.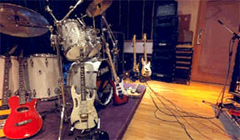 The multi-leveled large sunny outdoor area at the rear of the house is alive with flowers and greenery. The lower level paved patio area is equipped with sunchairs and an outdoor table - perfect for outdoor gatherings or quiet reading. A pergola and wisteria provides shade and shelter. The upper level features a garden, sundeck and vine-covered pergolas.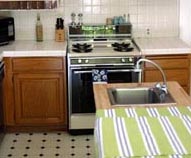 The Motherhsip Studio offers a chef service for a very reasonable additional fee. For more information, just ask when booking.
Maid and Laundry service is also available on Mondays, Wednesdays and Fridays. There are also full laundry facilities on the third floor.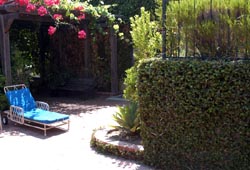 Mothership Studios
booking contact