Brunch at Chalice where a "Service-Minded Staff" Is On The Menu!
One of Southern California's busiest and fastest-growing facilities, Chalice Recording Studios has chosen a Solid State Logic AWS 900+ Analogue Workstation System for its new Studio F, an overdub/mix studio scheduled to open in March 2007. According to manager Stacey Dodd, Studio G has been open for a month now, and so far we have had Kelly Rowland, Beyonce & Shikira, and coming in this week is Alan Moulder mixing one song for Arctic Monkeys followed by two weeks with mixing Queens of the Stone Age.
Additionally, Chalice North has had Nine Inch Nails for the last month mixing with Alan Moulder mixing in Studio B, as well as Brian Michael Cox producing tracks for the upcoming Chris Brown album in Studio A.
Chalice is one of LA's most exclusive music recording facility in the heart of the Hollywood studio district, about 15 minutes away from Rodeo Drive. The 3 room complex was carved out of an empty warehouse and comprises all-new construction.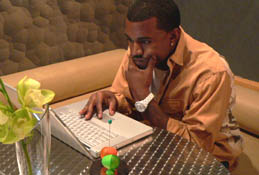 Producer Kanye West At Chalice

The Stars heat up the Summer 2005 at Chalice where The Game dropped in to record vocals on a colaborative remix for Mary J. Blige's forthcoming album in Studio A with various top producers and engineers lending their creativity to the album including Dre & Vidal, Rich Harrison, Kendu, Chris Puram, among others.

Bringing in a bit of a new flavor to some old classics, Rick Springfield has been working in both Studio A and B with long-time engineer Matty Green on renovating the sounds of old classic hits for his upcoming album. Some song titles include "Under The Milkyway", "Human", and "Im Not In Love".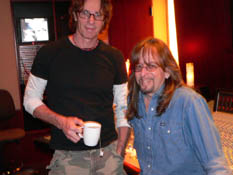 Rick Springfield with Matty Spindel
From coast to coast, multi-platinum Hot-lanta record producer and writer Jazze Pha has been working in studio A putting together tracks for Dr. Dre's forthcoming final retirement album with Oscar Ramirez engineering and Alan Mason assisting. From the Lou to LA, St Louis' Chingy took some time away from all the fan-fare following the release of his second album "Powerballin" to record a third album in Studio B with Kwame producing, Brian Sumner engineering, and Alan Mason assisting. And from the East to the West, Kanye West to be exact, following the great success of his last album
the grammy winning artist and producer has been in both studio A and B recording his forthcoming album with engineers Andrew Dawson and Mike Dean.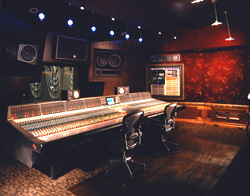 Studio B (photo: Ed Colver)
Chalice took 3 years to build and has been open since the middle of August 2002. In the short time of its operation satisfied clients have included Bink, Warren Campbell, Marc Desisto, Wyclef Jean and Jerry Wonda, Peter Mokran, Warren Riker, Dave Schiffman, Joe Warlick, Rakim, and Kanye West, to name a few.

In fact no expense was spared not only in the obvious areas of gear and surface materials, but also in the invisible domain of wiring, acoustical testing and substrate construction. Like most studio owners, Mr Tao is somewhat of a perfectionist, but unlike most others, he was given a clean slate to realize this character quirk.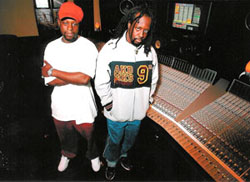 Wyclef Jean and Jerry Wonda in Studio A who were in working on Tom Jones new album
photo: David Goggin
The out of this world duo of Pharrell Williams and Chad Hugo, also knows as the Neptunes, were in both studio A and B working on various projects producing Common's upcoming album with Drew Coleman engineering, as well as Robin Thicke's upcoming album with mixer Rich Travali adding his special touch to the project. They also scheduled a remix for Gwen Stefani's "Hollaback Girl" music video.
Newlywed star Nick Lachey took the time to record vocals in Studio B with producers Soulshock and Carlin, with Scott Campbell engineering, and Mike Schroffell assisting, before heading out to tape an appearance on Jay Leno. Jason Cupp produced and mixed the second major record release for Geffen Records act Finch in both studio A and B, and now touring to promote their new album scheduled for release in June.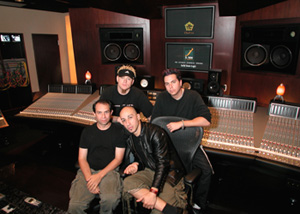 Band ENDO with engineer Dave Schiffman working in Studio A
(photo: David Goggin)

The prevailing idea behind Chalice is luxury. According to owner, Ben Tao, "Certain artists like to take Sunday brunch at the Four Seasons. Why not work in a place like the Four Seasons too?"
Studio 'A' features a 96-input SSL 9000J with an ample array of new and vintage outboard gear. Studio 'B' is built around an 84-input Neve 88R. Studio 'C' is a production and editing room centered on a Yamaha DM2000 digital console featuring full-on HUI procontrol in addition to 72 user-configurable analog or digital inputs and 8 main outputs. All three studios have fully appointed private lounges with individual thematic décor.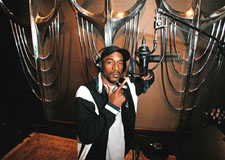 Rakim (Aftermath Records) recently worked with engineer/mixer Joe Warlick in Chalice studio B
photo: David Goggin
Studio B offers a Neve 88R and is mostly used for od's and mix but can also be used for small tracking session. B has hosted hardcore punk artists A.F.I. with producers Jerry Finn and Butch Vig. Rapper Rakim also worked in Studio B with producer Carlos Broady and engineer Joe Warlick, tracking and editing for his new album.

In Chalice's SSL 9000 J-equipped Studio A, hip-hop singer Mystic was in with producer Kanye West and engineer Segal working on her album, and with producer Supa Dave West has also been working with Mystic and engineer Segal, mixing and tracking for the single, "No Competition," for the Biker Boyssoundtrack. Producer/engineer Ben Grosse also mixed a project for Sleepwalker in Studio A.
"The studio doesn't just look nice, however. It also works!" says mixer/engineer Dave Schiffman, a recent client: "Any piece of outboard gear you'd need x3, an accurate sounding control room, and a pleasant atmosphere. I'll be back," adds Schiffman.


Contact: Ben Tao studio owner
Bookings: Sandra Chi Stevenson
323-957-7100
www.chalicestudios.com