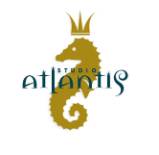 Studio Atlantis rising in the heart of Hollywood and offering state-of-the-art recording services now with a new SSL 9000J console.
The latest expansion of the Studio Atlantis recording studio facility, winner of an AIA/LA Honor Award for Interior Architecture in the year 2000, includes an adjacent client lounge and a Protools production suite with support facilities.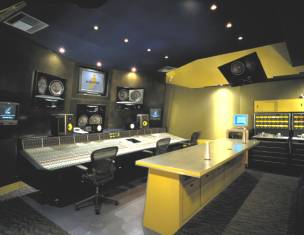 studio Atlantis A with a SSL 9000J

consoleUndulating translucent Lumasite panels had been used earlier to wrap the studio volumes and to express the ephemeral nature of sound, visualizing the sonic forces shaped inside the recording spaces. The concept and the materials are continued in the expanded space, where the large warped plane of the main wall gradually turns into a ceiling. The light-filled, hovering presence of the floating element informs the entire space, playfully transforming and shaping it in the process. Daylight is brought in through skylights above the ceiling cloud while artificial lighting provides a consistent glow at night.
Studio Atlantis owner Jonathan Newkirk's vision was to open the kind of facility he would want to work in as a musician. Working closely with the design team at studio bau:ton (2000 winner AIA/LA honor award), Newkirk's dream is realized. Welcome to a recording environment that's fun, inspiring, and hassle-free.

The latest offering is the installation of a new SSL 9080 J in studio A, which came on line June 18th, 2001.

Plans for construction of a new tracking room to replace existing studio B, which currently houses a Trident 80-B are under way.


Past and Recent clients include:
Def Jam Records: Christina Milian
Interscope/Beat Club: Bubba Sparx
Dreamworks: John B., Ray-J,
Klockwork Entertainment: Johnny "J"
Walt Disney Records: Haunted Mansion Soundtrack; Hollywood Records
Island / Def Jam: Benny Cassette
Sony Music: Nona Gay, Hole, Ice Cube, Slash, Andy Johns, Cold, Deviates, Dust Brothers, Ross Robinson, and various projects for Delicious Vinyl, Dreamworks, Disney, Epitaph, HBO, Interscope, Sony, and Warner Reprise .

The engineering staff at Studio Atlantis comes from a diverse background including all aspects of music, TV, & film production. Here you are sure to find someone who speaks your language. Additionally, the Tech Support is second to none, insuring a smooth running session.
For client's comfort and convenience, the studio offers well appointed private lounges, kitchens and baths, modem lines throughout the facility, 24 hour secured valet parking, 24 hour a day runner service, Pre-production spaces, and a professional, courteous staff.
No expense has been spared in the acquisition of world-class equipment or creature comforts, insuring a creative, relaxed environment.
The City of Atlantis theme is evident in unique ways throughout the facility, including curved walls scaled like a giant sea creature, subdued and natural lighting, hues of blue, green, and gold, and furnishings with a dream-like quality. The overall experience is unforgettable.


Contact: Jon Newkirk, Studio Manager/Owner
studio Atlantis
1140 North Western Ave.
Hollywood, CA 90029
323-462-7761 ph
323-462-3393 fx
e-mail: jon@studio-atlantis.com
www.studio-atlantis.com









copywright studioexpresso 2001