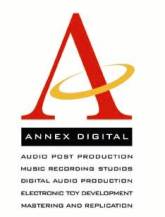 Celebrating 30 years of recording services in music and post-production

An industry leader for over quarter of a century, Annex Digital (formerly Music Annex) with its two locations in the San Francisco's Advertising Gulch as well as Menlo Park in the heart of Silicon Valley, offers recording artists, agency producers and production professionals a combination of leading-edge technology and superb acoustical environments. In addition to an outstanding mic and outboard gear selection, the acoustically balanced rooms accommodate any size project whether it be a solo artist or a 100-voice choir, while the talented Engineering and Support staff provide a comfortable and creative environment.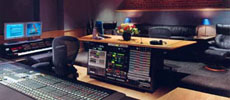 SF's flagship Studio 5 featuring Euphonix CS3000 and 5.1
Surround mixing

Recent clients include: NY.LA Music "What's the Worst that Could Happen" Soundtrack; Los Tigres Del Norte; Guitar Shorty; Time-Life Audio; Simon & Schuster Audio; Harper Audio; Archie Lee Hooker, featuring John Lee Hooker; Lucasfilm, "The Making of Episode One."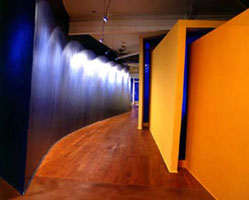 San Francisco Location: Entryway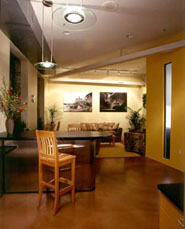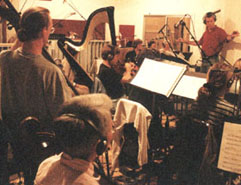 Studio D with orchestra

Annex Digital offers: Music Recording, Mixing and Mastering; Audio Post-Production for Radio, Television and Film; Digital Audio Production for Corporate, Telephony and Web Applications; Original Music and Sound Design; Electronic Toy Development; Transfer and Replication Services; Talent Casting and DVD Authoring.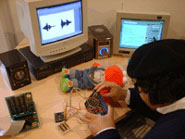 Electronic toy development (above) and Studio A in Menlo Park
Mastering engineer Tom Carr looks over score while mastering an orchestral piece (below)



Contact SF: Tim DuFour, studio manager
e-mail: tim@annexdigital.com
69 Green Street,
San Francisco CA 94111
415-421-6622 ph 415-391-4995 fx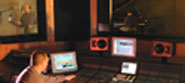 Contact Menlo Park: Tony Wentzel
Studio Manager
The Annex Recording Studios
650-328-8338
650-325-6890


e-mail: tony@theannex.us
970 O'Brien Dr.,
Menlo Park, CA 94025
www.annexdigital.com
copyright studioexpresso 2001